DIY Bathroom Makeover Guide
Before you roll up your sleeves and grab a hammer or a paintbrush, let's take stock:
What do you dislike about your current bathroom?
What do you like about it?
How much space do you have to work with?
What's your budget?
With these answers in mind, what's your bathroom makeover goal? According to the Houzz 2021 Bathroom Trends Study, 40% of homeowners who remodeled a master bathroom wanted to create a relaxing, spa-like atmosphere. But maybe you'd prefer a zestier space that energizes you to start the day.
Is a fresh, new paint color going to do the trick, or does your bathroom need serious intervention? If you're leaning toward the latter, let's check out the possibilities. Online and in-store research will give you great ideas about updates and upgrades you might consider. But buying all that new? Expensive! So think about what's most important to you and know that you can save money.
That's where thrift stores and more comprehensive DIY resources such as Twin Cities Habitat for Humanity ReStore locations come into play. Whether you are a veteran DIYer or you just want to get more for your money, be assured you can economize and still get a dynamite new bath.
Keep in mind that rerouting plumbing is typically one of the biggest expenses in a bathroom remodel, so it's best to leave the plumbing where it is and work your makeover magic around it. Knowing you had a hand—literally—in making it happen will make you much happier with the result.
Projects as Diverse as DIYers Themselves
There are so many ways to give your bathroom a boost. High-tech options such as smart toilets, touchless faucets, lighting, or humidity-sensing exhaust fans are fun as well as functional but not so budget-friendly. Still, if that's what you want you can spend less in another area to stay within budget.
With all the work you're putting into it, your new bathroom should comfortably serve you and your family for many years. Happily, many modern design innovations (such as walk-in showers) are not only trendy but are also excellent choices for kids and aging adults or family members with accessibility challenges.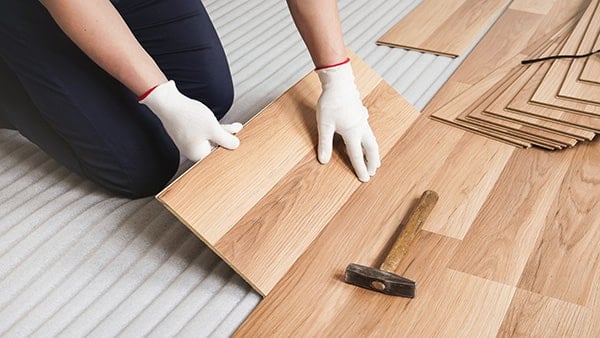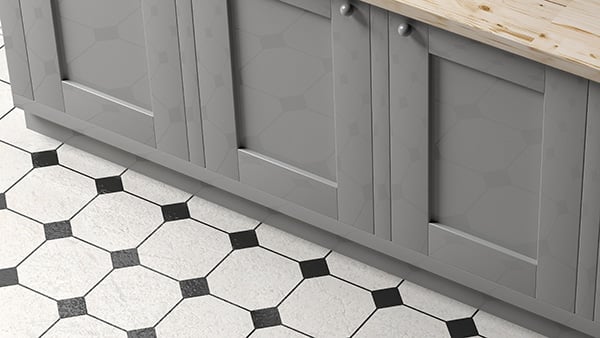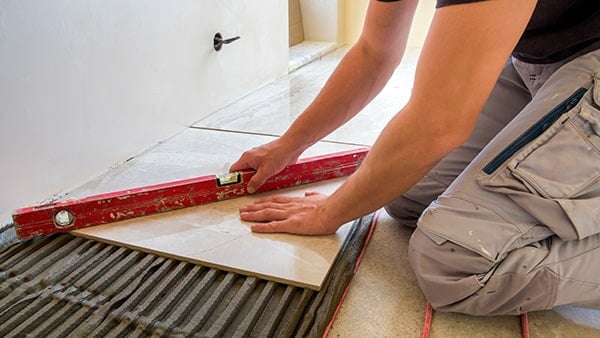 Chapter 1: DIY Flooring
Bathroom flooring has to endure splashed water and high humidity as well as foot traffic, but that doesn't mean you don't have options—lots of options, in fact. Modern flooring products have you covered, no matter what look you want to achieve, at a price that feels comfortable for your budget.
Modern vinyl comes in a mind-boggling array of tile, stone, marble, and wood patterns that are amazingly realistic. And vinyl lends itself nicely to DIY installation. Luxury vinyl costs more because it's heavier and sturdier, but it will also last even longer.
One of the most popular products now is vinyl plank flooring, which is very similar to laminate. You may be even more excited about this option when you learn it's available at your local ReStore at bargain prices. This is a brand-new product available in three versatile colors, and it's DIY-friendly.
Your ReStore also carries tile for walls, countertops, trim, or flooring. The selection changes regularly as new donations come in.
If your bathroom already has a wood or tile floor, you can also repaint rather than replace it. A clear varnish top coat will protect the surface and make it easy to clean.
Additional resources: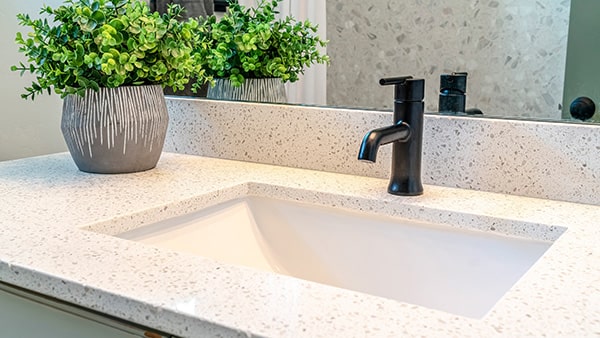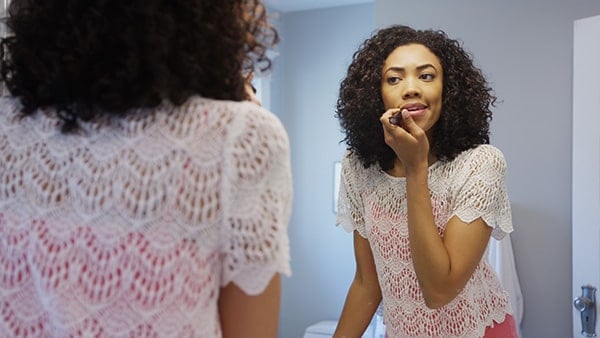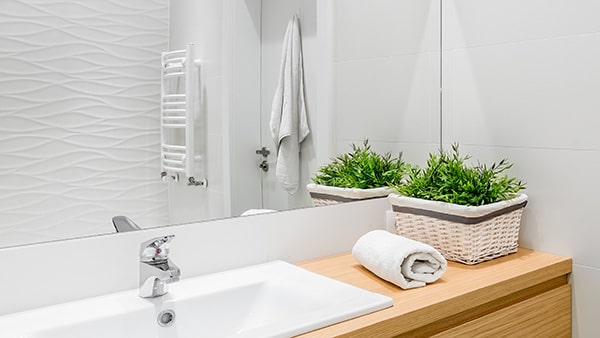 Chapter 2: DIY Vanity Considerations
The vanity—sink and countertop—are key to bathroom functionality and also a focal point. Instead of purchasing a new unit, you can go wild with DIY creativity, saving money on a stylish solution you will love to look at and use every day.
Granite is gorgeous, but the price is steep. You might consider an unusual alternative such as stainless steel or concrete. Or, who knows? A second-hand furniture store or Facebook Marketplace may have a vanity that fits your bathroom perfectly and comes already topped with granite.
The truth is, a bathroom vanity is really nothing more than a dresser (or a plain box) with a sink or two installed in the top. That opens the door to all sorts of repurposing opportunities. A fresh coat of paint or stain, some new hardware, and there's your snazzy (or sophisticated) focal point.
In fact, that same concept applies to your existing vanity. Ripping it out for replacement may be your best solution, depending on your overall goals (and your desire to disconnect and re-fit the plumbing). But perhaps all it really needs is a facelift. Just changing the hardware can make a big impact.
As you're considering vanity options, keep in mind that under-counter storage is virtually a must in bathrooms, where space is limited and there are many types of things to store – some of which should be within easy reach. (We'll talk more about storage later.)
Will you keep your existing sink(s)? And what about faucets? A growing trend is touchless technology as it's not only trendy but more hygienic and less messy, especially if you have kids.
Looking Good!
Of course, you need a mirror. If you have a plain, boring mirror that's a good size, you can dramatically modernize its appeal by building a frame around it. Decorative molding works great for this. Or look for a cool old frame in a thrift or second hand home furnishing store, then refurbish it as you like and add a mirror. You might even find a framed mirror that's ready to go with just a little TLC.
Improved lighting is a big trend in bathroom makeovers. Eco-friendly LED bulbs add brightness that mimics natural daylight without adding heat. Some bathroom light fixtures are also dimmable, creating that relaxing spa atmosphere.
Additional resources: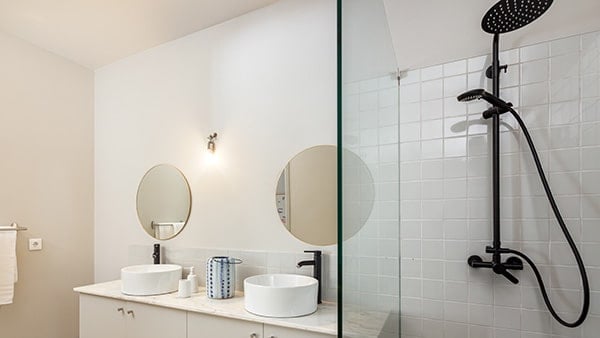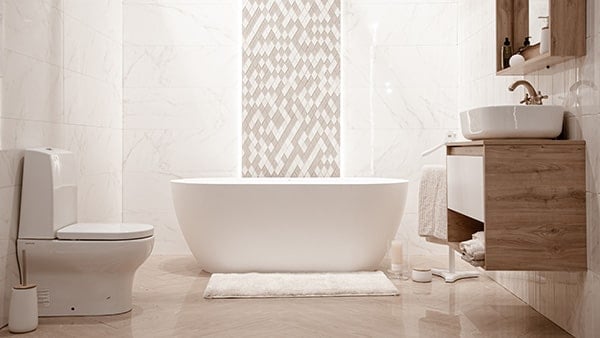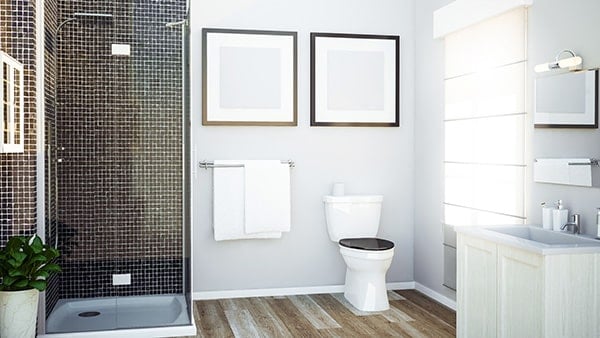 Chapter 3: Replacing or Enhancing Your Tub, Shower, and/or Toilet
One of your primary bathroom makeover goals might be to get rid of a fiberglass tub/shower unit. Note that it is possible to paint fiberglass, so you could simply refresh it with a gleaming new surface. Or you can tear it out and give your bath an entirely different look and feel. Depending on the size and shape of your space, you might consider separating the tub and shower. Or, go with one of today's most useful trends, the wet room.
The simplicity and functionality of a wet room has definite appeal, both now and in terms of long-term accessibility. We're talking about an open-concept shower area that is tiled to repel water and has a central floor drain but is not enclosed. It's barrier-free so you can just walk in (or roll in, if you're in a wheelchair). No glass doors, shower curtain, or bath mat required.
Free-standing tubs are very popular now. New styles come in numerous sizes and shapes, or you could look for an old cast iron clawfoot and refurbish it, if needed.
Whether you're going with an entirely different design or sticking with a tub/shower alcove arrangement, be sure to budget for a new showerhead (or more than one). This is an indulgence you'll appreciate every day. Take advantage with a Moen showerhead that comes with a built-in essential oil diffuser. And Kohler makes one with a waterproof Bluetooth music speaker.
No matter what design you choose for your tub/shower area, if you or a family member are getting older, consider adding safeguards such as grab bars or a waterproof stool.
Replacing your toilet or thinking of adding a bidet? New models sit a bit higher than older styles. You can choose different flushing options and, in some cases, colors.
ReStore locations offer a wide (but variable) selection of plumbing supplies. That said, sometimes it makes more sense to hire a pro to tackle plumbing projects, even for experienced DIY'ers.
Additional resources: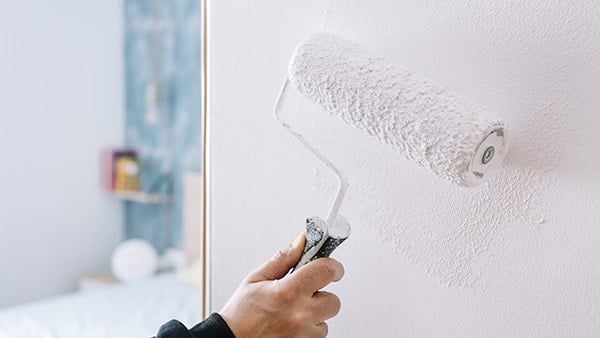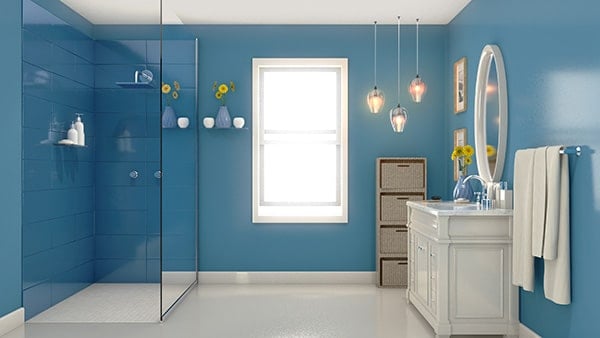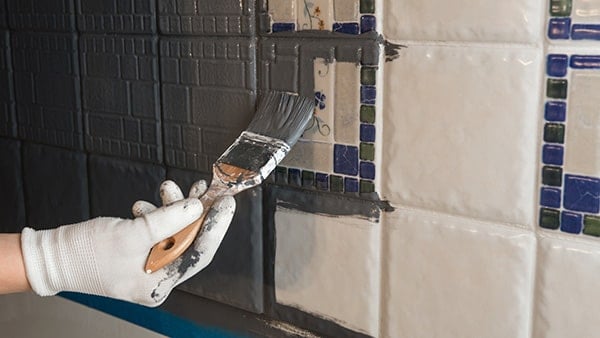 Chapter 4: The Power of Bathroom Paint
Simple changes such as fresh paint, especially in a new color, can completely transform your bathroom. You can paint the walls, floor, ceiling, vanity, and/or shelving. Paint large areas, or add a bit of decorative trim. The color(s) you choose will set the mood.
Because bathrooms are smaller than general living spaces, they offer the perfect canvas to show your creative side. Bold colors and dark hues you wouldn't even consider elsewhere can give your bathroom a beautifully distinctive ambiance.
2022 offers trending colors to suit every palette preference—soft blues, warm earth tones, soothing greens, jewel tones, and even black or charcoal.
If you go with a neutral—pale or dark—you can always choose a fun or bold contrasting color for towels, shower curtains, rugs, and other accessories. These things are far easier and cheaper to change when you decide you want a different look.
Best of all, paint is an easily affordable DIY project. A single gallon can cost around $40, but it can cover an entire wall (maybe your entire bathroom). On the other hand, thrifty DIYers shop Amazon paint and pay about $16 per gallon. What is Amazon paint? It's recycled (another plus) paint blended into a variety of useful colors—excellent quality and highly recommended by ReStore shoppers.
You can find like-new brushes and other supplies for your painting project at secondhand home improvement stores too. This video will help you paint like a pro:
Amazon Paint at ReStore (Twin Cities)
Additional resource: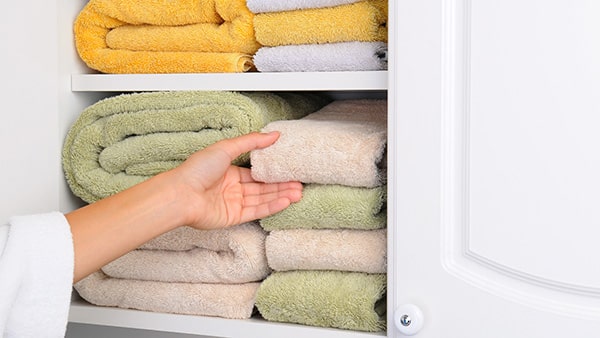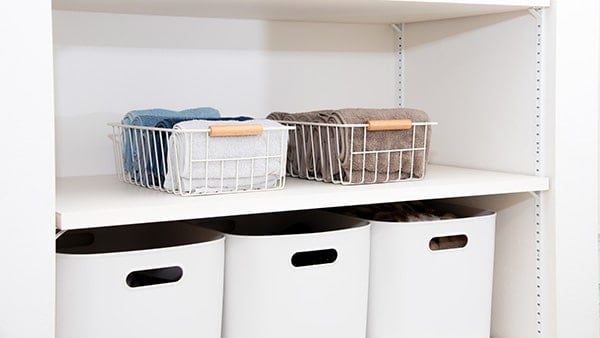 Chapter 5: DIY Bathroom Storage
If you can find a way to store everything needed in the bathroom inside the bathroom, you'll quickly appreciate the added convenience. Fortunately, there are DIY storage options to suit every space and style.
Wall-mounted shelves are an easy DIY project. Stack towels on them or install a row of baskets, bins, or trays to hold loose items attractively and out of sight. Put one of these shelves near the vanity to keep counter space clear, using glass jars or other containers to hold cotton swabs, etc.
Install a line of hooks on the wall to hold towels, hair products, etc.
Use drawer dividers to corral small or odd-shaped items.
Repurpose a bookcase or a thrift store armoire to add storage.
If your DIY skills are more advanced, consider adding drawers or shelves between the studs. This adds storage that doesn't extend into the room, a visual and functional plus for small spaces.
Bringing in a stool or bench? Choose one with below-seat storage.
You can keep (or add) a traditional medicine cabinet, or move those small items into vanity drawers or other storage areas and use the space for new wall-mounted shelving or a piece of artwork.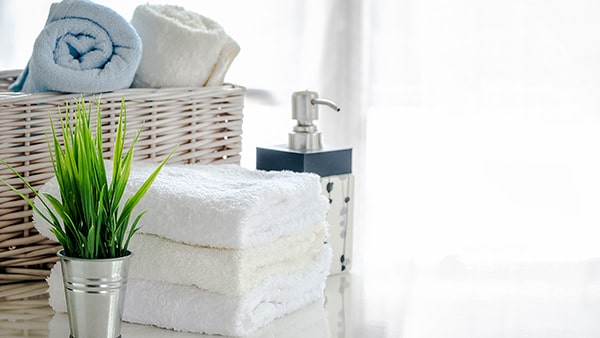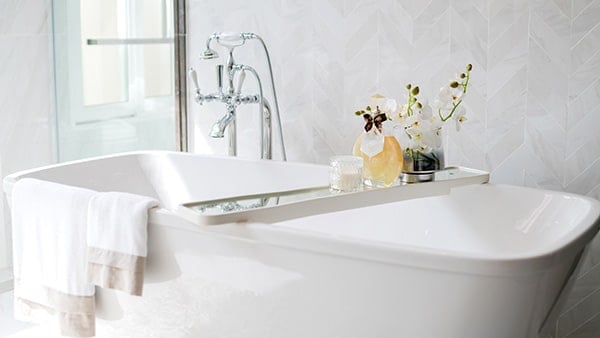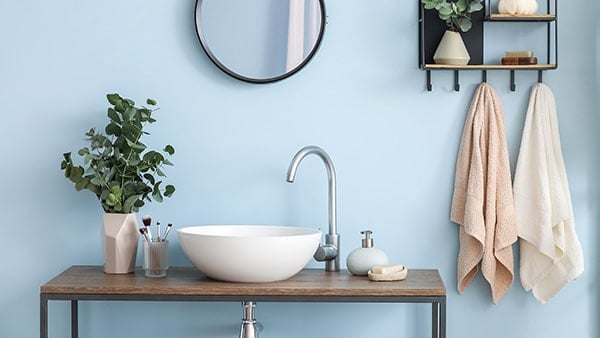 Chapter 6: Décor that Dazzles the Senses
Personalized touches and small splurges can add charm and amplify your bathroom's feeling of sanctuary:
Scented soaps in a glass jar or pretty bowl
A bathtub tray or pillow
Live greenery, hanging or on a sill or shelf
Fresh flowers
Artwork
Go from drab to fab with these cost-friendly DIY bathroom décor ideas.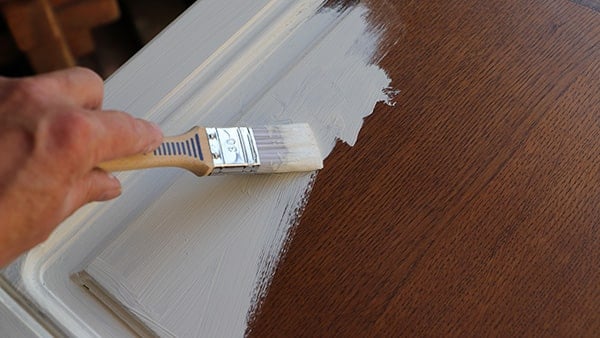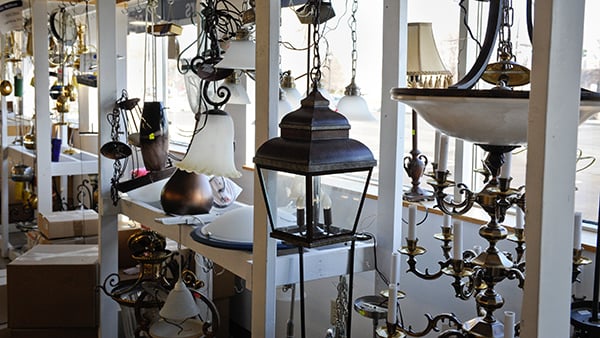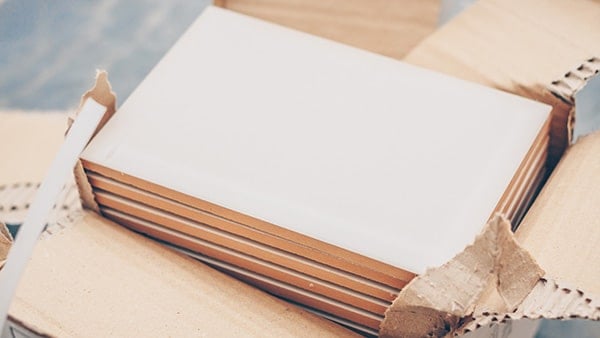 Chapter 7: Your Donation Benefits Others
With a well-planned and cleverly executed DIY bathroom makeover, you will be able to start every day with a smile.
What's even better than that? Knowing you're helping others achieve their affordable DIY dreams by donating no-longer-needed items and leftover supplies from your project to ReStore. (You're also keeping them out of landfills!) We provide free pickup service for residential and business donations. Here are our ReStore Donation Guidelines.
Minneapolis area thrift stores or secondhand home improvement stores offer a wealth of ideas, essentials, finds, and DIY advice to help transform your bathroom from wall to wall, floor to ceiling. There's always something new in the way of bargains and how-to tips at ReStore. You won't miss a beat if you:
Sign up to receive Hot Deals emails that alert you to new products and upcoming sales (or text RESTOREVIP to 24365 to receive text alerts instead).
Shop ReStore often to find unique items at great prices.