Over time ceilings can build up dust and dirt and just look dingy – especially popcorn ceilings (also known as stipple, stucco, or acoustic ceilings), which seem to be a magnet for grime. Scraping the "popcorn" from your ceiling is a lot of work – and it could even be dangerous. So consider giving your room a fresh look with a simple coat of paint.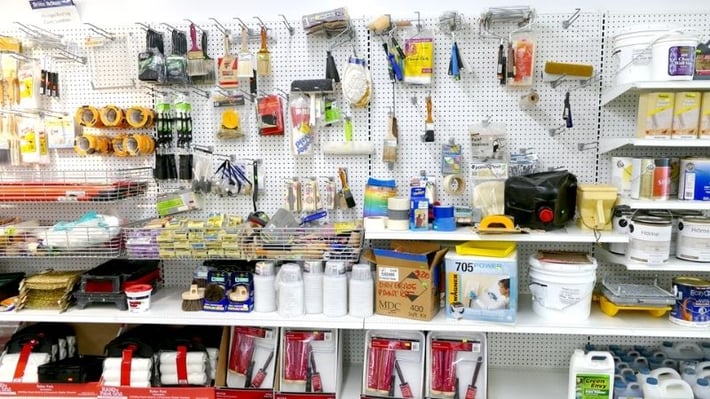 Painting is one of the easiest ways to make a big impact on a room, and while painting the ceiling may be a little trickier than painting your walls, with a bit of preparation and planning this is absolutely a project that you can tackle.
House Built Pre-1980s? Test Your Popcorn Ceiling for Asbestos
You probably already know this, but it's not actually popcorn stuck up there. The bumpy stuff on your ceiling is usually made of a fibrous material and either sponged or sprayed onto the ceiling for texture and acoustics. It was a very popular way to hide imperfections in ceilings from the mid-1950s all the way into the 1980s – but things changed in 1978.
Before it was banned in 1978, fibers that give popcorn ceilings that unique texture were often made of asbestos. But builders were still allowed to use up any remaining asbestos they had on hand, so if your house was built prior to 1980, have your ceiling tested to make sure it's asbestos-free before doing any work on it. It's affordable, it only takes a couple of days to receive test results, and the Minnesota Department of Health can help you find contractors and a testing lab near you.
What You'll Need to Paint a Popcorn Ceiling
Before shopping for any paint, figure out how much you'll need. To figure out the square footage of your room, multiply the length and width (for example, a 10-foot by 12-foot room is 120 square feet), and because popcorn ceilings can take twice as much paint to cover, buy double that amount of paint. (For a 10-foot by 12-foot room, buy enough to cover 240 square feet.)
All the tools you need should be available at your local hardware store or ReStore. Here's a list to get you started:
Dust mask or respirator

Eye protection

Drop cloths or plastic

Painter's tape

2" angle sash paintbrush

Small paint pail

Paint roller handle

Paint rollers (¾" nap for rough or textured surfaces)

Paint roller tray or pan

Extension pole

Paint can opener

Stir stick

Flat ceiling paint

Stepladder
Optional but helpful:
Portable light

Clothes you don't mind getting dirty

Hat or hair covering
Paint a Popcorn Ceiling Step-by-Step
1. Prepare Your Space
Start by emptying the entire room. Drips and splatters from the paint can get on furniture, light fixtures, floors, walls, and mouldings, so make sure anything that can't move (including ceiling lights, fans, and chandeliers) is covered with drip cloths. Make sure to also cover the entire floor and tape down the cloth near doorways to prevent tripping.
Use painter's tape to mask off the top of the walls around the entire room. Consider using a pre-taped painter's plastic that will hang down and cover the top foot of the wall. (If you're going to be painting the walls anyway, you can skip this step.)
2. Clean the Ceiling
Painting over the dust and cobwebs will just adhere it to the ceiling and look messy. Get a duster out, or vacuum attachments, and really clean as much of the dust off as possible. Don't be afraid to break out a cleaning eraser for hard-stuck grime.
3. Cut In the Edges
Cutting in paint where the ceiling meets the walls helps prevent you from getting paint on the walls. Pour some of the ceiling paint into a smaller container and use your 2" Angle Sash Brush to go around the entire perimeter of the ceiling. You'll want to hand paint a couple of inches in so that you don't feel tempted to get the roller too close to the edges.
4. Paint the Rest of the Ceiling
When you're painting the rest of the ceiling, use an extension pole instead of climbing up and down the ladder every time you need more paint. The ¾" nap roller cover holds a lot more paint than you would use on the walls. You'll need it to get good coverage over the popcorn.
The technique here is a bit different than when you're painting a wall. Start in the center of the room and work towards the edge of the wall. Avoid going back and forth over the popcorn – there's not much holding it in place, so it might start coming down if you get it too wet.
After you finish the first coat, let it dry and then apply a second coat of ceiling paint at a 90 degree angle to the first coat.
5. Clean Up and Share a Picture
After you finish painting, wait for that second coat to dry to ensure you don't need to do any touch-up. Then share a picture of your project with us and let us know how it went!