Is your bathroom in need of some sprucing up? Luckily, you don't need to gut your entire bathroom to update it.
For instance, you can improve the look and feel of your bathroom with a floor remodel. Bathroom floors are especially prone to damage because of water and humidity. As such, changing your bathroom flooring can make your old bathroom feel as good as new.
Here are some DIY bathroom flooring ideas to give your bathroom an instant facelift.
Bathroom Flooring Ideas on a Budget


1. Vinyl bathroom flooring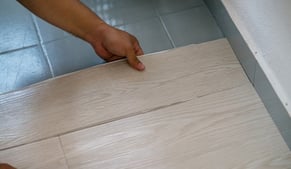 Vinyl is a standout choice for bathroom flooring. It's made to realistically mimic tile, wood, stone, marble, and a vast array of other luxury flooring materials.
Vinyl flooring is a synthetic material known for its durability, functionality, ease of installation, and ability to fight off moisture. It also comes in a variety of design choices, making your options endless. The fact that it's one of the most affordable flooring options is just a plus.
2. Luxury vinyl flooring
If you have a more flexible budget, you can opt for luxury vinyl flooring (LVF) instead. It's a thicker and considerably more rigid alternative to standard vinyl flooring. And although it's more expensive, its longer lifespan makes it the more economical choice in the long run. With creative pattern options galore, it can also be made to mimic high-quality metal flooring.
3. Floor paint
Are you one of the lucky few with wooden bathroom flooring? Then you can give your bathroom an instant makeover by giving your floors a fresh coat of paint. Floor paint can also be used on different types of flooring, including tile, hardwood, laminate, and more.
Be sure to clean the floor thoroughly so that the primer will adhere. It's also a good idea to de-gloss the floor using sodium triphosphate because primer clings better to non-glossy floors. On that note, you'll need to sand the floors if you're painting shiny ceramic tile. Since water is an issue in bathrooms, make sure to use a waterproof sealer as a top coat to protect the paint and help your floors withstand the stresses of daily use.
4. Laminate flooring
Now, here's a great option if you're looking to mimic the simple sophistication of real wood or stone floors. It's a synthetic, composite flooring that's both waterproof and UV resistant, meaning it does not scratch or discolor as easily as hardwood floors.
Laminate floors are also highly durable, especially when you take into account how little maintenance they need. And you have a wide array of design options to choose from.
5. Concrete

How about going for an industrial-chic look?
Choose concrete flooring for the same reasons you would ceramic tile—it's easy to clean and can't be damaged by water. It's a great, inexpensive option if you like the cool, sleek appearance of modern bathrooms. You can also paint, stain, and polish concrete flooring to achieve any of your aesthetic goals.
Concrete is a little harder to work with than other materials on this list—but don't let that deter you. Be sure to follow the manufacturer's instructions when mixing and give it plenty of time to dry.
Find All Your DIY Bathroom Flooring Materials at Habitat for Humanity ReStore
It's possible to save costs when you carefully consider your bathroom flooring options. Going the DIY route doesn't mean you have to compromise on aesthetics. Choose a color that appeals to you and compliments your walls. You don't have to stick with neutrals—experiment with colors and designs to see what you like best.
ReStore outlets offer many of the tools and products you need to complete your bathroom flooring project. Stop in and shop at our Minneapolis or New Brighton locations for great deals. The staff is always quick to help answer any questions or provide DIY tips, too.