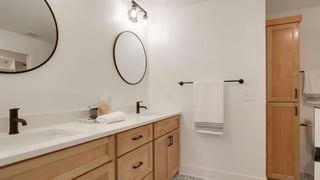 A stellar bathroom design can turn a drab space into a fab space and improve your home's overall look. The color scheme, décor, arrangement, and accessories all play a vital role in setting the tone for your bathroom and the rest of your home.
Believe it or not, you can give your bathroom a makeover without a gut renovation or spending a fortune.
Pro tip: Many of the projects listed here can be done by thrifting, and Twin Cities Habitat for Humanity ReStore home improvement outlets are a great place to start!
1. Start With a Spot of Paint

No matter the size of your bathroom, the right color scheme can open up the space and help create the illusion of a bright, well-lit room. From stark white to dark and daring black or navy, there's absolutely no such thing as a color that won't work in a bathroom. It all depends on your preferences.
That said, a bright color scheme of white or neutral beige can be used to make a small space feel bigger. You can also experiment with placement, textures, and techniques. On that note, consider painting your bathroom ceiling a non-white color for contrast. It creates a personal yet unique feeling, giving your space the hint of luxury it so deserves.

Pro tip: Painting a ceiling can be a dangerous endeavor. Get a steady ladder and make sure it's tall enough. You should never stretch from the ladder. The whole process should be as comfortable as possible.
2. Incorporate Brass Accents
Brass accents give your bathroom a certain distinguished presence. They have an old-world feel that adds a hint of luxury to your space. And the best part? They are a cost-friendly way to give your bathroom a cosmetic upgrade.

Think of brass faucets, mirrors, toilet paper holders, shower curtain rings, or even a set of hardware for hanging towels. Such small elements can really elevate your bathroom, especially when paired with dark bathroom walls for a more moody space.
3. Refresh Your Faucets and Shower Heads
A quick change of hardware can give your bathroom a fresh new look. But sometimes, it's the functionality that needs an upgrade. Rain-style shower heads can provide a gentler shower experience as the water pressure is minimized, while handheld shower heads are more practical, especially if you have a limited range of motion. If the budget allows, you can splurge on a shower head that will make your bathroom experience feel like the ones you'd have at a 5-star hotel.
Swap out your shower and bathtub faucets, too, for a more cohesive design. For a bold statement, you can opt for on-trend matte black finishes.
4. Upgrade Your Storage Space
Extra storage is always a meaningful detail in a bathroom. Open shelving can make the bathroom feel more spacious while giving you the extra storage space you need to store your linens, hair accessories, and more.
Introduce extra space by leaning a wooden ladder against the wall to store your towels, or perhaps, opt for an étagère for a more luxurious feel. These options work great as design elements because they add an extra layer of dimension to your space, and you don't have to drill into your walls.
5. Bring the Outdoors In
Turn your space into an oasis by incorporating some much-needed greenery into your bathroom. Plants that thrive in humid, damp conditions will have a great time in your bathroom. Some examples include bamboo, devil's ivy, aloe vera, and dracaena.
Air plants are a great option, too, because they absorb moisture from the air, soaking up the humidity from your bathroom.
Save While You Upgrade
Giving any space in your home a makeover can be an expensive endeavor. By frequenting your local thrift or second-hand home improvement stores, like ReStore, you can give your bathroom a whole new look on a budget. If you have a ReStore near you, sign up for the Hot Deals email so you'll be the first to find out about special sales and offers! New merchandise arrives daily, so there are always lots of unique cabinets, furniture, hardware, lighting fixtures, and décor accessories to choose from. Feeling inspired? Here are some other easy DIY upgrades you can pull off.