Disclaimer: What's featured may no longer be available as donated items are purchased quickly.
Thrifting is a growing trend and something that everyone seems to be joining in on. But do you ever feel unsure of what exactly you should be looking for when you're digging through bins, warehouses, and shelves of secondhand magic? It can be overwhelming as inventory changes often but have no fear, your favorite folks at Habitat ReStore have you covered. Here are some staff favorites that you could score during your upcoming thrifting hauls.
Chairs & Couches
Indoor seating like chairs and couches are a great place to start when looking for thrifty finds. Add character to any room in your house by scoping out cool, unique, and interesting patterns. If a bold pattern isn't your forte, search for solid colors that pop to add a little something extra to your space. Don't be afraid to be daring, especially if it's an accent chair or ottoman! You also can't forget about the exterior design though. If you have a patio, balcony, or even just a square of concrete that you're looking to spruce up, keep an eye out for patio furniture on your next thrifting adventure.
Dressers & Storage
There's something special about spotting a functional and interesting storage piece while thrifting, like a dresser. You might come across hand-painted detail, hidden compartments, and special little features that make buying a piece of furniture more meaningful than picking up a dresser from a big box store.
See Also: How to refurbish an old dresser
Tables & Desks
Like couches and chairs, keeping an eye out for fun patterns on tables is a must. One ReStore staff member recalls a kitchen table that came in that was hand-painted in Italy! Think outside the box and repurpose other items to be an end table, like taking a big wooden spool and using it as a unique conversation piece. The possibilities are endless. Nothing beats old-school writing desks, and bonus points for fun hidden compartments, drawers, or classic roll tops. These pieces will be sure to give your office a vintage look and feel while telling a story at the same time.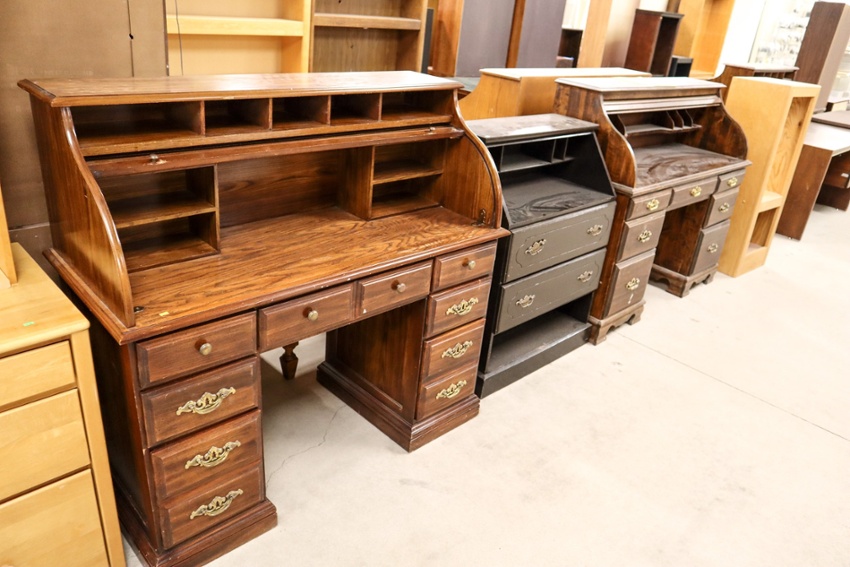 Lights & Lamps
Here's a bright idea, check out the lighting section next time you thrift! There are always cool finds in the lighting section, especially stained glass lamps and fixtures. From floor lamps to sconces, you'll see it all. Pro tip: try using a sconce as simple wall art. If you want it to be functional, just insert a battery-operated tea light instead.
See Also: Upcycling a Habitat ReStore find into wall decor
Electric Fireplaces
No fireplace? No problem. Electric fireplaces are a practical find at ReStore. One can help you stay warm in the winter and give your space a cozy cabin feel.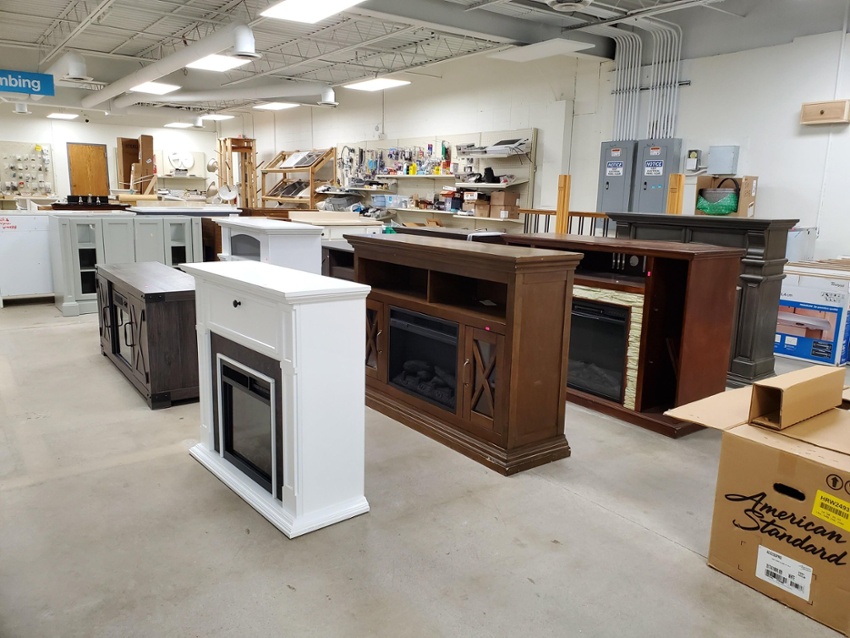 Whirlpool Tubs
You probably wouldn't expect to see a whirlpool tub while thrifting, and typically you won't! They don't come in often, but when they do, it's pretty cool. Another reason why so many thrifters make their rounds to local stores often.
Miscellaneous

There are always those random finds that speak to you while thrifting. It could be a radio or record player with the resurgence of record-buying, hand-painted figurines from Japan (donated by a donor who brought the figurines home from Japan after the Korean War), a funky lime vase, pet vacuums, circus shelves, an above-ground pool set, or a British floor mat. With a great seasonal rotation of inventory, you can even stock up on all your holiday needs!
You never know what you're going to find in a day of thrifting, but that's half the fun and why it's so popular. Although these finds are just a flavoring of favorites over the last year or so, it's important to shop regularly so that you can scope out the ever-changing inventory. Remember, ReStore has two locations. Make an afternoon of thrifting by visiting the Minneapolis store, then heading a few miles north to the New Brighton store. It's about the hunt, and when you find that oh so special piece to bring into your life, you'll know it.