When you shop at ReStore, you're finding all kinds of treasures based on what has been donated by the community. But sometime when you're looking for flooring, it may be difficult to get enough material for a large room. That's why ReStore has purchased a large supply of vinyl plank flooring to get the job done at a great price!
Come see unique donated products and our new selection of flooring by the pallet load.
Product & Colors
We stock 3 colors that fit most needs and styles. Vinyl plank flooring is also waterproof and suitable for kitchens and bathrooms.

Colors may appear different on screen. We recommend seeing it for yourself at one of our locations.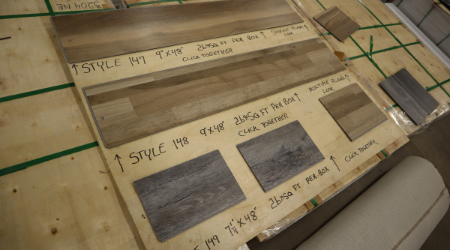 Staff and volunteers at each store have made quick and easy displays to help you choose and to view samples. The above photo is from our New Brighton location and the one below is from our Minneapolis location.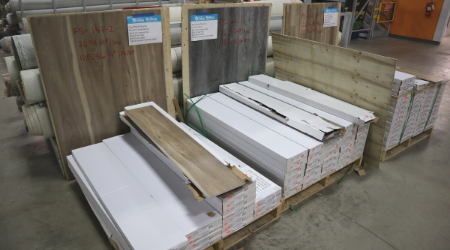 Cost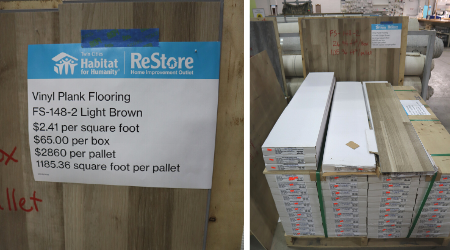 Learn how to install it yourself
Whether you choose to install it yourself or hire someone, it's worth watching a quick video on how it's done. You'll need a small amount of tools, but this type of flooring is meant to be relatively easy with "snap together" functionality.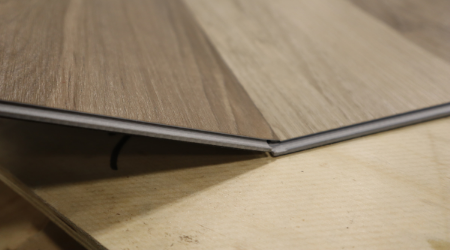 We recommend watching several YouTube videos for tips and tricks, but found this one that will help get you started.
Repurpose and recycle for a fresh start
When you install a new floor, your first step is to clear your room of everything. Help us keep our store stocked with your unwanted furniture. We provide a free pickup service! View our donation guidelines to get started.
Thank you for your support!