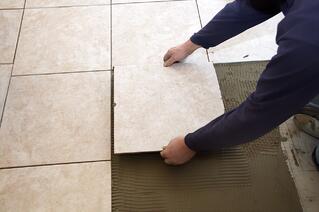 Considering tile flooring for your next home improvement project? It's durable and water-resistant, so it's well-suited to high-traffic areas such as kitchens, bathrooms, foyers, and laundry rooms. It's simple to care for, too.

Though, there is more to tile flooring than meets the eye. Before you go on a shopping spree, you may want to take a few minutes to learn about the differences among tile flooring. At the very least, this will help you "speak the same language" as the people at the store. And at best, you'll be able to make the best choice for you, your home, and your budget!
Take a Second Look at Ceramic
Begin by separating tile flooring into two categories: ceramic tile and natural stone tile. Here's where things can get confusing. Porcelain and ceramic tile may have different names, but they are not different types of tile. They are both forms of ceramic tile. These forms of ceramic can be broken down into two categories, however—non-porcelain and porcelain. They feature two different additives:
Traditional ceramic tile is non-porcelain and is crafted mostly with clay, though other minerals also fortify it.

Porcelain ceramic tile is made with the same materials, but feldspar is a key part of the mix.
Feldspar is a type of crystal found in rock and makes the tile much more dense and therefore tough. It is also less porous, which means it is better at resisting stains. (This is why you see more porcelain in commercial buildings. It stands up to steady foot traffic.)
READ: Kitchen Remodel DIY: A Step-By-Step Guide
Look at Your Natural Stone Tile Choices
Natural stone tile comes from natural materials found in a quarry. There are thousands of varieties of natural stone, but you're most likely to find five in particular:
Granite, known for its creative veining and speckled appearance, is tough. So, it's a good choice for kitchens and other high-traffic areas.

Limestone, distinguished by earth colors, is not as dense as granite and is more likely to scratch. So, it is not well-suited to high-traffic areas.

Marble should be sealed, and sealed regularly, to stand up to heavy or steady use.

Slate and its dark earth tones is dense and durable, so it makes a fine choice for high-traffic areas.

Travertine is a type of limestone that looks crystallized. It is a soft, porous stone that scratches and stains easily, so it's not the best choice for high-traffic areas.
Let Tile Class Be Your Guide
Tile is also rated by hardness, so you'll know if it's well-suited for the area you have in mind. The classification will tell you a lot:
Class I tile is suited only for walls (not floors).

Class II tile can withstand light foot traffic such as in bathrooms.

Class III tile is good for counters, walls, and light to moderate foot traffic.

Class IV tile can withstand moderate to heavy foot traffic.

Class V tile stands tough to heavy and even extra heavy foot traffic.
Now, Focus on the Fun
The fun part of shopping for tile flooring usually revolves around choosing a size and color. But even here, a little information can be helpful.
Floor tile is most often 1/2 inch to 3/4 inch thick and made in squares that measure 4x4 inches to 24x24 inches. Squares may dominate your choices, but tiles can also be found in rectangles. (There are some odd shapes out there like octagons and hexagons, too, but those are much more difficult to come across.)
Wall tile is thinner than floor tile and usually is found in squares that measure 3x3 inches up to 6x6-inches.
Color is a personal choice, but it may help to keep in mind that:
Lighter colors make spaces look bigger.

Darker colors can make spaces look smaller but also add warmth.

Neutral colors adapt easier to changes in wall color, furniture, and accessories.

Vibrant colors and some earth colors can add character.
So, take what you know to the store in order to find the perfect tile for your floor. Maybe it's simple white porcelain tiles for your bathroom or grey granite for your kitchen. The possibilities are endless.
Don't want to pay full-price for tiles at the big box stores? Visit either of our Twin Cities Habitat for Humanity ReStore locations to find discounted tile. We're always getting new donations of ceramic, slate, porcelain, and marble tile from which to choose.