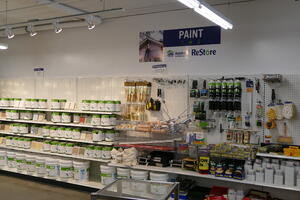 Whether it's your first time shopping at Twin Cities Habitat for Humanity ReStore or you're a regular customer, when you visit our stores you may come across some unique items you didn't expect from a home improvement outlet. Of course, we sell furniture, hardware, and appliances, but did you know we also sell cheap interior paint (for $16/gallon) and so much more? Check our list below to learn more.
Unique Items Found at the Twin Cities ReStore
Estate sale goods – We often find ourselves with furniture and antique woodworking tools from estate sales. If you come across a dated dresser that needs a little TLC, check out our blog on restoring old wood furniture.

Full kitchen cabinet sets – A lot of people don't expect to find a full set of kitchen cabinets at our store, but it's something we get frequently. You can save a lot of money buying gently-used cabinets rather than the hefty cost of new or custom cabinets for your kitchen remodel.
Not sure what you're looking for? Here are some tips and tricks for buying new or used kitchen cabinets.

Home cleaning items – While you're perusing the aisles, pick up some housekeeping supplies like a mop, broom, or dust pan. They're cheaper and still do the same great job.

Rough-sawn lumber – We receive a lot of leftover building materials including rough-sawn lumber. So, if you're looking for inexpensive lumber for your next home project, we may have just what you need.

Unique light fixtures – There may be nothing more functional and fun than light fixtures, and we have a lot of them. We even have outdoor light fixtures. Looking for some inspiration? Here are some creative outdoor lighting ideas.

Cheap interior paint – No, we don't mean cheap as in the quality. We mean high-quality yet inexpensive. So, whether you're looking to update old furniture with paint or paint the exterior of your home, we have a vast selection of colors to choose from.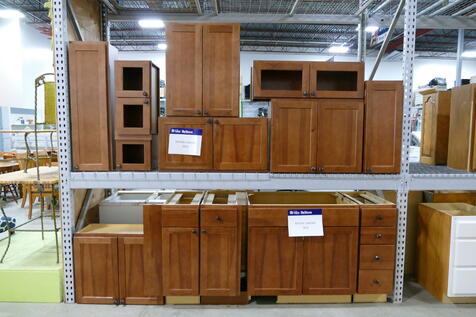 Twin Cities ReStore — A Wealth of Inspiration (and Supplies)
At Twin Cities Habitat ReStore outlets, you can find just about anything for your next remodel, or simply walk around and get some inspiration for a DIY project. We receive new items every day, so you'll want to stop by often to make sure you don't miss anything. In fact, you can stop by every day (except Sundays and Mondays when we're closed) if you like, we would love to see you!
You can also check out our Facebook page to see what's new in our inventory. Don't forget our blog is a great source of inspiration for DIY projects, as well.
Have a donation? Great! Check out our donations page for all the information you need on how to make a donation to ReStore and what items we accept. You can also call us at 612-588-3820 or fill out the form on our website and a member of our team will be happy to help you. We hope to see you soon!