I believe decorating doesn't have to be expensive. The savvy shopper in me, coupled with a stubborn "I can do it" attitude, led me to become a professional decorator and designer. But you may be surprised to learn that one of my favorite inexpensive DIY tools is paint! I'm not just talking about painting walls. Paint is a magical product that can transform a room or piece of furniture in a matter of hours. Sometimes all it takes is a gallon of paint or a spray can. Let's discover some fun things you can do! Here are a few ways I've transformed projects with paint.
Bedroom Accents
Several years ago, my company decorated a short-term rental home. We had a modest budget, but we rose to the challenge. When decorating the kid's bedroom, we were stuck looking for a side table that fit under the window, matched our color scheme, and met our budget. We found garden stools on clearance that were the perfect height and price—but they were the wrong color. Paint to the rescue!
A can of yellow spray paint provided the pop of color we needed for finishing touches. I've used spray paint to repurpose items to complete a design, from candlesticks and picture frames to cabinet hardware and wall hangings.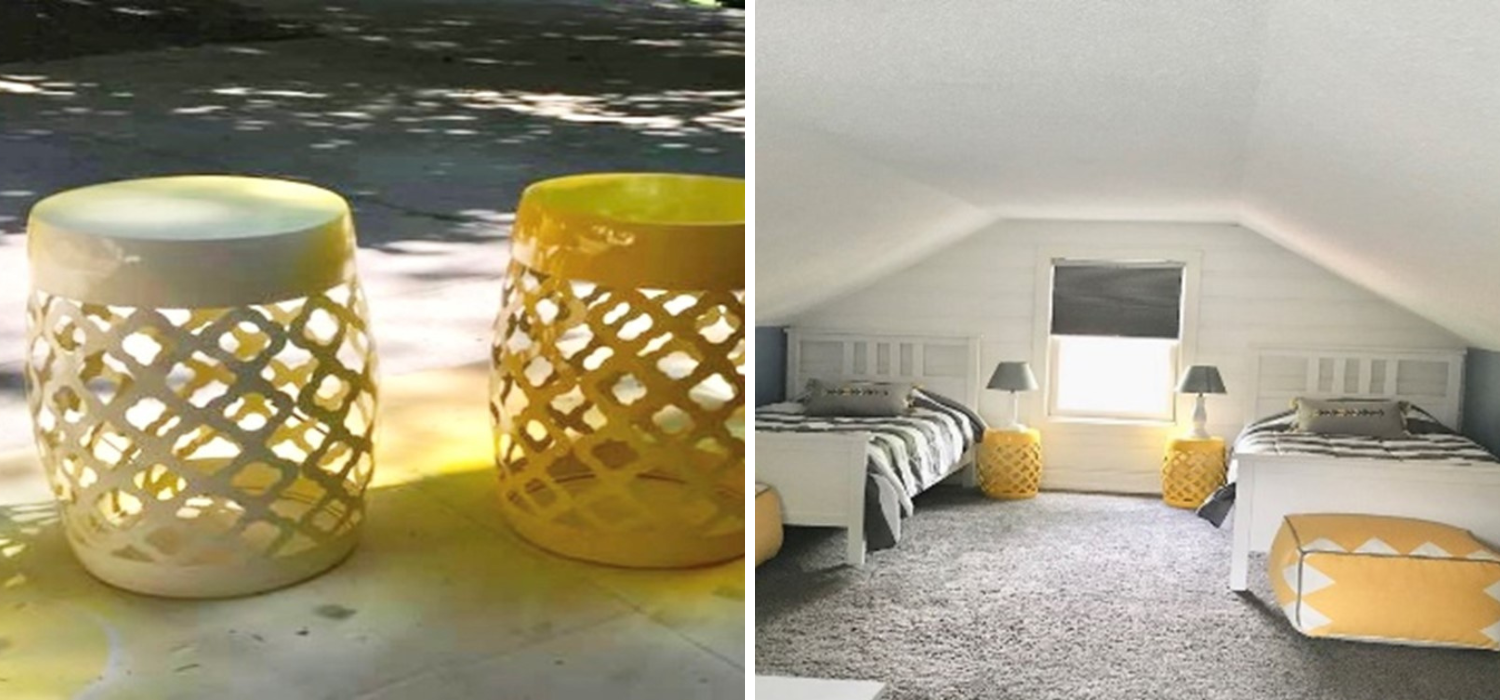 Furniture
I also love to repurpose furniture. My designs use both modern and vintage items, but I like incorporating vintage pieces with a modern flair. For example, I found this mid-century modern dresser on Facebook Marketplace for $50. I decided to use the dresser as a printer stand in my office. It also doubles as storage for decorating samples. The dresser had a few scratches, so I used paint to hide imperfections and give this piece a fresh, colorful look.

Left: Before | Right: Painted with Sherman Williams Peacock
Speaking of furniture, I recently refurbished an old hutch. The minimalist trend has left hutches sitting in basements and thrift stores. However, a few coats of paint matching your décor can bring hutches back into style. I scooped up a hutch from a client who was happy for me to take it off her hands. I needed extra space to store wine glasses, serving dishes, and entertaining essentials. So, I painted with Sherwin Williams Pewter Green paint and added gold hardware. I also added a peel-and-stick wallpaper for an interesting texture.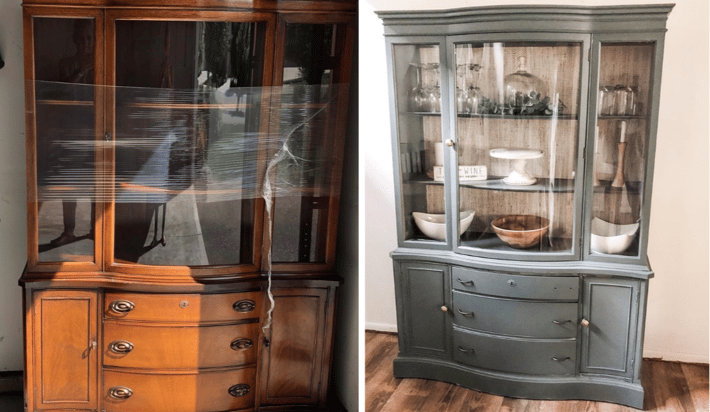 Left: Before | Right: Painted with Sherman Williams Pewter Green
Storage cabinets are making a comeback, though the cost isn't always cheap. Test your painting skills with an inexpensive or free item, and you just might end up with stylish storage. Note: If an item has glass doors, keep it free of clutter. For balance and symmetry, I chose dishes and décor with similar shades.
Fireplaces
One of my favorite transformations was a brick fireplace. The fireplace is the focal point of a room, so it should stand out. In this example, the stunning floor-to-ceiling brick fireplace is the first thing that catches your eye when you walk in the door. Beautiful, but the white brick was faded. I decided to be bold and paint it dark charcoal gray. Be prepared: this project takes a few days. You need to use masonry primer before painting the fireplace with your color, and filling the cracks can be tough. However, the result is worth it!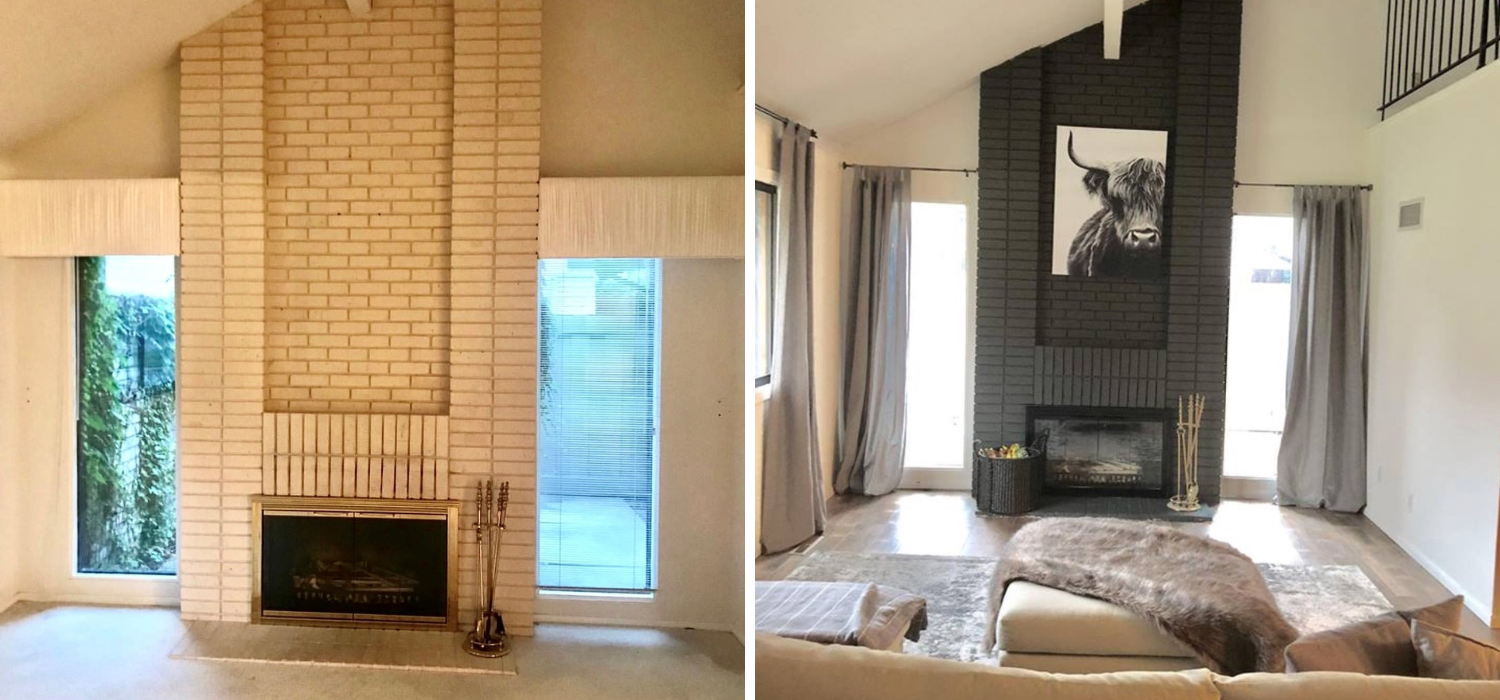 Cabinetry
Finally, you can decorate on a budget by painting cabinetry. I've painted kitchen cabinets, bathroom vanities, laundry cabinets, baseboards, and trim. My home was built in the 1990s, and everything is golden oak… I have updating to do, but I'm bringing this home into the current decade with paint, work, and patience. Check out this before-and-after of my office. Once again, I chose my favorite Sherwin Williams Iron Ore for the cabinets, updated the hardware, removed the wallpaper, and repainted the walls. It looks like a different room!
Left: Before | Right: Painted with Sherman Williams Iron Ore
Getting Started
Before I start any design or remodeling project, I look at the bones of the home to decide what could be refreshed with paint. In many cases, new materials and labor cost three times as much as it does to repaint. It's easy to see why painting is one of my go-to budget design tips! Same goes for your home décor. I bet you have a vase that would be perfect for your mantle - it just needs a fresh coat of paint. There are so many painting tricks you can find online, from recreating a pottery look to giving it a patina finish. Decorating is more fun when you design your own unique look and find pieces that create a story. When you're out shopping, remember: if you can't find the perfect piece, you can always paint it!
Make sure to stop by ReStore to look for pieces to upgrade or paint—they just might have the perfect thing! Inventory changes often, and you never know what hidden treasure you'll find. ReStore also has all the tools you'll need, such a brushes, trays, and painter's tape. Sign up for ReStore's Hot Deals emails so you don't miss the latest updates and deals.
---

Jill O'Gorman values the powerful connection between home presentation, perceived value, and market time. In 2008, Jill combined her interior decorating background and real estate expertise to launch Ravishing Rooms. She provides staging consultations to Realtors® and homeowners, helping them prepare homes for the market or stage vacant homes. Ravishing Rooms also offers interior design and interior decorating services.