The ReStore is your place to shop for the best deals on building materials and to get the creative juices flowing for your next upcycle project. From donating building materials to shopping for them, make the ReStore your next stop!
Donating Building Materials
Building Materials tend up end up at the ReStore after remodeling or a move. ReStore outlets accept building materials that are new only. This includes lumber, plywood, baseboard, and more. Check out the ReStore guidelines on accepted materials. ReStore Manager Jill Carmody says that lumber is by far the quickest seller followed by sheetrock, "our shoppers love finding these items." If you have one or one-hundred, the ReStore will take them.
You can drop off items or can request a free pick-up if there is a large quantity of extra building materials. Schedule a donation pickup!
Shopping for Building Materials
ReStore shoppers are always on the hunt for new building materials either to complete a home repair or a DIY project. ReStore Donations Manager Robin Henrichsen loves to see what shoppers do with the donated items, "We are always amazed at the creativity and green-minded approach of our shoppers. While they could find these items at Home Depot or Menards, they stop in to see if the ReStore has what they are looking for." There are many DIY creations that can include building materials found at the ReStore, from a rough sawn bench or table to a fence or planter wall. With building materials, you can let your creativity run wild and support Habitat's mission.
Check out our DIY Friday page for some awesome ideas!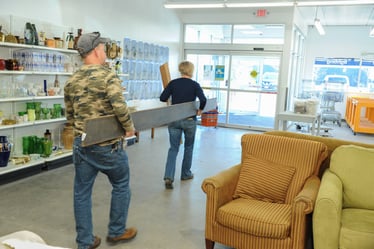 SHOPPING TIP:
Bring a list of the items you need for your project to the ReStore. It will help find what you are looking for and maybe a few things that you didn't know you needed.
Measure your home, rooms and spaces before you visit ReStore. You might just find the that perfect thing. Make sure it fits!
You can stay updated on building materials coming to ReStore when you join the VIP Club! Text RESTOREVIP to 51555 and join thousands of shoppers who get early access to amazing deals.