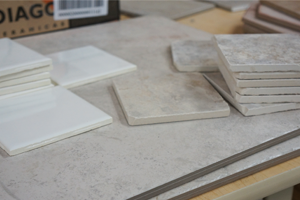 It's easy for your garage to fill up with extra building materials after completing a home improvement project (like a kitchen remodel). But if you want space to park your car, you'll need to give that stuff a new home—and we don't mean out back in the dumpster. Odds are, there are some diamonds in the rough that could be re-used, recycled, or donated!
Reuse
While you're still in the project mood, why not use the extra materials to create something new for your house? Use your imagination or the Internet. DIY projects are all the rage and inspiration is everywhere!
Tile
Tile is fun to work with because it comes in a variety of colors, shapes, sizes, and textures.
Use an accent color to make mosaic tables, frames, or mirrors for your living room. Have a garden? Lay a tile path amongst your plants and flowers. Believe it or not, there's even a use for those broken pieces of tile. They are great for drainage if placed in the bottom of a planter.
Brick
Leftover brick can be used to boost your curb appeal. Create a pathway to your front door or use it to build raised planters. Bricks are exceptional for planters because they drain well. You can also build a fire pit or barbeque.
Wood
Wood is one of those leftover building materials that you can do just about anything with because it is so versatile. You could:
Make plywood shelves,

box shelves

, or

cubbies

Make a garden trellis

Build raised garden beds

Build a treehouse (if the leftover pieces are large enough)

Or, if your wood building materials are untreated, you can use it for firewood
If you're open to a fun challenge, old wood pallets make for an excellent repurposed coffee table. Add some castors to the bottom and you have a functional table that works inside or out, and is easy to move! Pallets also make wonderful wine racks and easy planters.
Paint
Paint is another versatile material that can beautify just about anything. But make sure you save some of the leftover paint in case you need to touch something up on your initial project. Otherwise, feel free to:
Repaint furniture

, like a dresser, desk or end table

Paint a small room, or one wall of a room for a pop of color

Paint flower pots or flower boxes
Miscellaneous Materials
You may have miscellaneous materials left over like old appliances that don't work or leftover pipe. You can reuse these, too. Leftover copper pipe can be used to create a unique side table.
This fire pit is made using the drum from an old broken washing machine and the legs from a swivel office chair. To make it more fire resistant, you just use heat resistant paint and then light it up and roast some marshmallows.
Still in need of inspiration? This recent blog should do the trick: 6 Unique DIY Decor Projects to Make with Extra Building Materials.
Recycle
Recycling leftover building materials prevents them from ending up in landfills, and there are a couple of ways to do it. You can list your materials on eBay, Craigslist or Freecycle. There are plenty of people out there who love a good project and you might have exactly what they're looking for!
For leftover wood, ask your local recycling facility if they'll run the wood through a chipper. Many recycling facilities will create soil enhancement by mixing chipped wood with other materials.
Donate
If you don't want to use the leftover materials yourself or recycle them, think about donating them to a high school woodworking shop, scrapyard, or Habitat for Humanity's ReStore. Our two locations accept donations of gently used appliances, housewares, and furniture as well as building materials like paint, lumber, tiles, and more.
Not only is your donation to the ReStore tax deductible, but all of the proceeds go towards Twin Cities Habitat for Humanity's mission.