There's nothing worse than waking up on a Monday morning and opening the refrigerator to grab your lunch for the day only to find that your fridge is no longer working. Buying a new appliance can put a huge dent in your checkbook at the most inopportune time.
However, buying used appliances can save you quite a bit of money regardless of whether you are looking to buy a microwave, washer and dryer, oven, or refrigerator. But how do you know what to look for to make sure you're getting a good deal and an efficient appliance that will last you for years? Twin Cities Habitat for Humanity ReStore staff member, Jan Hagerman, has some advice on key considerations when you're shopping for a used appliance: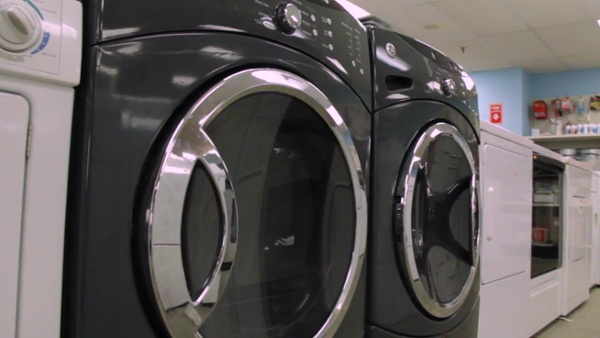 Look at the Brand
Some household appliance names like Kenmore, Maytag, Whirlpool, Hotpoint, and Frigidaire have been around since the early 20th century. Used appliances from these companies tend to last for a long time and perform quite well even when they are past their prime.
Check on the Warranty
Depending on the age of the appliance, it may still be under the original warranty, but you'll need the warranty paperwork unless the appliance was registered online. In that case, you may not need any paperwork.
Many times, the original owner will buy an extended warranty on the appliance that has not yet expired. If there is still an active warranty on the appliance, you'll need the original purchase receipt to be able to take advantage of it.
Examine its Condition
You also need to take into account the physical condition of the appliance. Be sure to inspect the appliance both inside and out to get an idea of its current condition. Most appliances have an average lifespan of 10 to 20 years. Dishwashers and microwaves average at the lower end of that spectrum (10 years) while all other appliances can last up to 20.
Furthermore, how was the appliance was used? Was it used heavily or just everyday normal use? Has it been owned by one person or more than one? Inspecting an appliance can be like shopping for a used car. If you find one you like but it has over 100,000 miles on it, that car won't have as much life left in it as one the same age but with 45,000 miles on it.
READ: Kitchen Remodel DIY: A Step-By-Step Guide
Research the Appliance
Look for online reviews about the brand, and the model if you can find them. If it's an older or lesser-known model, make sure replacement parts are available and easy to get. For example, if your Whirlpool dryer suddenly stops heating, you may need to replace the heating element. With easy access to the right replacement parts, you could get another five years out of it.
In your research, pay attention to the features that are important to you. Not all refrigerators are created equal. Does the model of the used appliance you are looking to buy have all the traits or features you want and need?
Test the appliance
Push buttons, turn knobs, open and close doors and make sure everything works. At our stores, you can vigorously test out the used appliances to make sure they work. Plus, there's a seven-day money-back guarantee if something goes wrong.
Looking for a used appliance? Come by the Twin Cities Habitat for Humanity ReStore today to check out our inventory*!
Upgrading your appliances and want to donate your old one? Twin Cities Habitat ReStore outlets accept refrigerators (no commercial, no built-in), freezers, stoves, vent hoods, washers, and dryer that are in good, working condition and are less than 10 years old.
*We do not sell used dishwashers, wall or double ovens, microwaves, garbage disposals, cooktops.