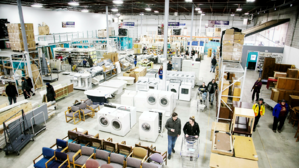 If you've never been to one of our Twin Cities Habitat for Humanity ReStore home improvement outlets (or any Restore for that matter), walking in may feel a bit daunting at first. But never fear! We have a beginner's guide to shopping at Twin Cities Habitat Restore locations just for you.
What Can I Find?
When you make your first visit to one of our Twin Cities Habitat Restore locations, you'll be greeted by smiling volunteers just waiting to help you find exactly what you need. Now it's time to start shopping!
Because our inventory is dependent on donations made to our stores, our product selection is always changing, and we have a wide variety of materials and supplies. Some of those items include:
Furniture

Kitchen Cabinets

Lighting

Appliances

Hardware and plumbing

Amazon Paint & paint supplies

Various types of flooring (including tile, vinyl, wood, and laminate)

Ceramic tile

Doors

Tools

Windows
Because most of what you'll find on our sales floor is donated, we can offer significant discounts on materials and other items in the store. This makes our stores the perfect place for bargain hunters and DIYers to shop. Even if you're not looking for something particular, you can shop the Twin Cities Habitat Restore locations like an antique or thrift store. We have a variety of gently-used furniture and appliances. You can even find gems like full sets of kitchen or bathroom cabinets!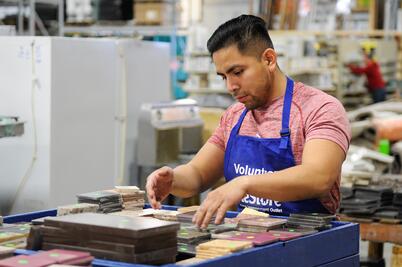 Donated products arrive daily from local contractors, metro area businesses, retailers, individuals, and DIYers just like you, which means you'll always find something different when you visit our stores. But, if you happen to find something you like, we can hold the product for two hours without payment. That gives you time to call and get measurements, approval, or advice about the item and make sure it will work for your project.
Tips for Shopping at the Twin Cities Restores
If this is your first time shopping at Twin Cities Habitat Restore, we have a few tips that can help make your shopping experience fun and efficient:
Bring a tape measure! It's important to make sure the item you are looking for is the right size before you get it home, so you'll want to measure it at the store. If you forget yours, you can ask for one at customer service. We'll let you borrow one in exchange for your car keys.

Come prepared with measurements for any project. Because our inventory is constantly changing, you never know what you will find! And chances are, it probably won't be here when you come back.

Product holds are available. If you purchase something, but have transportation issues, we can store a purchased product for three business days.

Prices are set. Since we already deeply discount our merchandise, please don't attempt to haggle.

Keep an eye out for sales and special offers. Even though our prices are already discounted, you can still find items on sale. Look for the "Hot Deals" signs in-store, sign up for our Hot Deals emails, and subscribe to become a ReStore VIP to get insider info on upcoming sales, special offers, and sneak peeks at inventory!

Become a frequent shopper. We are always bringing new products to the sales floor, so if you can't find what you are looking for on your first visit, come back. Chances are good you'll find what you need in a few visits.

We have all kinds of carts for you to use! Shopping carts are, of course, at the front of the store. But you can also find panel carts, flat carts, and A-Frame carts scattered throughout the store to make it easy to get your items to your vehicle when you're done shopping.
Where are the Best Deals at Twin Cities Habitat Restore?
The best way to find out about our Hot Deals as they happen is to sign up for our email newsletter. You can also like us on Facebook to see the latest on inventory selection as well as view any upcoming sale announcements.
So, what are you waiting for? Stop by one of the Twin Cities Habitat ReStore locations today!