Spring is here! You may have noticed that it seems like everybody has some kind of lawn and garden project going on, and you may have a couple of projects planned yourself. But why go to the big box stores for your lawn and garden needs when you can find everything you need at ReStore at much better prices?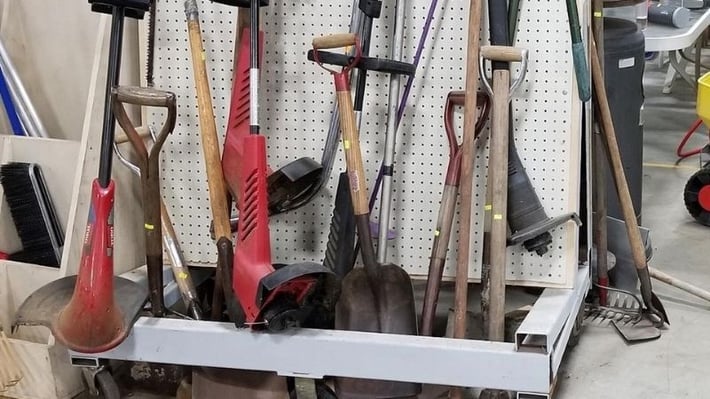 What Can You Find at ReStore?
Just about everything. Whether you need supplies for garden boxes for that new herb garden you're planning, or just some hand or power tools for the yard work you've been putting off, you can find it at ReStore. In fact, most people are quite surprised by the variety of tools they find in our inventory.
Some of our most common tools and equipment include:
Shovels

Rakes

Lawnmowers

Weed wackers

Electric trimmers

Leaf blowers

Edgers

Hoses
Buying some of this equipment used at ReStore instead of the big box stores can potentially save you hundreds of dollars! While you browse the lawn and garden tools, you may find some inspiration for a new project like renovating your patio. You'll find a variety of patio furniture at ReStore that will give your patio a cozy, inviting look.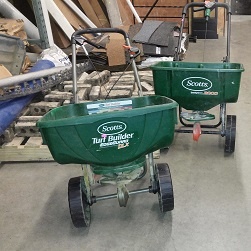 Project Ideas
If your yard is looking a little bit plain, you may want to spruce things up a bit with some lawn and garden décor. You'll find beautiful bird baths and fountains at ReStore that can give your lawn or garden a more Zen and peaceful feel.
Have a table that doesn't quite fit the Zen feeling you're after? Create a tile mosaic on the table top to give it new life. What about that planter box that looks a bit out of place? A coat of paint can do wonders to transform it into a beautiful flower box.
No matter what kind of a look you want your garden or yard to have, you can find it at ReStore. We have a variety of yard figurines, bird feeders, and wire fencing to transform your landscaping into the best-looking oasis on the block.
Landscaping Pro Tips
While landscaping doesn't seem like a difficult project to accomplish, good planning will help you avoid the kind of issues that can take up a whole weekend. So, we have a few tips for you to keep your project on track.
Have a Plan
If you're thinking about creating a garden, or a Zen oasis, make sure you have a plan before you get started. Know what your budget is, and what you want your end product to look like. This will help you get the measurements you need and make a materials and supply list for when it's time to go shopping.
Get Your Soil Tested
Before you start planting (or even before choosing your plants), have the local University Extension Service test your soil to find out what your fertility requirements are. You don't want to plant beautiful flowers and have them flounder instead of flourish because you don't have the right fertilizer (or worse, they die!).
Know Your Measurements Before You Go Shopping
The old adage "measure twice, cut once" applies to just about everything. Before you go shopping for supplies, know the size of the area you'll be working on and take the measurements with you when you go. Nothing is worse than getting started on a project and finding out you don't have enough brick for the garden you planned, and then you have to stop what you're doing and go back to the store to get more.
Buy More Than You Need
When it comes to dirt and plants, it's a good idea to buy more than you need. Having extra dirt on hand is never a bad thing. You never know when you're going to need to replant something, or if you'll need more dirt than you originally anticipated in an area.
Keep Your Leaves
While you could send leaves to the landfill, you can also use them to fertilize your grass. Use a mower with a bag on it or a blower/vacuum that shreds your leaves to create a mulch you can sprinkle over the grass or anywhere you need a little fertilizer. You can do the same thing with grass clippings. Alternatively, you simply mow small amounts of the leaves into the grass.
No matter what project you're planning, we have everything you need, so stop by the Twin Cities Habitat ReStore today!