Have you ever seen an item at ReStore that looks similar to something you saw at a big box or home goods store? Chances are the item you noticed was donated by another company! Our generous donors provide us with furniture, light fixtures, building supplies, and more. Read on to learn more about new donated products at ReStore.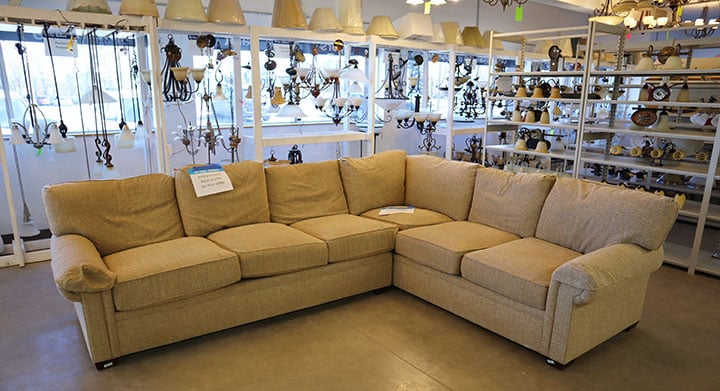 Behind the Donation
Our donors give with the intention of supporting our mission. We develop strong partnerships with other businesses, and most donate at least quarterly. Consistency is important to us, but we are always on the lookout for new partners. Both ReStore and shoppers like you benefit from the donations of partners new and old. When they have extra inventory or need to make space for new designs or models, we often receive new donated items to sell at ReStore.
When we receive these donations, we split the items between our stores in New Brighton and Minneapolis. You may be able to find more of these products in New Brighton, simply because the store is bigger, so explore both locations to see what you can find.
New Donated Products at ReStore
Because of the generosity of our business donors, we want to make sure we maximize our impact for Twin Cities Habitat for Humanity's mission. You may see a higher price on these new items compared to used donated items for sale, but we always keep quality in mind when pricing. And even our highest-quality items are usually sold for at least half of retail price. (We also adjust prices if items have been on the floor for a while, usually after a month or so.) That means you'll find a great deal on these new, name-brand items while knowing your purchase still makes a difference. Our new donated items are not marked any differently than other items at ReStore. Be sure to stop by our locations in Minneapolis and New Brighton if you're curious to see what we've received recently.
Shop and Save
Our most loyal shoppers will tell you that there's something for everyone at ReStore. Because we have a variety of options—from new products to used items—you'll also see a variety of prices. While our prices are already heavily discounted from retail prices, there are even more ways to save!
Hot Deals Emails
Hot Deals are special sales that change every two weeks. These emails include specific sale information. You'll also get updates that include tips and tricks, DIY content, and more. When you sign up for Hot Deals for the first time, you'll receive a discount coupon to use right away!
VIP Text Club
The ReStore VIP Club is our way of showing committed shoppers that we care. Once you sign-up, you will receive a text message one to three times a month. We'll share exclusive offers, discounts, and other exciting news just because you are a loyal shopper!
Donate and Get a Coupon
Donate knowing your used items are supporting local families. Plus, after making your donation, you'll receive a 20% off coupon for your next purchase. Anyone can donate or shop at ReStore. You don't have to lift a hammer to help families in your community!
---
Our shoppers, donors, and supporters keep ReStore going. It's only because of our community that we can come together to help others access the transformational power of homeownership. Join us by shopping, donating, or volunteering!
Have more questions? Check out other FAQ blogs or visit us in person.