Many businesses have times when they need to deal with being overstocked or need to clear space in their stock rooms. During these times, partnering with Twin Cities Habitat for Humanity ReStore benefits both the business and the community. ReStore wouldn't have products to sell without donations to provide those products, and all profits go toward supporting local homeowners through Habitat's programs. Business donors provide a valuable contribution to both ReStore and Habitat's mission.
When it comes to taking care of its members, ProSource Wholesale is second to none. With three showrooms in Plymouth, Bloomington, and Oakdale, trade pro members (which include architects, contractors, builders, designers, and more) can find the home remodeling products they need while receiving outstanding service.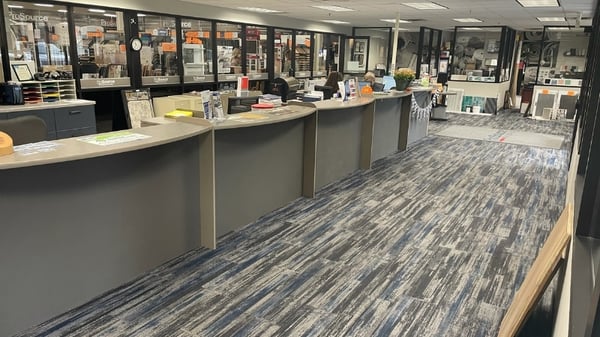 ProSource Wholesale office.
And when extra inventory starts to take up valuable space, ProSource proudly partners with ReStore to make sure it goes to a good home. Sometimes the extra product is a result of canceled or returned orders that vendors won't take back. Regardless of the reason, ReStore can find a use for these items and keep them out of the landfill—benefiting the community as well.
ProSource first started working with ReStore ten years ago. Habitat had a great reputation and seemed like a natural fit, as ProSource likes to partner with organizations that share similar core values and philosophies. There have been numerous benefits to partnering with ReStore. Without this partnership, ProSource would need to reevaluate costs for labor and disposal of unused materials. Instead, time and fuel costs are also saved by using ReStore's free pickup service. These benefits get passed along to ProSource's 2,500 members in the Twin Cities metro area.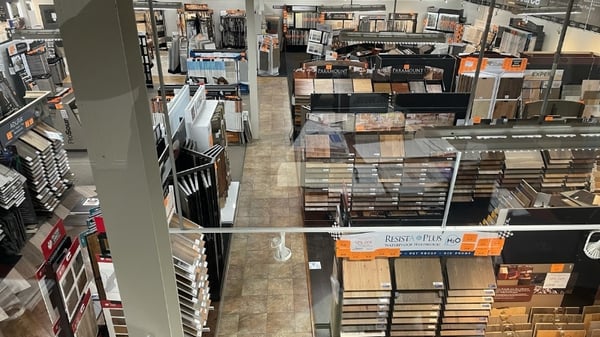 ProSource Wholesale sales floor.
Chris Schmitz, Member Services Manager at ProSource, as well as the current Chair of the NARI (National Association for the Remodeling Industry) Cares Board, has found the partnership with ReStore to be extremely beneficial to both ProSource and its members. Chris led NARI Cares in a Habitat for Humanity build day recently to continue giving back to the community.
When asked what he would say to other businesses that might consider partnering with ReStore, Chris said:
"Just jump in. It's a great organization. They're organized, it's convenient, and why not do good with every aspect you can and make a difference, when ReStore makes it so easy to do that?"
Want to learn more?
Making a business donation to ReStore is an easier process than you'd think. Contact Larry Lane, Donation Manager, to discuss a possible material donation from your business. Schedule your next business donation today.
"I look forward to working with your company to help you find a home for items that are no longer needed. Your donation helps us build affordable homes, ensuring families in our community can secure safe, stable and affordable housing - building community and hope."
-Larry Lane