Update on May 14, 2021: ReStore currently maintains its safety protocols and requires shoppers, volunteers, and staff to socially distance themselves and wear masks while in the store.
Update on February 12, 2021: We had previously asked that no one under 16 years old be in the store during the COVID-19 pandemic. We now allow minors in the store with adult supervision.
Before you head back or visit ReStore for the first time, there are a few things you need to know. Your safety and the safety of our staff and volunteers are first and foremost. We've created new protocols and rules in response to the COVID-19 pandemic that you should know before visiting.
Customers
When our stores open, shopping and donating with us is going to look a little different than before. We have developed some safety procedures to keep our shoppers safe.

Stay home when sick. We are excited for you to be back shopping with us, but please wait until you are healthy. No one may visit any Twin Cities Habitat for Humanity location who has had a fever (100.4F or greater) within the last 14 days. This includes people who have
symptoms personally, or within their household.

Staff and volunteers will be wearing masks and we are requiring our shoppers to do so as well. We operate with a very small staff and it is very important for us to stay healthy. Wearing a mask will help keep our stores open, so please wear a mask while you shop with us.

Only touch the merchandise when it is necessary. This is a tough one because many people shop by feel, however we really want to keep items safe for everyone. We ask that you keep couch testing to a minimum and not loiter on the furniture.

Please come prepared to load items yourself. We'd love to help, but we need to keep everyone at a distance.

Staff will be sanitizing shopping carts and baskets on a regular basis as well as wiping down our registers for a safe shopping experience. We have installed sneeze guards between our cashiers and shoppers. We are also requesting that you do not unload your cart unless necessary when checking out.
No pets. We've allowed well-behaved dogs in the store in the past, but we ask that Fido stay home for now.

Please review all our COVID-19 safety rules before you shop with us and take note of any signage at entrances.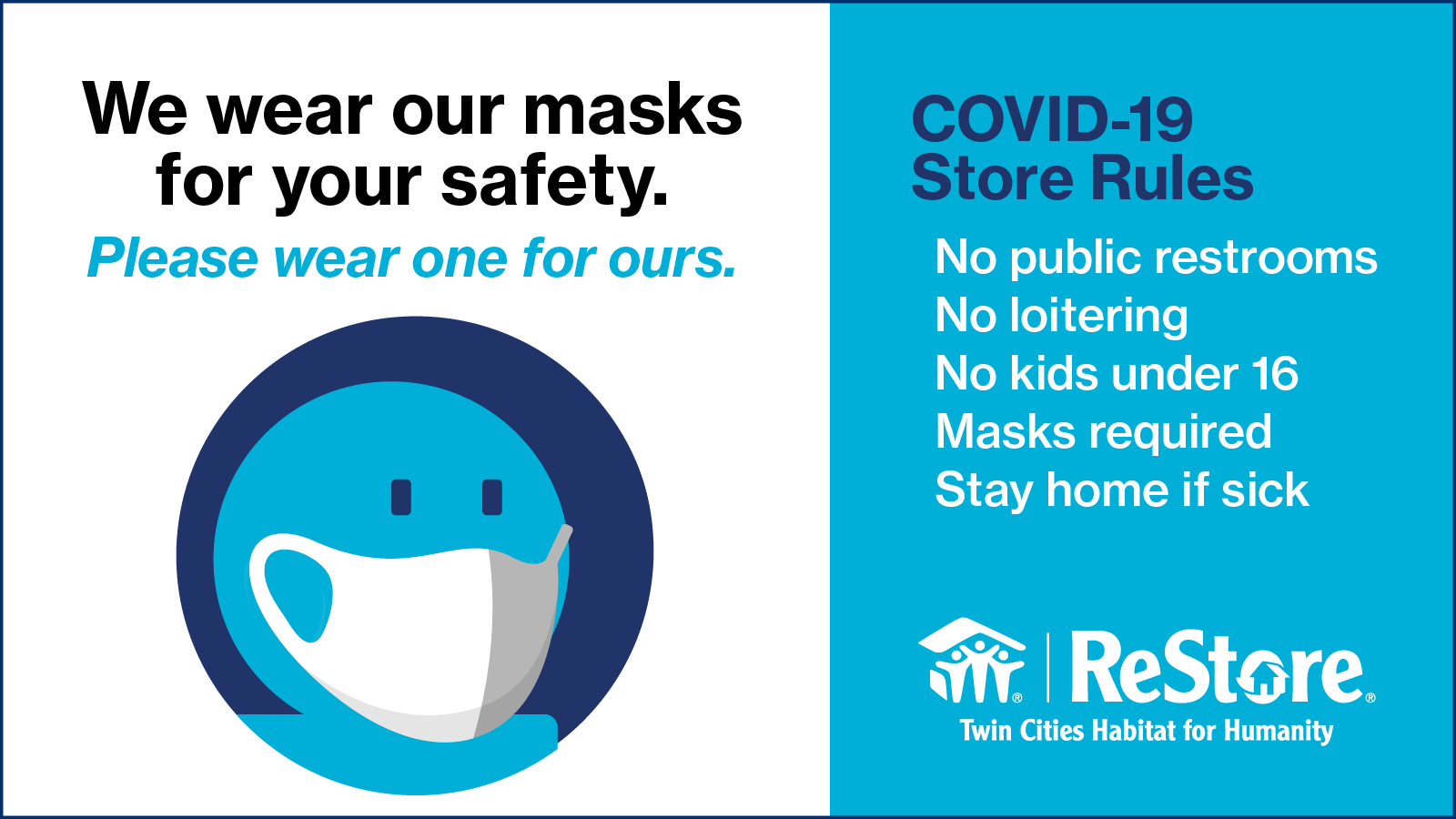 Donors
When dropping off donations we are following a no contact policy for the foreseeable future. Our staff is small, and we can only help ONE donor at a time safely in the drop off donation lane.
When you make a drop off donation, please wait in your vehicle until it is your turn to donate. When it is your turn, allow us access to your donation and then return to your vehicle. We will unload the donations that we are able to accept and provide you with a donation receipt if you choose to accept one.

We may not be able to accept every item you would like to donate. Please check out our donation guidelines prior to donating with us.
Donations are tax deductible. Twin Cities Habitat for Humanity ReStore will provide a donation receipt so you can use it as a tax deduction. Another perk for donating to ReStore! (MN Certificate of Exempt Status Number: ES 30657, Federal Tax ID: 363363171).