Did you know we sell new products at our two ReStore locations? It's true—you can get new products at a lower price while supporting Twin Cities Habitat's mission to create and preserve affordable housing. Read on to learn what new items we offer and why.
What do you mean by new products?
New products are new, unused items we buy to complement the inventory at ReStore. While many items are donated, we want to maintain our reputation of affordability while also providing the value our shoppers expect. Selling new products is one way we offer customers the best dollar value and supplement our donated inventory.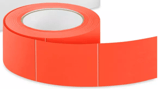 Restore began purchasing new products about six years ago. After receiving positive feedback from our customers, we continue to add a variety of new items. Usually, new products at ReStore are labeled with red tags, so take a look next time you shop! Note that red tagged items are typically not available for discounts, as we've already bought these items at a significantly discounted price.
What new products can I find at ReStore?
Paint and Paint Supplies
Paint was the first new product ReStore offered, selling for nearly half the price of a gallon of paint elsewhere. Rated for indoor and outdoor use, Amazon paint is recycled paint that comes in a variety of stylish colors like oak moss and slate. When you by paint at ReStore, not only are you getting a great product, you're keeping discarded paint out of the environment! To offer shoppers a convenient one-stop-shop for painting projects, we also sell new paint supplies, including painter's tape, brushes, and trays. Learn more about Amazon paint.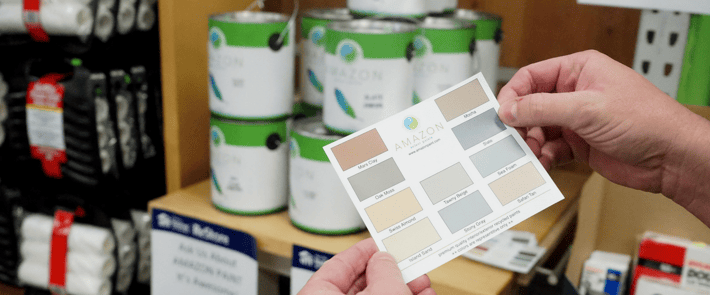 Flooring
We often purchase flooring to sell at ReStore, including tile, laminate, and vinyl. Our partner vendors give us a discounted price, allowing us to sell flooring at a price competitive with big-box stores. Depending on what type of flooring you're looking for, the price may be similar—but when you make a purchase at ReStore, you're directly impacting Habitat's mission. Our vendors provide us with consistent inventory, which means customers can come back for more if needed. If you're ready to tackle your own project, check out our DIY bathroom flooring blog.
Appliances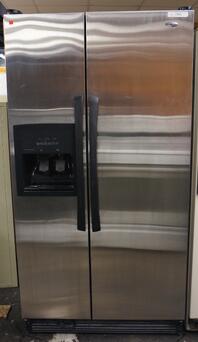 During the pandemic, supply chain delays made appliances hard to find. But, since many people decided to remodel their homes, appliances like fridges were in high demand. To offer what our customers wanted, we began purchasing new appliances from liquidators. Some of the appliances have scratches or dents, usually on the back or side where you won't see them. Since we purchase these items at a discount, we're able to sell them for less than retail price (while still supporting local families). Our new appliances are often sold for 60% of retail value!
Do you know the average lifespan of household appliances? Check out our guide to learn more.
Why shop for new items at ReStore?
At ReStore, you get significant discounts on building materials, home furnishings, supplies, and more (even brand new products), so you're always getting a good deal. More importantly, all ReStore sales support the programs and services Twin Cities Habitat offers to local families. Our mission to create, preserve, and promote affordable homeownership is needed more than ever as housing prices and inflation continue to skyrocket. In the past year alone, ReStore supporters helped sponsor the building of five new affordable homes for local families, and also kept almost four million pounds of materials out of landfills! Not only do you save when shopping at ReStore—you also help your neighbors and the planet.
What other new products would you like to see us offer? Share your ideas below.
Never miss a deal!
Sign up for our Hot Deals email to make sure you get the latest updates on discounts and deals at ReStore.