Remodeling a kitchen requires a lot of planning, and some of it has nothing to do with the decor. For example, what are you going to do with those old kitchen cabinets? You could repaint or restain them instead of buying new ones, which would save you quite a bit of money. But what if you want to replace them?
Throwing the old kitchen cabinets away is one option, but that means they'll end up in a landfill. If you're eco-conscious, that probably won't work for you. You could also have someone come and pick them up, but that oftentimes costs money (not with the ReStore, they pick them up for free!).
Of course, you could always donate them to the Twin Cities Habitat ReStore! We'll happily take them off your hands, as long as they fit within our accepted donations guidelines.
If you're looking for more creative ways to reuse those old kitchen cabinets, here are a few ideas to get you started.
6 Things To Do With Old Kitchen Cabinets
Kitchen Island
If you're redoing your kitchen, you'll probably want to add an island to make preparing food easier and more efficient. Why not reuse your old kitchen cabinets to make your kitchen island! Long wall cabinets are perfect for this project because they are just the right height for most people to comfortably cut veggies and prep food. Simply add a countertop to the cabinets and you have a beautiful kitchen island with lots of extra storage space.
Save
How to build a kitchen island (easy DIY Kitchen Island)
Classy Clutter
kitchen island out of stock cabinets
Mudroom Bench
Mudrooms are all the rage right now, and for good reason. They are a great way to keep muddy shoes from tracking dirt all through your home. If you don't have a mudroom, you can create a space reminiscent of a mudroom with your old kitchen cabinets.
Save
How to Make a Mudroom Bench Using Old Kitchen Cabinets
DIY
How to Make a Mudroom Bench Using Old Kitchen Cabinets : Home Improvement : DIY Network
Short wall cabinets can be turned into a bench that doubles as storage for shoes or anything else – and they are usually the perfect height for you to sit on while you tie your shoes. Add some hooks to the wall above the bench and you have the perfect mudroom to store all your shoes, bags, jackets and winter coats. The extra storage space the cabinets provide will help keep the room clean and organized.
Dartboard Cabinet
This is a great idea for a game room or den. If you love playing darts, you can turn old kitchen cabinets into a dartboard cabinet with storage! Wall cabinets work well for this project and you can even turn the inside of the cabinet doors into scoreboards by painting them with chalkboard paint. You'll have plenty of room to store your darts, board games, and other activities.
Save
10 Fabulous Repurposing Ideas For Old Kitchen Cabinets
DIY & Crafts
DIY Repurposed Cabinet Dartboard
Craft Desk
If you love crafting, you can make your own crafting desk with your old kitchen cabinets. All you need is a few base cabinets and some plywood or a long countertop if you want something a little more stylish. You could also turn this project into a "his and hers" desk area. Either way, the cabinets will give you extra storage space for all your crafting supplies or desk necessities.
Save
10 Fabulous Repurposing Ideas For Old Kitchen Cabinets
DIY & Crafts
10 Fabulous Repurpose Ideas For Old Kitchen Cabinets #diy #repurpose #upcycle #reuse #crafts #projects
Toy Kitchen or Workshop
If you have kids, this is a great project! Toy kitchens can be expensive, and you'll probably only get a few years of use out of it. You can create your own with your old kitchen cabinets and save money while creating something fun for your kids. And be aware that you can think beyond a kitchen – cabinets are also perfect for a toy workshop.
Garage Storage Space
Old kitchen cabinets make a great addition to your garage because they can give you lots of extra storage space. You can either reuse all of your old cabinets, or you can use a select few if you have a smaller garage.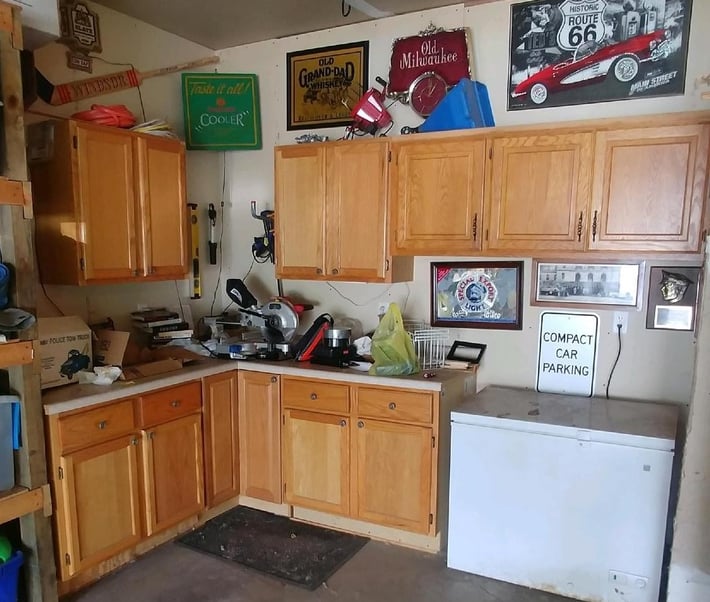 If you are removing all the old cabinetry and countertops, you could turn your garage into a workshop (if you have enough space). Reusing the cabinets and countertops can give you extra storage for tools and the countertops will give you extra space to work. Remember, measure twice, cut once!
Save
Top 5 Simple Wood Garage Cabinets Ideas You'll Love - Enjoy Your Time
Enjoy Your Time
60 Garage Cabinets Ideas You'll Love - Enjoy Your Time
Need more ideas for those old kitchen cabinets or supplies for your next DIY project? Stop by our Twin Cities Habitat ReStore locations in New Brighton and Minneapolis! We receive new inventory and donations every day, so you'll always find a hidden gem!