A lot of people love their houses except for one small portion — which isn't that small at all — the kitchen. And often, ugly, out-of-date cabinets are the culprit. Fortunately, Twin Cities Habitat for Humanity ReStore's Jan Hagerman has some great tips for boosting the appearance of your kitchen cabinet doors.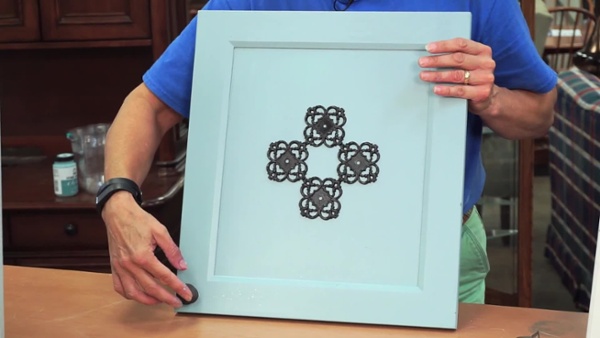 New Hardware
The easiest thing to do is put on new hardware. It's inexpensive, and you can do it in a couple hours (or less). Or even better, you can just spray paint the hardware. It won't last forever, but it can give a little bit of an update for a while.
Restain the Cabinets
A lot of people think the easiest thing to do is to restain their cabinets. Beware, it takes a lot of sanding to get rid of the old stain before you can apply anything new. In reality, restaining cabinets takes a lot of time and effort. And to get it right, also takes a little bit of skill. However, it can be worth the work. Restaining can really change the look of your cabinets.
DIY Projects
In this video, Jan demonstrates four easy DIY ideas for kitchen cabinets:
Paint an old cabinet door with some simple chalk paint, add some hardware from an old dresser, spray painted black, and a new handle, to give it a whole new personality.

With the same color paint we used on the first door, Jan used chalkboard paint in the center to create a place for a grocery list or the kids' school activities.

A fancy-looking cabinet door is actually easy to do. It starts with stained glass tile, glued down with some black grout, and a white border and new black handles to finish it off. The whole door, after the stained glass was set, took about 20 minutes to a half-hour. You might not want to do the whole kitchen this way, but as an accent piece, it really gives a pop of color.

A cabinet door with a glass panel comes alive when the wood is repainted, and Jan spray paints the back of the glass with a contrasting color. Suddenly, you have a message board or a dry erase board, plus a pop of color for your kitchen.
We have plenty of DIY ideas at Twin Cities Habitat for Humanity ReStore. We've got cabinet doors and just about everything else that you'll need. Our inventory is always changing, so stop by our two locations for your DIY inspiration.