While you're remodeling your kitchen, one of the things you'll be surprised by is how quickly you run out of space. Countertops alone can eat up a lot of real estate – then you have to decide whether you should buy kitchen cabinets or appliances first.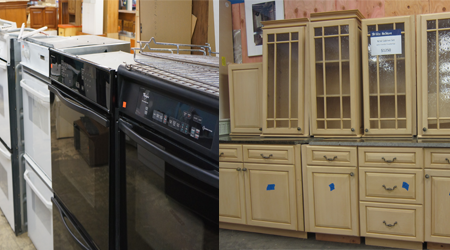 There are pros and cons to both. Here's a quick checklist of points to consider:
If functionality is the most important part of your kitchen, buy appliances first.
If you're remodeling your kitchen for style and spaciousness, buy cabinets first.
Either way, measure twice so you only have to buy once.
Either way you go, you should follow a few basic rules to keep costs (and headaches) at a minimum during your kitchen remodeling project. Read on to weigh the options and benefits to starting with kitchen cabinets or appliances.
Your kitchen layout is everything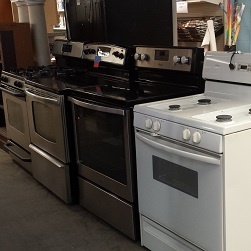 Moving gas lines, rerouting electrical outlets, and extending water lines is a quick way to jack up the price of a kitchen remodel. "Big" appliances can also anchor the room, so it's important to envision the flow of the room when deciding where they belong.
Luckily, there are a few definite "dos" and "don'ts" for figuring out where your appliances should go. For example, do leave your sink and dishwasher next to each other so you can go straight from scrubbing to washing; don't put your refrigerator and oven close together, because they can make each other work harder than necessary.
When it makes sense to pick appliances first
Think about it: The whole reason you even have a kitchen is to prepare, eat, and store food with various appliances. That can make it tempting to choose the appliances first during a remodel and build cabinets around them.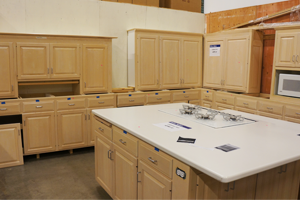 Here's the downside: you can box yourself into a corner by buying kitchen appliances first. If the dimensions don't add up right, you could be limiting your choices for cabinet types and sizes.
When it makes sense to buy kitchen cabinets first
Some designers see kitchen cabinets as the focal point of the kitchen because they often last longer than appliances. Cabinets also come in an array of styles, colors, and finishes that can make or break the tone of your kitchen.
But because size standards for kitchen appliances are becoming less and less "standard," your cabinets will need to adapt. For example, a typical side-by-side refrigerator can range from 30-36 inches wide – and a 30-inch refrigerator requires a very different set of cabinet openings than a 36-inch refrigerator. With that size variation for every appliance, you can see why buying cabinets first might lead to headaches.
What should you do?
It all depends on your vision for your new kitchen. If you have your heart set on a certain stove or refrigerator, you might want to start with the appliances. If you're looking to do more with the space, it makes more sense to buy cabinets first. If you find a great deal on one or the other at the ReStore, you can certainly feel comfortable building around your bargain.
There's only one hard-and-fast rule of kitchen remodels: bring a tape measure. Once you start making choices like whether to buy appliances or cabinets first, you'll need to make sure they all work together.