There's a classic "chicken or egg" issue in some kitchens, and it doesn't have much to do with food or cooking. It's all about kitchen design, and which elements should come first in your kitchen remodel: the cabinets or the appliances.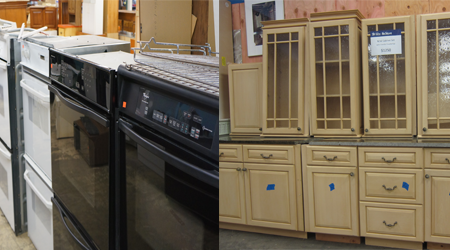 There are compelling reasons for both choices, but the decision should involve much more than just personal preference. If your goal is to keep your costs – and your headaches – under control, you'll want to carefully weigh another important decision at the very beginning of your kitchen project:
Start by looking at your layout
Your oven and range require gas lines. Your sink and dishwasher need plumbing lines. And your refrigerator probably needs a water line. If you can avoid moving any of those gas and water lines, you'll save a bundle on your kitchen remodel. After all, both jobs can be labor-intensive and expensive.
However, we realize your layout may be the reason you're remodeling in the first place. For example, it's never a good idea for a stove and a refrigerator to be situated right next to each other. The heat from the stove and oven might cause your refrigerator and freezer to work harder than necessary. Similarly, there's a reason builders often place a sink next to the dishwasher; you can rinse dishes and pop them into the dishwasher with ease.
If your kitchen layout requires a balancing act, consider it a good exercise for deciding whether to buy your appliances or kitchen cabinets first.
When it makes sense to pick appliances first
Since your kitchen is so dependent on appliances, some designers prefer to pick them before choosing the cabinets. It's true that appliances come in standard sizes—standard widths, standard heights, and standard depths. However, many appliances have changed over the last 10 years, with many newer sizes that are wider, taller, and deeper than their predecessors.

What's the downside? You can box yourself into a corner, literally. If the dimensions of your appliances don't add up right, you may not be able to fit the size cabinets or drawers or other options into certain areas you wanted. With some early space planning, you could order a different fridge or range, and head off those issues.
When it makes sense to buy kitchen cabinets first
Some designers prefer prioritizing kitchen cabinets for one primary reason: they think of cabinets as the focal point of the kitchen. The cabinets – the style, color, and finish – set the tone for a kitchen. And while kitchen appliances may last a long time, the truth is that in most kitchens, the cabinets literally hang around much longer. They tend to outlast appliances.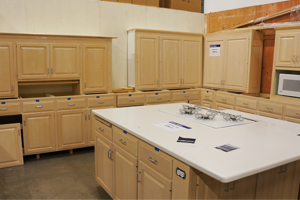 These same designers probably would say that it's "no big deal" to exchange appliances if you run into a space crunch. (They often say the same about countertops, sinks, faucets, tile and other elements of a kitchen. They can be exchanged, too, to make room if a crunch occurs.)

What's the downside? Although it used to be fairly common to buy cabinets with standard size openings and fill them with standard size appliances, that's not so easy anymore. The new "standards" mean a typical side-by-side refrigerator can range from 30-36 inches wide and those two units require very different cabinets. Multiply those issues by each appliance in the kitchen, and you can see why buying cabinets first might create issues.
What should you do?
So, what's the answer to this common chicken/egg kitchen question? It all depends. If you have your heart set on a certain style of appliances (or even one special kind of refrigerator, oven or range), feel free to start there. If you have certain space planning needs, it's fine to start with the cabinets. And if you find a great deal on one or the other at the ReStore, you can certainly feel comfortable building around your bargain.
The only real rule of kitchen remodels is to bring a tape measure, because once you do start making choices, you'll need to make sure the measurements of your kitchen, cabinets, and appliances all work together.