Remodeling your home can be a fun way to customize your space, but it can get expensive – even if you're frugal. Thrifting, reusing, and upcycling are all the rage in home improvement, meaning you've got to get creative if you wanna save – like buying gently used cabinets to lower the cost of a kitchen remodel.
We've got four handy tips to help you find the right used cabinets for your kitchen and make them fit your style.
Measure, diagram, measure again, and photograph
Measuring space for kitchen cabinets isn't as big an ordeal as it sounds, but you really should measure more than just the cabinets themselves. Draw up a simple floor plan of your whole kitchen, then measure the size of the cabinets and appliances already in place. (Remember, cabinets have doors and/or drawers, so measure how much space you have in front of them, too.) Take the measurements again to double-check your numbers.
Finally, take a picture of each wall where you want to install new cabinets. With pictures and measurements in hand, you can head to your favorite home improvement store confident about what size cabinets you need.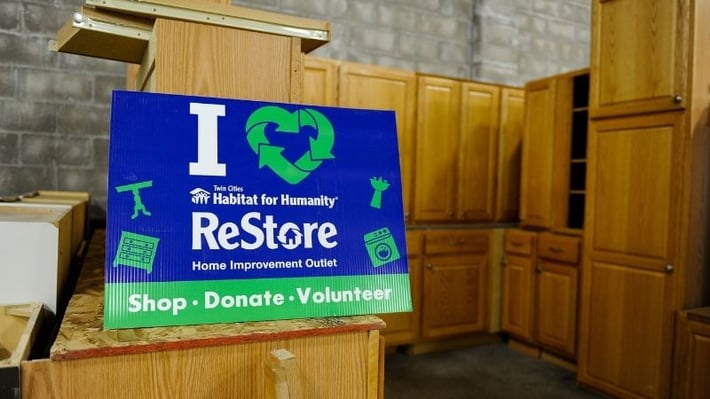 What quality of used cabinets do you need?
Generally speaking, cabinets are made of three types of wood: solid wood, plywood and pressboard. Solid wood is often the most expensive because it's the sturdiest option. Plywood is a mid-grade choice, sometimes enhanced by a veneer finish. Pressboard is cheap, but it's also the lowest quality – almost bendable by someone with a strong grip. On top of that, pressboard often expands when it becomes wet, making it a less than an ideal choice for a kitchen.
When shopping for used cabinets, inspect the doors, drawers, and corners carefully, too. Dovetail joints are the strongest, made from interlocking channels that are cut in the wood. Pinned rabbet joints are a fine alternative.
Use your imagination – and expect to paint or stain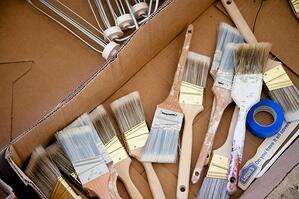 Like buying anything used, you might find used cabinets in immaculate condition – ready to hang on the wall. More likely, though, you'll have to put in some elbow grease to get them back into shape. When you find the right used cabinets at your favorite home improvement store, think of them as a blank slate. 'How can I transform these to complement my kitchen's aesthetic or give it some pop?'
No matter what condition you find your next kitchen cabinets in, you should do the following before installing them:
Clean them off with sanitizing rags – depending on the type of wood, be careful about getting them wet. Allow them to dry completely.

Carefully sand them down to remove chipped paint or worn stain.

Patch any deep gouges or blemishes with an epoxy wood filler (like Bondo).

Apply paint or stain – at least two coats with plenty of drying time between coats. (Get started by watching our step-by-step video on how to paint and seal furniture.)
Of course, if you're looking to make used cabinets a little more 'you,' there's a quick and easy way to do that: hardware.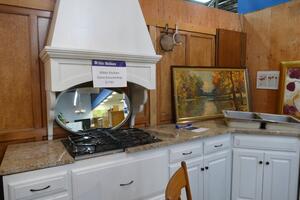 Personalize used kitchen cabinets with hardware
Knobs, pulls, and handles are pretty essential to your kitchen cabinets, but it's easy to ignore them while deciding on size and wood and repairs (and, and, and). They're worth giving some thought, because they're not just the things you'll grab before grabbing whatever's inside – they're opportunities to change the whole kitchen's vibe.
Watch Now: Tips on Boosting the Appearance of Your Kitchen Cabinet Doors [VIDEO]
Maybe a simple button knob is perfect for your retro vibe – or maybe a Victorian handle is the cherry on top of your kitchen's aesthetic. Handles made to look like forks, spoons, and other utensils (or even made of them) can add a quirky 'thrift chic.' You can even borrow hardware from other scrap furniture to accent the doors and drawers. At this point, it's about adding personality, so go with what feels right!
Buying used cabinets is about more than saving money