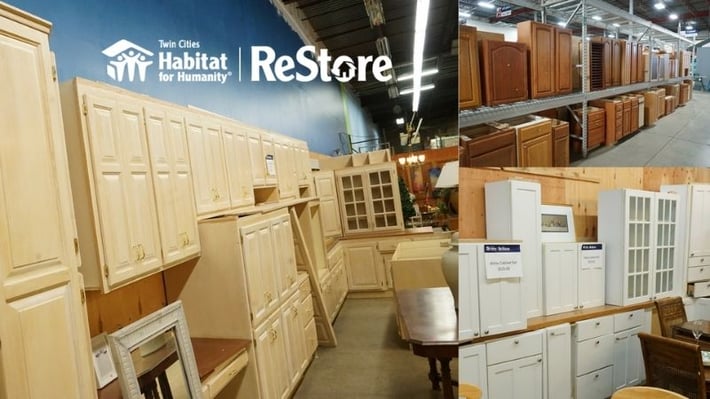 Cabinet Donations
There are many things the ReStore is known for—lighting, furniture, appliances, doors, and windows—all at a discounted price. But the Twin Cities ReStore outlets have also become known for kitchen and bathroom cabinets. The ReStore receives and sells so many cabinets, that ReStore staff refer to it as their "bread and butter." Entire kitchen cabinet sets are a regular item on the sales floor and provide a great deal of savings to remodelers. Just take a look at how many cabinets were donated or sold last year:
153 kitchen cabinet sets were donated in 2017
95 kitchen cabinet sets and 2,903 single cabinets were sold in 2017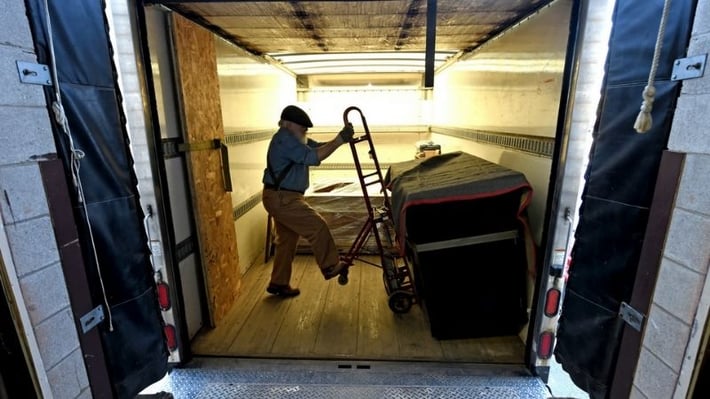 (Photo courtesy of Pioneer Press)
Cabinets We Accept
There are so many variables when it comes to cabinets, so we've set some guidelines on what we accept as donations. Cabinets must be less than 20 years old, stained or factory painted, and doors, drawers and hinges need to be attached.
When dismantling cabinets from their original home, don't forget other items that could be donated such as lighting and stainless-steel sinks. Make sure you view the full donation guide to help you determine what can be accepted.
Download our Donation Value Guide as a PDF here.
Schedule a Pick Up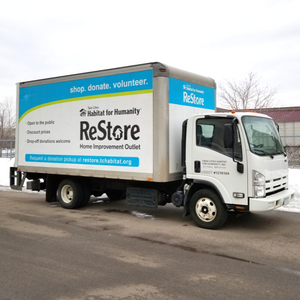 The Restore will pick-up your donated cabinets for free. We ask that they be in a garage, driveway, or at curbside when the truck arrives to expedite the process. All you need to do is go to the website and fill out some basic information and upload a photo. A ReStore donation truck will be able to collect your cabinets (or other donation) in about one week.
Buying Cabinets
When buying cabinets of any kind, be sure look at these handy resources below. There are many sites, blogs, and resources available to help you get started. You'll also want to carefully measure the space in which the cabinets will live, and bring a tape measure when you visit the ReStore.
Cabinets vary greatly in cost, but we think you'll be surprised at how affordable cabinets can be at the ReStore. Many full kitchen sets are priced between $250-$1,000.
ReStoration Corner Blog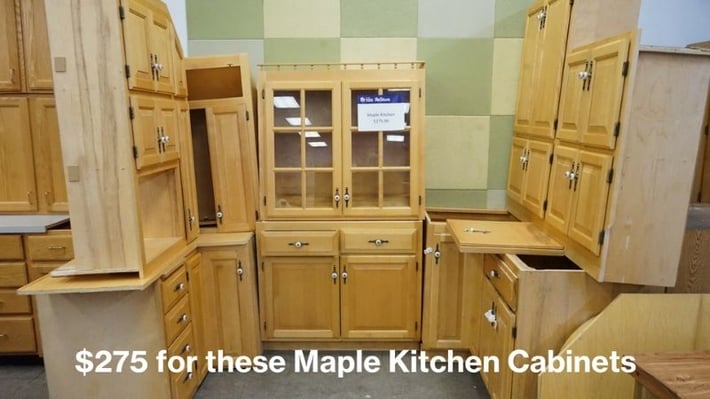 Benefits of Donating Cabinets
Doing good: Revenue generated from the ReStore sponsors the building of Twin Cities Habitat for Humanity homes each year. When you donate and buy items, you're giving back to the Twin Cities community. You are also providing affordable cabinets to someone making home improvements that either cannot or prefers not to pay full retail costs.
Going green: One set of kitchen cabinets can fill up an entire dumpster. Your donation keeps cabinets out of landfills.
Tax deductible: Every donation to the ReStore qualifies for a tax deduction. When you donate to the ReStore, you'll receive a donation receipt. Hang onto it when tax time rolls around!