Looking for ways to organize your space? Perhaps you've both limited space and limited budget. You can get organized, save space, save money, and help keep usable things out of landfills with these DIY storage solutions. Repurpose items from ReStore, thrift shops, or even what you have laying around in your garage, for the parts, pieces, and supplies you need.
Here are a few do-it-yourself ideas to try in your kitchen, living room, bedroom, and garage.
Get Hooked on Hooks

This is a good way to add handy storage to your kitchen. Shop the hardware section and look for hooks that you can install on the inside of your kitchen cabinets so you can hang things like measuring cups and cooking utensils.
Another great use for hooks in the kitchen is for hanging pots and pans. Make sure they're sturdy enough to hold your cookware.
Rake Head to Hanging Rack
The top of an old rake makes for a unique way to hang things like mugs, ties, or jewelry. You should be able to find an old rake, pop off the head, paint it to match your décor, and then mount it to the wall or on a board wherever you need a little extra hanging help.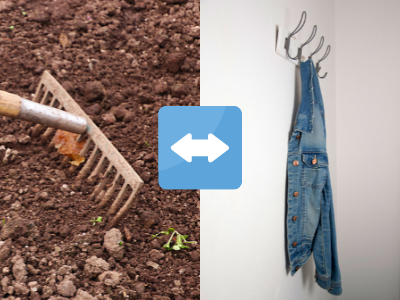 Drawer to Under the Bed Storage
It's easy to find a used chest of drawers and give them new life with a fresh coat of paint to store items from clothes to cookware and beyond. You can also repurpose the individual drawers easily by putting wheels on the bottom. Look for drawers you like and wheels that can mount flat on their bottoms. This is a good way to add some easily accessible storage underneath a bed.
Door to Mudroom Organizer
There are tons of used doors out there that you can make into something useful. Slap on some paint, add some hooks, attach it behind cubbies or a chest of drawers and you've got a mini mudroom setup.

Rain-gutter to Bookshelf
Paint aluminum rain gutters with some bright colors and they can be a great addition to a nursery or any place you want to have a quick floating bookshelf to keep items off the ground and showcased in a creative, practical way.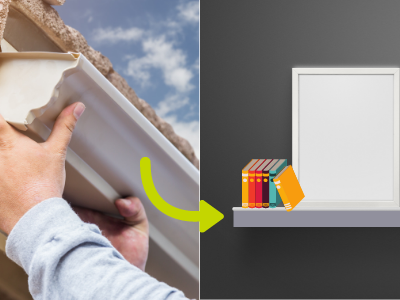 Slatted Window Shutters as Organizer
Old slatted shutters give a nice rustic look to a room and can be used to display pictures or organize your mail.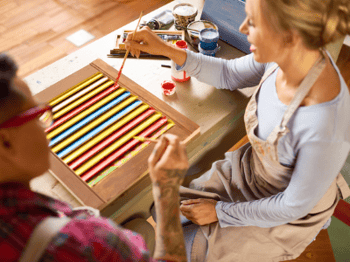 File Your Tools and Sporting Gear
Used metal filing cabinets are pretty easy to come by now that we are moving away from keeping paper copies. There is a lot of sturdy metal floating around looking to be repurposed. Take out the drawers, paint the metal cabinet to coordinate with your space, lay it on its backside, and store things like shovels, rakes, or sporting gear in the slots where the drawers used to go. The metal dividers will keep everything from falling all over the place.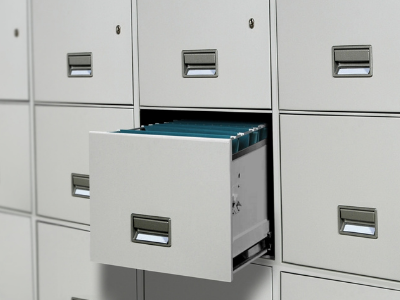 Mount Bikes
If you like to bike, an easy way to give yourself more space in your garage (or apartment) is to create a wall mount to store your bicycle. Make sure you're sinking your hooks or supports into the wood studs, but other than that it's a pretty easy project. This also can double as some small apartment décor.

PVC Pipe Shoe Rack
Big (6-diameter) PVC is good for holding shoes. If you can get your hands on some, cut it into sections (each a little longer than your shoes), and connect the tubes together with pipe glue in whatever pattern or stack shape you want.


So go on and get creative! Try out any of these ideas (or come up with your own) and become amazed by your DIY storage solutions.