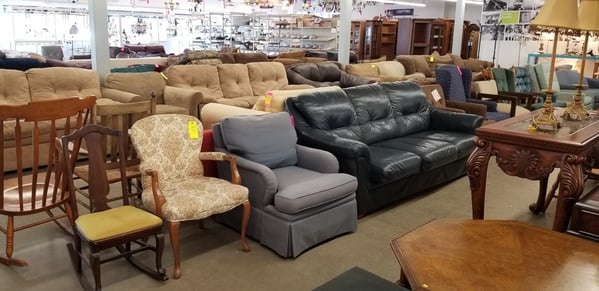 ReStore showroom
Whether you enjoy a good deal or the thrill of the hunt, buying second-hand furniture and other household items can be terrific fun. You're also keeping these items out of landfills and giving them a second life. So where are some places to shop in the Twin Cities?
We first recommend Twin Cities Habitat ReStore outlets. When you shop at ReStore, not only are you helping the earth, you're helping support a non-profit organization that builds affordable Habitat homes for local families.
But we wouldn't be doing everything we could to minimize waste if we didn't acknowledge that ReStore outlets aren't the only place to find great values on quality second-hand items. Our inventory changes daily. If you check out both our Minneapolis and New Brighton locations and still haven't found what you want, here are some other places to find second-hand furniture in the Twin Cities area.
Physical Locations
The Salvation Army Family Store & Donation Center: There are several locations throughout the greater Twin Cities, including Minneapolis, St. Paul, Fridley, Bloomington, Burnsville, Elk River, and Hastings. Their hours vary by location, but they are all closed on Sundays. Find everything from beds and dressers, to kitchen sets, desks, and coffee tables.
St. Vincent de Paul Thrift Store: The Minneapolis and St. Paul locations have varying hours, but both are closed on Sundays. Employees and volunteers ensure every item in the stores is very good quality and at prices customers can afford.
University of Minnesota ReUse Program Warehouse: Located south of Como Avenue on 29th Avenue SE, the ReUse Program collects surplus office furniture, supplies, equipment, and parts from the Twin Cities campus and resells them to University departments or individuals. Their Facebook page lists new items available, and this new page is dedicated to high value, vintage, new stock, and other interesting materials not available on the sales floor. The location is open to the general public on Thursdays and Saturdays.
Arc's Value Village Thrift Store & Donation Center: Hours vary at the New Hope, Bloomington, and Richfield stores, but all locations are open seven days a week. Shop their weekly color tag sales for deep discounts on great merchandise.
Online Options
Craigslist: No matter where you live, you can search locally on Craigslist for virtually anything. Can't find what you need? You can also post "wanted" ads to let others know what you're looking for and interested sellers can contact you.
Facebook Marketplace: Much like Craigslist, Facebook Marketplace allows you to search locally for virtually any item you need.
Nextdoor: Similar to Craigslist and Facebook Marketplace, Nextdoor facilitates sales and exchanges between local buyers and sellers.
ReStore Outlets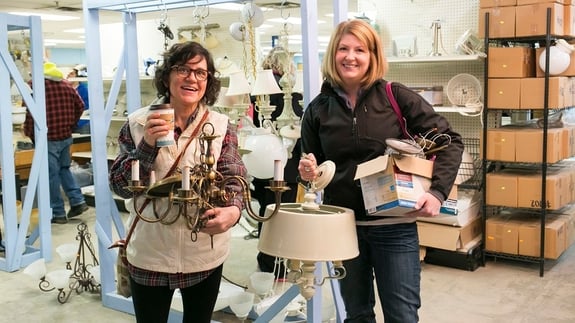 ReStore shoppers
We encourage you to start your search for second-hand furniture and related items at a Twin Cities Habitat ReStore Home Improvement Outlet. That way, your purchase of quality donated items can help you update and furnish your home while also helping to provide other Twin Cities residents with affordable housing.
You can find our latest items, special sales, and sneak peeks at new inventory on our Facebook page, and get on our Hot Deals email list by signing up on our website. The Hot Deals change every other week at both locations. Finally, you can become one of our VIP shoppers to get special discounts and sales! Simply text RESTOREVIP* to the number 24365 to sign up.
Remember, purchasing second-hand furniture helps you to save money and keeps useful items out of landfills. That's a win for your pocketbook and the earth!
*All text and data rates apply. Opt out any time by replying with the word "STOP". VIP offers may not be combined with other sales or discounts, unless promoted otherwise.