So you've decided to refurbish a piece of furniture – great! Refurbishing is a rewarding experience that lets you breathe new life into vintage and antique pieces. It's also great for sustainable living, because every piece of furniture you reuse or upcycle is one less piece of furniture that could end up in a landfill.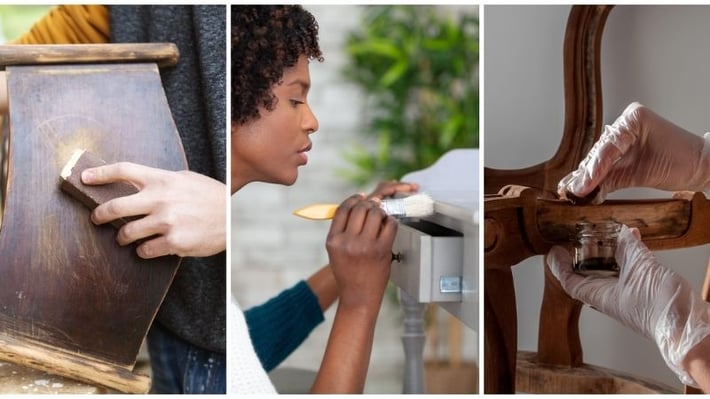 But there are many ways to go about creating the piece of refurbished furniture to fit your unique style. Here are some tips from the pros at ReStore for tackling your next refurbishing project.
1. Find out what the furniture is made of
Is that deck chair teak or pine? Or is it ash? What about the antique kitchen chair you just bought, or the vintage ottoman you're itching to bring back to life? If you want to refurbish right, it matters what material your furniture is made of.
Different materials require different processes, chemicals, paints, and stains to get them looking the way you want. For example, oak soaks up stain more evenly than some other types of wood, so you don't need to use a sealer or conditioner when finishing oak furniture. Ash, on the other hand, is very porous, meaning you should use pore filler if you want to get that shiny finish. Same goes for furniture accessories and details: if the metal studs in that old armchair are looking a little rusty, try to find out what they're made of.
Here are a few great resources for refinishing or refurbishing almost any kind of material:
2. Know when to replace, refurbish, or neither
Even amateurs can handle refurbishing and upcycling projects, but sometimes, it's more work than it's worth. That's why it's important to recognize what's a project you can tackle and what's better left alone.
When you're looking at furniture to refurbish, look for these signs that it's probably a no-go:
Don't bother refurbishing if the furniture is damaged in a way that makes it unsafe to use.

Don't bother refurbishing if it's got very deep gouges or burns (blemishes can be sanded down, but only to a point).

Consider replacing instead of refurbishing if the material it's made from is available and affordable enough to replace (don't waste your time stripping and staining old wood if it's cheap). (You can still replace on a budget with furniture and materials from ReStore!)
Additionally, think about what you want the piece of furniture to look like when you're done. Some materials, especially older wood, can look drastically different after a deep clean and stain. You never know what might be hiding under there, so be ready for a surprise!
When you refurb a piece of furniture, you don't need to go whole hog, either. Sometimes, leaving something a little unfinished gives it a bit of a rustic look, or maybe there are marks that give it character. In those cases, still be sure to sanitize it properly before making it part of your home.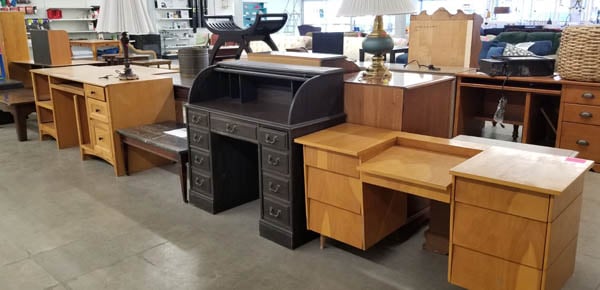 3. Choose the process that matches how you'll use your refurbished furniture
Refurbished furniture can be almost anything you want, from decorative to utilitarian. What's important is to make sure that the way you're refurbishing it is appropriate for the way you'll end up using it.
For example, if you're refurbishing a kitchen chair, you might not want to reupholster it with a soft seat that'll be hard to clean. Likewise, a lounge chair probably shouldn't be fitted with a hardwood seat. If you're refinishing old deck chairs that'll be used outside, finish them with an oil-based coating rather than lacquer or shellac to make sure your hard work (and the furniture itself) can survive the elements.
Keep the end product in mind when planning your furniture refurbishing project. Do your research on the right methods and process to use for that specific application. Here are a few links to get you started:
4. Really clean it before refurbishing
The only way you can give a piece of refurbished furniture a new start is to give it a deep clean first. Some refurbishing projects are a process pulling away years of use to bring it back to life. You might be looking at a lot of gunk, stain, paint, and blemishes on top of the furniture you're looking to save – and your first step is to wipe it all away.
It all depends on what look you're going for. Wood furniture needs to be cleaned, dried, stripped, sanded, and more before it's ready to start painting or staining. Click here to read a crash course on cleaning and refinishing wood furniture. Metal objects should be cleaned thoroughly and all paint should be removed (often by boiling and scraping gently) before you polish or re-chrome them. Here's a handy guide on restoring rusty metal, instructions on removing paint from metal, and how to clean dirty or tarnished metal without harsh chemicals.
5. Give yourself plenty of room and fresh air
A lot of refurbishing techniques require harsh substances like sealants, primer, and stains, many of which are harmful to your lungs. Never use any chemicals, paints, or stains in a closed space.
For best results, wear protective gear (including gloves, protective glasses, and clothes you don't mind ruining) and set up your workspace one of two ways:
Work outside on a dry day without much wind. Lay down a tarp in the backyard and do as much of the chemical application out there as possible.

If that's not possible, work inside with the windows open. Lay down the tarp in a large, open area of your house (or in the garage) and open as many windows as possible. Set up an oscillating fan to keep the air moving outside, where it can't do you any harm.
All it takes to ace your next refurbished furniture project is confidence, elbow grease, a little bit of know-how, and the right stuff – and ReStore can help with all of those. Stop by either ReStore location for refurbishing tools, materials, paint, stain, hardware, advice, and even a piece of furniture to practice on!