It's almost time for spring cleaning, and that means tough decisions. How do you change your space to welcome the warm weather when your time, space, and budget are all competing?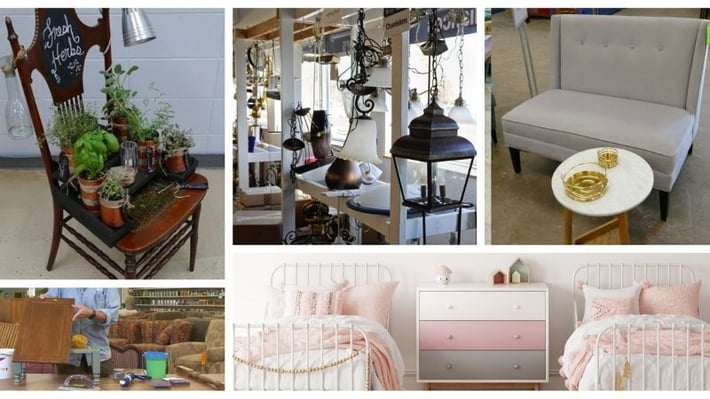 The good news is it's possible to satisfy all three with Twin Cities Habitat for Humanity ReStore, where you can find unique materials and the tools to install them for way less than retail. Here are seven fun mini makeover ideas you can do on a budget and without professional help over a weekend.
1. Paint, stain, or embellish your kitchen cabinets
Kitchen cabinets are a great place to start if you want to change the feel of your living space. People spend a lot of time in their kitchens; cabinets are often installed at your line of sight so they're easy to get to; and most kitchen cabinets have plain designs so they fit with any kitchen decor. But they don't have to be plain to fit in! A new coat of recycled water-based paint or a stain can make them pop with the rest of your kitchen decor.
It doesn't take much to change the look of your cabinets. Watch our videos on buying, installing, and customizing kitchen cabinets on a budget.
2. Spray paint accessories
If you're looking to upgrade accessories to match your decor, spray painting is a cost-effective and easy way to get that 'new room' feeling on a budget. Spray painting small items like vases, jars, and lamps can add a modern or rustic vibe without too much effort. Lay down a tarp in the driveway or yard, give yourself plenty of space, and spray away!
Furniture like coffee tables and end tables can take more time, sanding and polishing, and special kinds of primer and paint – but it can pay off when it ties the whole room together. Go as big or as little as you like!
[READ: Cheap Ways to Give Your Room a Whole New Look]
3. Embellish a lampshade
Lampshades can be more than functional. Style a fabric lampshade with trim tape, a fringe, paper wrap, or even chalkboard paint to give it some character. With the right detail, a lampshade can be as much a part of the room's vibe as the lighting it provides!
4. Replace kitchen hardware
Cabinets can stand out with just a little effort. The same thing goes for the other permanent fixtures in your kitchen, like drawers and shelves. You don't need to go full remodel to make a difference – in fact, when it comes to the kitchen, it's often the little things that count.
[Check out these thrifty transformations from ReStore shoppers]
For example, if your drawers have a round handle, try swapping them with a flat bar handle for a more rustic look. You could also replace the stock cabinet hinges with ones that match your theme and contrast with the color palette. Just because it's useful doesn't mean it can't be stylish!
5. Find the perfect new seating arrangement
A room without furniture is just an empty cube. Take stock of the furniture in your place. Still working with the old family sofa? Did the futon you got in college lose the modern appeal it once had? Adding a new piece of furniture, or even picking-up some new accent pillows, can upgrade the feel of a room instantly.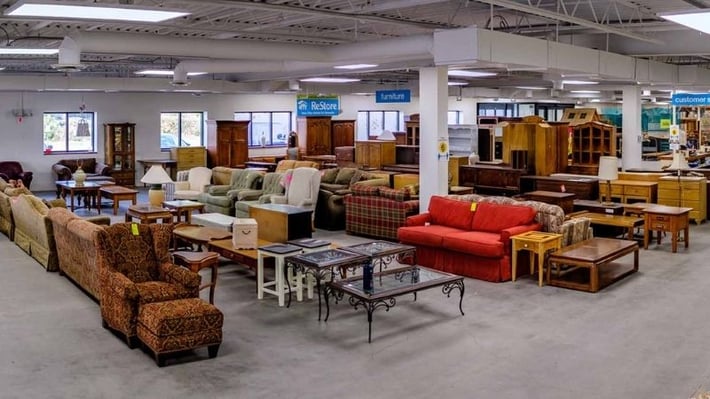 A view from inside the New Brighton ReStore. Please note that most items featured have already been sold.
6. Add some low-effort wallpaper strips
Wallpaper goes in and out of vogue every so often – the secret is judiciously picking how much to use and where to use it. Rather than covering the blank canvas of a wall, look at wallpaper as more of an accent to be deployed in key spots.
Smartly wallpapering can make a room appear taller or wider depending on the direction, but it's best to keep it minimalist: an accent wall, faux headboard, or focal strip behind the TV goes a long way.
7. Switch up a light fixture
Don't be afraid to let a little more light in! Your interior lighting has a huge impact on the rest of your decor, and you might be surprised what a simple change of fixture can do for the vibe of any room.
Consider the brightness you need, the placement of each light source, and the direction it shines in. How would adding a few bulbs or tweaking which way the fixture shines change the mood?
However you're adding some pizazz to your space, you can find great household items, materials, and tools at ReStore for less. Shop either ReStore location today and visit the ReStore DIY Headquarters page for guides and professional tips on tackling projects of all sizes!