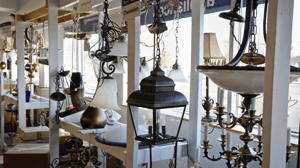 Sometimes renovating a room feels like a necessity, but just isn't practical. Either you don't have the time or the budget for it. But you don't have to suffer with a room that just doesn't work for you. There are a number of ways to give your old room a whole new look without breaking the budget or having to spend several weekends renovating the space. How? We've got a bunch of DIY ideas that can help you change any room into your favorite – cheaply and efficiently.
Change Your Lighting
Changing up the lighting in a room can completely change its mood, giving it an entirely different look and feel. But the type of lighting you choose will depend on the room. Here are a few tips for using lighting to make a major difference without all that much effort.
1. Know Your Ceiling Height
Hanging light fixtures are a great way to add interest to a room, but it's important to make sure you don't hang them too high or too low. If you have an eight-foot ceiling, the lights should hang about 12 to 20 inches from it. If the ceiling is higher, add three more inches for each extra foot of height.
2. Table Height
If you are adding lighting over a kitchen table or island, hanging lights work quite well. But instead of the ceiling height, you'll need to take into consideration the height of the table or island. The distance between the top of the table or island to the bottom of the lamp should be about 28 to 34 inches.
Remember that the size of the light can change that distance, though. Generally speaking, a smaller light should be hung closer to the top of the table, and a larger light should be hung further away from the table.
3. Swag that Cord
Pendant lighting can be a beautiful addition when hung over a dining room table or kitchen island. But what do you do with the cord? While you could redesign your home's electrical system, that would be expensive, and we're on a budget. Instead, add some swag to your home. Literally, let the cord hang a bit (called a swag) from a bar on the ceiling. You could also tightly secure the cord to the ceiling, which gives it a more industrial style look.
4. Add Variety
While you could use hanging lights throughout your home, adding a bit of variety with wall sconces or table lamps (uplighting) can help add visual interest and also change the ambiance of the room. For example, a living room with uplighting can create a softer ambiance, whereas hanging lights can feel stark.
Pro Tip: All these types of lights and more can be found at a discount price at one of our Twin Cities ReStore locations.
Furniture
Furniture is another cheap and easy way to give a room a whole new look. But before you go buying furniture, try rearranging things first. Sometimes just re-balancing the furniture layout in a room can create the change you need. For example, balance groupings of small pieces with a larger piece of furniture, or keep your large pieces together and accent them with small items.
Also, remember that you don't have to put all your furniture against a wall. Putting things in the middle of a room can help divide the room, or create a small conversation area for an intimate gathering. But if you decide new furniture is the way to go, here are a few tips.
1. You Don't Have to Match
In fact, you really don't want everything to match, unless you want your home to look like a showroom floor. But while you don't want to buy everything in sets, you also want the room to look proportionate and balanced. A small den will look very cramped with several pieces of large furniture in it. Similarly, a large room with just one or two small pieces in it will look very empty.
2. Use Color to Tie the Room Together
While your furniture doesn't have to match, each piece should complement the other pieces in the room. Adding drapes or paint to a wall in a color that can be found in other furniture pieces in the room can be a great way to tie the whole thing together and give the room a finished look.
3. Inexpensively Solve Problems
If your kitchen cabinets need help, you don't necessarily have to replace them to update the look of your kitchen. Simply giving them a coat of paint can help give them a fresh, clean look. What about an old piece of furniture in a bedroom you want to update? You may just need to give the dresser a facelift instead of replacing it altogether.
If you are looking to buy affordable furniture for your room, check out the Twin Cities Habitat for Humanity ReStore locations! We sell used furniture at a fraction of their typical cost.
Mirrors
Mirrors can help you double the size of a space, make a room brighter, or cover up something if you know how to use them. One way to do this is to add mirrors to your kitchen cabinets. This will make a small kitchen look much bigger and can also add light to the room because the mirrors will cause the light to bounce back into the room.
You can also put mirrors on a closet door to make a bedroom look larger. Extra bonus here, you get a full-length mirror for dressing! Need to enlarge a small living room? You can add a wall of mirrors, either framed or not, which will expand the room, and again add extra light.
Still not sure how to give your room a makeover? Stop by the Twin Cities Habitat for Humanity ReStore! We have plenty of projects and items for you to explore to get those creative juices flowing.