Visit a big box retailer to find a couch or table and you'll be lucky to get one item under $500. Home furnishings can be expensive! Well, we have some design inspiration that shows the power of furnishings found at ReStore. We took ONE trip to our Minneapolis location and took photos of items on the show floor so we could virtually design a living room. Check it out!
Find something you like
If you're starting from scratch or have an urge to refresh your living room or family room, start with one foundational piece like a couch or some other large furniture you like.
If you're not sure where to start, you can always visit the ReStore to see if something "speaks to you." Find that one item that might catch your eye.
Make sure you have good measurements of your space. You don't want to commit to something that's not going to fit in your room, through a doorway, or stairwell.
Balance
Keep in mind that items should complement each other. Colors should coordinate. Size and scale need to align. There are many factors that designers use to creative a pleasing design. Consider becoming more wabi-sabi in style. Wabi-sabi is a Japanese aesthetic which appreciates imperfection, simplicity, and asymmetry. If you've never heard of this term before, do some Googling. It's pretty interesting and you might take up a new appreciation for a potential new style.
Don't be afraid to mix and match styles when shopping for items. There is actually a name for this — eclectic! When you find a good solid piece of furniture or something that has meaning to you, each unique item can be brought together in a beautiful way!
Take a look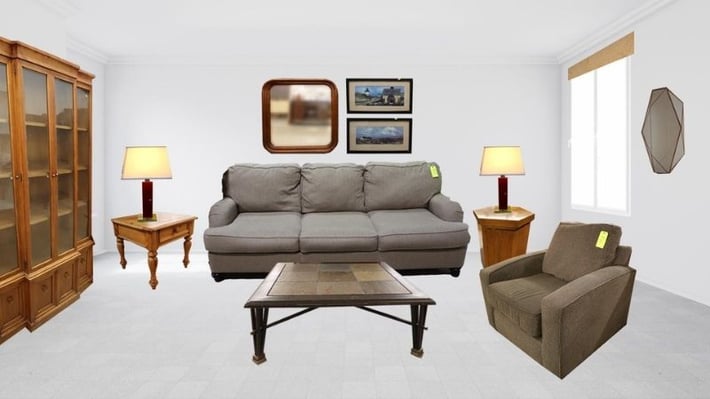 It's really a blank slate. A white room just waiting for some style. Here is the breakdown of actual costs for each item in the photo.
Couch $125

Square side table $25

Octagon side table $15

Coffee table $45

Round edged mirror $30

Multifaced mirror $55

Rectangle pictures $10 ($5 each)

Lamps $10 ($5 each)

Chair $20

Hutch $70

3 gallons of Amazon Paint $48 ($16/gallon)
TOTAL $453
Have you ever seen an entire living room that costs under $500?
Take it to the next level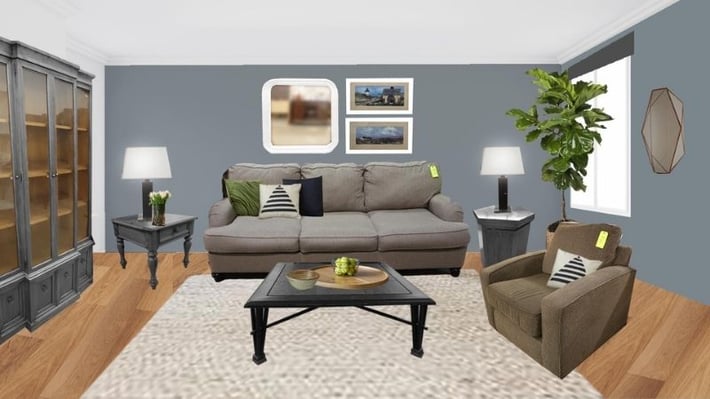 Taking the same items from the previous photo, we've virtually made additional transformations to give the room a cohesive look.
If this design isn't your thing, don't worry. The base furniture remains the same and you can change all of the other elements. The couch and chair are neutral, so colors and materials can be interchanged based on what you like. Use your favorite colors or bring in items that mean something to YOU.
We recommend Amazon Paint which is available at ReStore for the walls. In this example, we used "Slate" grey. You can clearly see the darker color brings in some drama.
The wood furniture in the room each has a different style, but when painted the same color, you can see that it brings them together. Mix and match items you love, then paint them the same color. You'll be amazed!
Add on #1: Flooring
In the virtual example above, we added laminate flooring using a "Hickory Magnolia" color. Inventory tends to change based on donations, but at the time of this blog, there were several palettes of new flooring. This particular item is $32/box and covers over 19 square feet per box. You'll need to do the math for your space.
We also virtually added an area rug to ground the space, but this can be up to you and your preference.
Add on #2: Accessorize
It's hard to estimate what you might need, but use things you already have and be creative! Add a tray, candles, bowls, and books. This is where you can add personality and is like the icing on a cake. It's what finishes a room.
When adding items, try displaying an odd number of items. Three or five of something have an aesthetic appeal. It's weird, but true.
Finally, when designing a space, you should consider adding some element of nature like a small tree, plants, or flowers. Some designers swear by this tip and you'd be surprised at how many design magazines do this when photographing great spaces.
Be bold
We hope you try something new this year and design your home with love. You can have a great-looking home without spending a ton of money. We're here to help. Use what you have, become more wabi-sabi or eclectic, and show us what you can create!