Backyard barbecues are a classic way to visit with family and friends. With COVID-19 still hanging around they are a great way to get together safely this summer. After a winter indoors, we could all use a breath of fresh air. You can start getting the yard in order with some DIY patio furniture for a one-of-a-kind aesthetic that won't break the bank. You can do it all yourself – all you need is a bit of imagination and the right materials.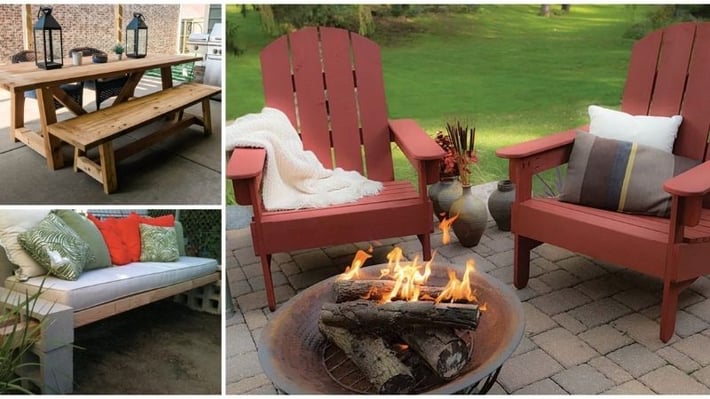 Creative DIY patio furniture ideas, clockwise from top left: farm table from Thrifty Pineapple; Adirondack chairs from Kreg Tool; cinder block bench from Lushome.
Here are some of our favorite DIY patio furniture ideas to spruce up this season's most popular gathering space.
DIY outdoor seating – recycled, rustic, or classic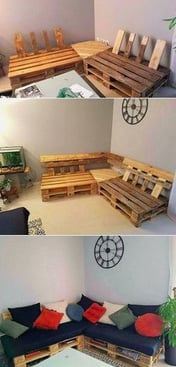 While some guests are cool with standing, they're likely going to stick around longer if there's somewhere to sit and relax. Folding chairs will get the job done, but they can be a bit of an eyesore. Instead, try building your own seating using wood pallets and cushions like this Pinterest inspiration. It's a very versatile look, that can be easily tweaked if you want to space people out more comfortably (and safely) during these COVID-19 times.
If you want something more "concrete" to withstand the elements, you could build patio benches using cinder blocks and wooden boards. This industrial look works great outside, and there are a lot of DIY patio furniture ideas you can make using cinder blocks if you want to keep up the theme!
If you know your way around woodworking tools, you can never go wrong with a classic Adirondack chair. There are plenty of resources on how to build adirondack chairs, and you can find most of the resources and tools needed to build them at the ReStore.
DIY outdoor tables
A DIY table project can be as simple or challenging as you want it to be. From building a six-foot farm table to repurposing some sturdy items like this clay pot used as a table base. Pick a project that inspires you without overwhelming you. ReStore has many of the tools and materials you'll need for assembling a table from scratch, but we also get a lot of great sturdy furniture donations that just might fit the bill for your backyard patio. For instance, an indoor coffee table might work great outdoors if you add the right stain or glossy paint finish to help it withstand the elements in your backyard.
Create a backyard aesthetic with plant life, lighting, and more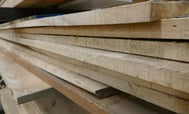 Seating for guests and a place to set drinks down are a must, but personalizing your backyard space will make it feel more like home. This DIY plant stand, for instance, would be a great furniture piece to display some colorful flowers or herbs. A cozy area rug, combined with stylish throw pillows, can give your patio seating a living room feel.
Lighting is another DIY patio project where a little effort can go a long way. Add string lights around the patio to give your backyard a whole new vibe, or even hang a chandelier if you've got the patio ceiling space. ReStore receives beautiful, gently used unique lighting fixtures daily, and not all of them have to be used indoors. You can even create your own back patio light fixture using twine balls, burlap ribbon, a birch branch, and string lights – rustic to the max. Check out this Pinterest board for a few great ideas!
DIY resources at the ReStore
Whatever DIY patio projects you take on, keep value in mind when shopping for the things you need to enhance your backyard gathering space. The ReStore has the furniture, materials, and tools you need for whatever you have in mind. Depending on the day you visit ReStore, among the things you may find are chairs, couches, wood, bricks, cinder blocks, flooring, rugs, lighting fixtures, and more. Consider us your partner for your backyard patio makeover on a budget!