As a one-stop shop for finding (or getting rid of) home improvement goods, we get a lot of questions from shoppers, donors, and people who've never even heard of ReStore. Here are a few of our most-asked questions about shopping and donating at ReStore!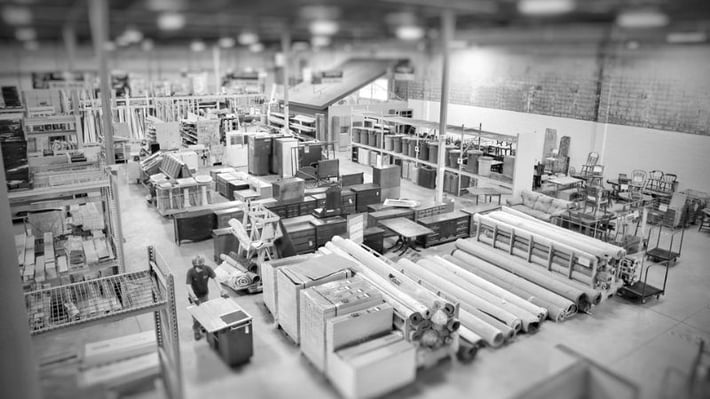 A view of the Minneapolis ReStore
Who can shop and donate at Twin Cities ReStore?
Anyone can shop at and donate to ReStore! We accept a wide variety of home goods of all sizes, so check out our Donation Guidelines or call your nearest ReStore for more information on the kinds of items we accept. Here are the locations within the Twin Cities.
Does ReStore pick up donations?
ReStore offers a free pickup service in the seven-county metro area for large items or large quantities of items.
Does the ReStore driver go into my home to pick up items?
No. In fact, items you wish to donate need to be left outside of the home for pickup. Donors often leave them easily accessible in their garage or driveway.
How do I request a donation pickup?
You can request a ReStore item donation pickup online at this link.
What items does ReStore sell?
You can visit restore.tchabitat.org/shop for a list of what type of items you'll find at ReStore. Because we rely on donated items, there's a whole assortment of home goods on our shelves, but some of our most commonly stocked items include:
Lighting

Furniture

Door

Cabinets

Windows

Tools

Flooring

Plumbing

Appliances

Hardware

Paint

Ceramic Tile
I don't know if the item I found will fit in my space. Can I put a hold on an item?
Items can be put on hold for two hours without payment. ReStore doesn't accept returns, so we give you time to be sure that the item will fit in your space. Just ask the cashier for a hold slip to put on the item you're interested in.
I purchased a large item at ReStore, but I can't take it with me today. How long do I have to pick up an item after buying it?
Items can be stored for three days. This gives you time to figure out how you are going to get your item home.
How do I know what's on sale?
Sign up for our Hot Deals email. The email tells you what's on sale now, what to keep an eye out for, and lots of other good information about what's happening at ReStore.
Are the prices of items sold at ReStore firm?
ReStore does not negotiate, so the price you see on the tag is firm and final. If you'd like to save money, you can receive a coupon for 20% off your purchase with each donation you make to ReStore.
How does shopping or donating to ReStore help Twin Cities Habitat for Humanity?
Every ReStore purchase or donation helps create, promote, and preserve homeownership opportunities in our region. When you donate to ReStore, you're also helping reduce waste by keeping unused items out of landfills!
See more about the impact of Twin Cities Habitat for Humanity.