As we celebrate Earth Month this year, take some time to think about how your purchases can affect the environment. Read more below, and learn how ReStore does its part to help create a brighter, greener future all year long!
What happens to the items you buy once you're finished with them? More often than not, they end up in a landfill. The pollution caused by manufacturing these items also negatively impacts the environment. Understanding the environmental costs of your purchases is an important part of being a responsible consumer, so let's take a look.
One of the reasons we buy so much in the first place is due to the business strategy of planned obsolescence. This is when a product is intentionally designed to fail within a certain timeframe, with the expectation that the consumer will replace the item rather than repair it. It can also mean a car or clothing item that gets updated every year or season, so the consumer will throw out the old item in favor of the new fashionable item.
While this strategy may be good for company profits, it's terrible for the environment. According to the EPA, 9.7 million tons of home furnishings and furniture were thrown in landfills in 2018. That accounts for about 25% of the 37.4 million tons of all durable goods landfilled that year in the United States. A lot of plastics and furniture can't be easily recycled – the latter partially because of chemicals frequently used in lower-priced particleboard products.
It's not just throwing things away that causes problems, either. The Ellen MacArthur Foundation discovered that 45% of global greenhouse gas emissions are due to the production of consumer goods. In another study, the 866 products researched were found to cause 6 times their own weight in emissions. You can take a look at an interactive visualization of the carbon emissions of each of the different products here.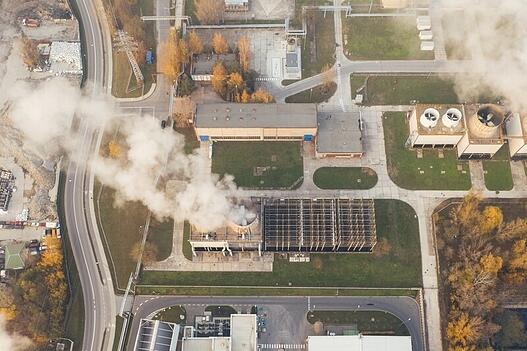 As the demand continues to rise for consumer goods, what can you do to reduce the environmental burden and lower your carbon footprint?
Buying used instead of new can be a great way to make a difference. ReStore has a wide variety of furniture, building, and home improvement products that can give your home a fresh new look.
ReStore can also be an excellent resource for your next DIY project! Take a look at this distressed-look dresser and learn how to do it yourself here.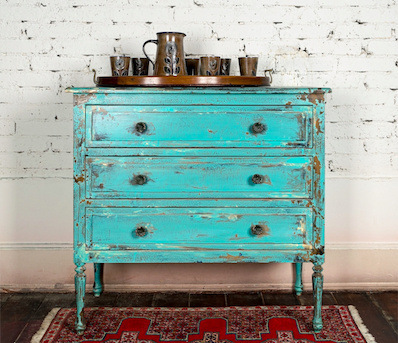 Another useful resource is the Hennepin County Zero-Waste Guide, which includes tips and tricks on how to determine which items you own are recyclable or compostable, how to store food so it stays fresh longer, and how to dispose of hazardous wastes.
Donating your used items to ReStore is another alternative to throwing your products in the trash. You'll not only be helping the environment, but you'll also be helping someone else find a unique item to make their house a home.
Reducing your impact on the environment doesn't have to be costly or time-consuming. Sometimes it can be as simple as changing how you dispose of things or how you shop. Next time you think about buying something new, ask yourself if you really need it, and if you do, if you can buy it used. You might just find something special.
ReStore's 2022 Earth Day sale was a huge success! 801 shoppers visited the Minneapolis and New Brighton locations to purchase gently used items at a reduced cost and donate items that would otherwise be thrown away. As a result of Earth Day weekend, 48,000 lbs. of household goods were kept out of landfills, and $37,433 was generated for Twin Cities Habitat's mission. If we can keep the spirit of sustainability going year around, it's a win-win for everyone, including the Earth!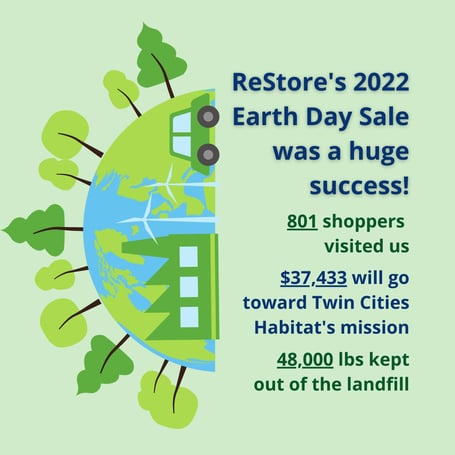 Ready to make a donation?
You can drop off your items at one of our store locations, or request a pickup via our online scheduling tool. If you request a pick up, please consider filling out our donor satisfaction survey that will be emailed to you after your donation has been secured by our team. It's how we make improvements to provide a wonderful experience for all of our generous donors!