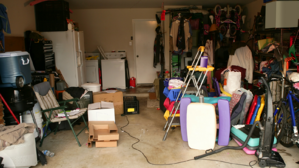 Let's face it, the garage is likely to be one of the most notoriously disorganized spaces of your home. Don't have room for it in your house? Throw it in the garage! Only need it for one season? There's space for it in the garage! Is it too dirty to keep inside but will get ruined if left outside? Store it in the garage!

As you can see, it's easy to turn your garage into a catch-all room for anything that doesn't fit or belong indoors. But just because it's a multi-functional space, that doesn't mean you can't organize it!
Here are some great and easy ways to organize your garage:
DIY Tool Storage Hacks for Garage Organization
One of the biggest space issues in a garage can be organizing tools, especially the small ones. But there's a super easy way to get those tools under control.
For small tools, make storage holders out of PVC pipe. Use 3/4-inch pipe or one-inch pipe to make individual holders for things like screwdrivers and other small tools. Attach the pipe to a 2x4-inch piece of wood and attach that to the wall. You have the perfect way to keep your tools organized and they're easy to find when you need them.
Pegboard is a classic way to organize tools and is easy to hang. It's simple to modify, as well. Hang small baskets for odds and ends or add hooks for things like duct tape or hammers. An old paper towel roll works well for holding multiple rolls of tape. You can even hang your PVC pipe holders on hooks if you didn't want to use a 2x4-inch piece of wood.
Another fun idea is to bolt an old wooden tennis racquet to the bottom of a workshop table. Use it to hold tools while you work or use it to hold screwdrivers and anything else that will fit in the strings.
For larger things like rakes, shovels, and other garden tools, use garage storage tubs. They are a great way to get these tools out of the way and keep them from ending up on the floor. They are cheap and can be found at your local home improvement store.
Use Vertical Space for Garage Organization
Most garages have enough for one or two cars and not much else. But you can use the space on the ceiling to hang things like those large plastic storage bins.
You can make a rail system for the plastic storage containers that allows you to easily slide them in an out. Just be sure to label the containers so you know what's in them.
Pro Tip: Put the label on the bottom of the container so you can easily see what you need before you climb up a ladder to get it.
Back to Basics Garage Organization
Garage organization doesn't have to be complicated. Simple hooks and under shelf storage can work wonders for even the messiest garage. You can add shelves just about anywhere in the space and vary their height, using the bottom of the shelves for hanging storage. Magnetic containers work well for this. You can also create a foldable workspace that folds up and out of the way when not in use.
Garage Organization Tips and Tricks
When you start organizing, keep similar items together. For example, if you keep your pet's food and other supplies in the garage, put these things together, either in a cabinet or on a standing shelving unit. You can do the same with a pegboard for your tools, keeping screwdrivers with screwdrivers and garden tools with garden tools — you get the idea.
Don't have a lot of money to spend on new storage containers for your garage organization project? No problem. Reuse things from around the house. Items like old jars work well for holding small items like screws and nails. You could even use soup cans for holding small tools and other items (just be sure to clean them first).
Need more ideas for garage organization?
Stop by the Twin Cities Habitat ReStore! You'll find plenty of inspiration for your weekend garage organization project and you might even find some inspiration for your next home improvement project!