Over the last nine months or so, you might have tackled some remodel or home improvement projects. Or perhaps you were one of the million people who bought up all of the bicycles? Well, winter is approaching and it's time clean, organize, and donate items to get your garage back in order. Wouldn't you like to park your car inside again?
It's a daunting task, but if you don't like scraping your car in the morning after a nice frost, we better get to work. Here are some tips on how to organize and get rid of unwanted items.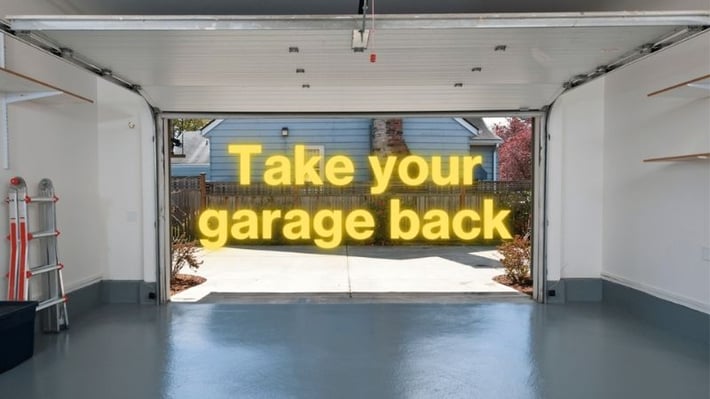 Sort everything
If you can, take advantage of some nice weather and pull out items on your driveway. You can quickly sort items by the following categories to help you make quick decisions. Try to make "piles" to help you determine how much storage you'll need for your stuff. Everyone will have different things, so there isn't a one size fits all solution.
Separate your tools and make a pile of duplicate tools.

Gather building materials, lumber, and a separate pile for scraps.

Sort paint by what you want to keep and what needs to be recycled.

Lawn or garden specific tools

Toys, balls, sporting equipment, or the "fun" stuff.

Bulk items such as paper products, canned food, or household items

Holiday decorations
What to donate
Now that the "keep" or "get rid of" piles have been established, you don't want to throw all of your unwanted items away. Think about if someone else could use it. If there is value left, consider donating it to a non-profit for a tax deduction. Here are a couple ideas based on common things found in garages, but you'll also want to do some research if you can't find a new home for something.
Building materials

such as lumber, tile, PVC pipe, flooring, drywall, nails, screws, and bolts can be donated to ReStore. Always check our donation guidelines before dropping them off. There are certain limitations and this is true for many other donation centers.
Lumber scraps or small pieces are often not reusable by most people or organizations, so think of a creative way to repurpose. If it's not green-treated lumber, they might just need to make their way to the fire pit.
If you have duplicate tools, why not share them! Make a bucket basket for a new homeowner who doesn't have any tools, or donate them to ReStore!
ReStore accepts up to five gallons of

old latex paint

per visit. You can also search for additional Twin Cities recycling locations on PaintCare.org.
Lawn and landscape items can also be donated to ReStore, but only certain times of the year. Dirt-free brick and blocks, new edging, fencing, landscape rock (clean and bagged), lawn or patio furniture, and yard tools can all be donated. These items are seasonally accepted between April 1 and October 31.
Toys and sporting goods can be donated to many community organizations, so do a quick search. Be sure to dispose of recalled items or things with missing parts. Who wants damaged or missing parts toys? Nobody.
If you're upgrading your

Christmas lights

to LED, don't throw away the old lights! Some organizations take working lights, but if they are damaged or no longer working, consider recycling them through a nearby recycling center or ship them to Christmas Light Source, where the proceeds benefit Toys for Tots.
If you bought a new bicycle or have more than what you need, there are many organizations that recycle them or give them to kids. There are many to choose from, so search and choose your favorite.
How about an

old car

that doesn't run? You can donate that too! Twin Cities Habitat has a Cars for Homes program that makes it easy!
Build some storage
Now that you've organized and donated, it's time to put your stuff back in place. One of the easiest ways to keep organized is to get some cabinets from ReStore. You can buy new, but used cabinets won't break the bank and will organize things just as well.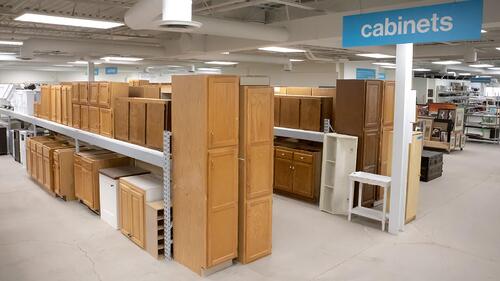 Cabinets at Twin Cities Habitat for Humanity ReStore
If you have extra lumber on hand, try building shelves out of 2x4's. Even if you don't have lumber lying around, construction lumber is often cheap and sturdy. We found this quick video as an example, but build to fit your needs.
Check out the ReStore donation guidelines for more details on items we accept, but we hope you stay green-minded and don't automatically throw items away without a bit of research first. Happy cleaning... we hope you can reclaim your garage this year!