Thinking of refurbishing your home? Before you begin your search for carpet and flooring, be sure to check out Twin Cities Habitat for Humanity ReStore.
It's likely you'll find quality items at a much lower price than at any home improvement store. The best part? All sales at each of our ReStore locations benefit Twin Cities Habitat for Humanity.

Acceptable Donations
New carpet only (rolled, 10' x 12' or larger)
New rugs or rugs from a pet free home
New and reclaimed hardwood (with the nails removed and bundled)
Laminate (US-made)
Vinyl (8′x6′ and larger)
Carpet and flooring items can be dropped off at ReStore. If you have a large quantity of items to donate, our truck can come to your home and pick it up for free.
For more information about donations, take a look at our donation guidelines or give us a call at 612-588-3820.
Best-selling Items
Since most of our carpet and flooring is new, items sell relatively quickly. Our customers especially love when there is a large quantity of the same item, but it depends on what sized room you are remodeling.
Customers looking to fix their damaged floors or update their current flooring style often find what they need at the ReStore. Those in search of area rugs also find great options for decorating their homes. You can follow ReStore on Facebook to see what types of items are in stock. Or the best way to get it first is to make frequent visits since inventory is always changing.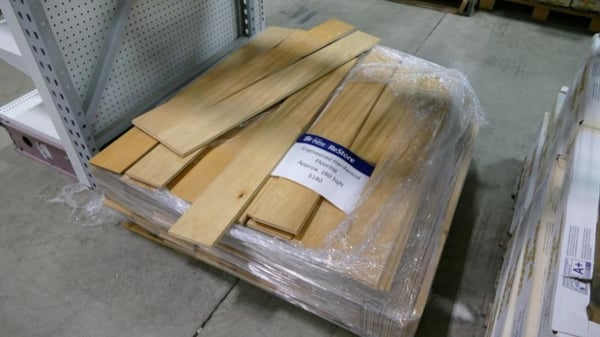 Upcycling Ideas
There are many ways in which you can upcycle carpet and flooring items. While it may seem like these items could only possibly go on the floor, they can be used in other places within your home.
Tile, for example, can be used to make beautiful mosaics. Consider using broken tile to make a flowerpot for your outdoor garden or a coaster for your coffee table.
Another popular upcycling opportunity is to use flooring on the wall. You can use hardwood or laminate flooring to create an accent wall.
More than just Flooring
Whether you're remodeling your home or in search of items for your next DIY project, make sure to check out the Twin Cities Habitat ReStore. Apart from offering a variety of carpet and flooring options, we also carry appliances, furniture, windows, doors, lighting, tools, and much more! The ReStore is the perfect place to find great deals for all your home improvement projects.
Shop or donate today at your nearest ReStore location. You'll be surprised by what you may just find.
Find the ReStore location closest to you!