It's time for another ReStore Upcycle Challenge and we can't wait to see what our ReStore shoppers have in store for our Freestyle Flip. It is truly amazing to see how many talented DIY-ers live in the Twin Cities area, including Lisa Jepsen, who participated in our last ReStore Upcycle Challenge back in April.
The ReStore got a taste of Lisa's DIY skills when she created a beautiful wall shelf that once was a chair. "I've been a DIY'er my whole life!" says Lisa, "I was raised by parents who always DIY'ed. There is something so magical about taking an old discarded item and restoring it back to life. I'm a Registered Nurse by trade, and I moonlight as a vintage/refinished furniture vendor… my garage is full of future projects!"
You can find more of Lisa's creations at Dwell Furniture & Home Décor in Afton Minnesota.
Lisa heard about the Upcycle challenge on our Facebook Page just like the other many talented DIY participants. "I never had made a wall shelf before, but I had seen them. The chair was in pretty rough shape, but had a really pretty back, and I thought it would look great on a wall", said Lisa.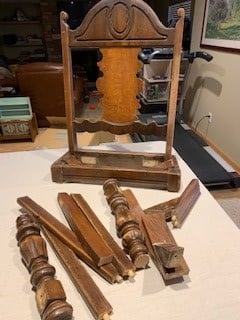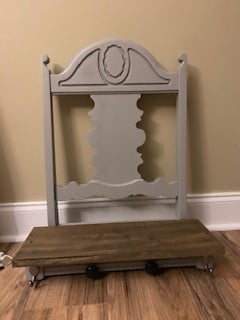 Lisa knew the ReStore could offer products she needed to create the shelf at a low price. "I used all items from the ReStore! The chair, amazon paint, wood scrap, screws, knobs, and hooks. Even my paint brushes were from the ReStore."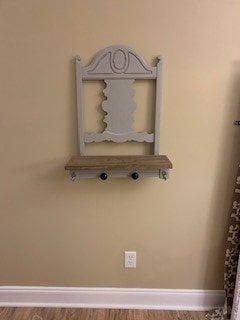 When you shop at the ReStore for your DIY materials, you're doing more than just saving money; you're saving items from ending up in the dump. When we asked Lisa what the benefits are at shopping at the ReStore, she responded, "The savings! Great prices, better than anywhere else. My biggest joy in upcycling is saving items from the dump. So many items can still be used, they just need some love."
If you're nervous about attempting your DIY project, don't fret! Lisa believes it's about finding the right piece to work on: "maybe you have an old dresser or chair in your home that needs a new life or go to the restore to find a piece. Don't be afraid- dive right in and get your hands dirty!"
Lisa would definitely participate in another challenge, "I had so much fun, and loved seeing all the entries. So many talented and creative people!" We couldn't agree more!