According to HomeAdvisor, the typical cost of a kitchen remodel is $13,479 to $38,205. Fortunately, there are lots of budget kitchen remodel hacks that are both functional and fabulous. It's time to get creative and put your DIY skills to work. Focus on the major components first, and the rest of your cheap kitchen remodel will fall into place nicely.
Cabinets are the biggest part of the kitchen, so they make the biggest statement
You can buy ready-to-assemble kitchen cabinets online, but when you add up the cost (not to mention all that assembly time), it might make you swoon. The average cost of a full set of standard kitchen cabinets is around $5,394. Buying new appliances can be a heart-stopper, too.
One of the best budget-friendly kitchen remodel ideas is replacing only the doors and drawer fronts on your cabinets. You can get a whole new style, cost-effectively.
You don't have to buy new stuff!!
That's where expenses can go off the charts and derail your entire project. Save money on everything from cabinets to light fixtures to drawer pulls, by shopping:
Habitat ReStore locations in Minneapolis and New Brighton, a must-visit for DIYers. Typical thrift shops don't carry home improvement materials, but ReStore does. They often have a wealth of products that could be exactly what you want at prices that are.

Craigslist, a great source of quality used kitchen components -- sometimes an entire set of cabinets or appliances if someone is doing their own major remodel.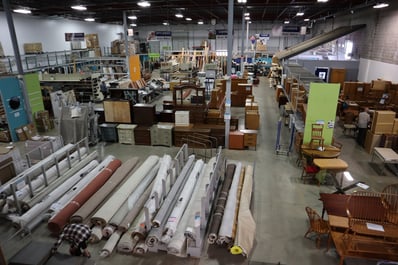 Upcycle with a kitchen facelift instead
A modern new color on the cabinets and walls can dramatically transform your entire kitchen. The cost of paint and other supplies is vastly cheaper than new cabinets. You can paint Formica (plastic laminate material used to make countertops, wall surfaces, and other items) and your vinyl floor, too, while you're accruing more budget for that gorgeous granite or tile you're dreaming of (you can get this at a bargain as well).
If you have the budget, replace old can lights with pendants or stylish fixtures for a more modern feel. Consider updating some appliances, too. Add a large-bin sink and a smart-looking new faucet to enhance your kitchen.

Say no to wasted storage space!
Here are some ideas for getting the most out of your kitchen space:
If you have an open kitchen, is there room to add an island? With a smallish footprint you can get more precious counter space, a load of underneath storage and maybe some seating for conversation or snacks.

Turn a broom closet or part of a spare bedroom closet into a pantry for dry goods, less-often-used bakeware, etc. Add behind-the-door wire racks or shelving to use that space to its fullest potential.

Use large or tiered lazy Susan turntables in all your cabinets to maximize space and stop pawing around to find things.

Free up counters and cabinet space by attaching a sheet of pegboard on a wall to hang pots and pans and other frequently-used items. Or use a ceiling hanger if you have room.

Get those knives out of drawers and off the counter with a safer, easy-access magnetic bar attached to the wall. Your knives will stay sharper, too.
Finishing touches turn a cheap kitchen makeover into a showplace
Add or replace door and drawer hardware. Pick a color or style theme so you can mix and match, or go with something you'll love to see and touch every day. This one simple change can give your kitchen an amazing visual boost.
Backsplash is trending right now, but who needs real tile or glass when you can use inexpensive peel-and-stick decals instead?
Finally, add a throw rug from a thrift shop, new dish towels that complement your new color scheme, and pull up a stool to admire your impressively upcycled space.