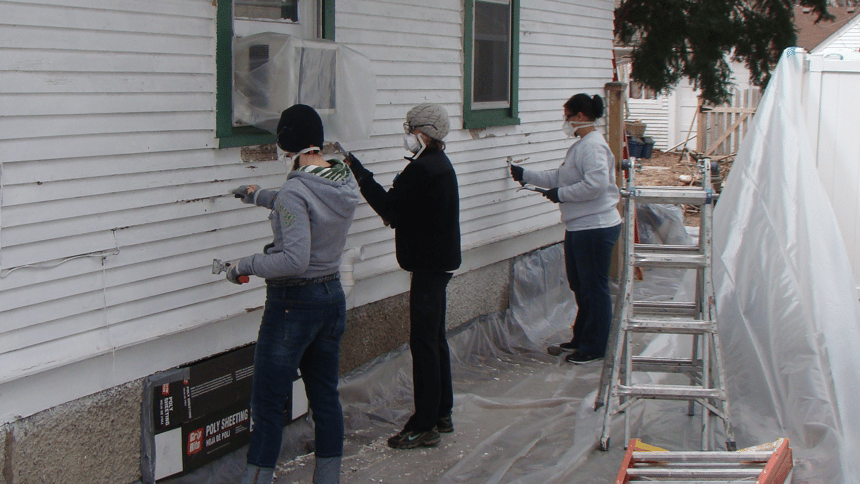 Whether you just bought a new house or you've lived there for years, there are several easy ways to improve the value of your home. Thankfully, you don't have to break the bank to give your home a bit of TLC. It can be as easy as completing a few DIY projects, like painting the walls, planting a tree, removing popcorn ceiling, or even just installing new light fixtures. So, when you have a little time and a little extra money, here are eight DIY projects to improve your home.
A Coat of Paint
Yes, it really can be as simple as a coat of paint. This can something small like changing the color of your front door or as big as repainting the entire exterior of your house. Just make sure you have several rain-free days in the upcoming weather forecast if you plan on painting outside.
Alternatively, you can also paint rooms like your living room, kitchen, or even a bathroom, to give your home a bit of style and increase its value. A fresh coat of paint does wonders for making a space look new. And, if you are planning to sell your home in the future, stick with neutral colors since they appeal to the largest audience.
Plant a Tree
Not only is it good for the environment, but it will also boost your home's resale value, albeit in the future. Shade trees can make your home much more desirable to prospective buyers, but they do take years to grow. However, once fully grown, a well-placed shade tree can decrease your energy bill by about 40%.
Low Maintenance Landscaping
While landscaping can be expensive, it's a lot more affordable if you do the work yourself and choose native shrubs and plants that can tolerate varying weather conditions. This will ensure that the plants are low maintenance which can save you money in the future.
Remove Popcorn Ceilings
If your home is older, it may have popcorn ceilings, which were popular from the 1950s to mid-1980s. Removing this ceiling treatment can instantly add to your home's resale value, but you need to make sure your popcorn ceiling doesn't contain asbestos before you make this a DIY project. You can purchase an asbestos test kit at your local hardware store. If the test comes back positive, call a professional to tackle this project. Otherwise, you'll need to apply a softening solution, which you can buy from the hardware store, and gently scrape the "popcorn" off.
For step-by-step instructions on how to remove popcorn ceilings, click here.
New Light Fixtures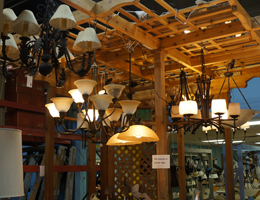 Updating old light fixtures, or even replacing an old ceiling fan can make a huge difference in your home's value. And it's super easy to do. Replacing fixtures can also help increase your home's energy efficiency while giving your home a more modern look. It's a win-win!
Update Your Old Rugs
Although rugs can be expensive (we're not talking about pricey Persian rugs), simply getting rid of your old, tattered rugs can update the look of any room. Look for affordable rugs at one of the Twin Cities ReStore locations! A new rug can make your living room go from ho-hum to wow in seconds!
Pressure Wash Your Siding
No matter where you live, your home is going to collect dirt, dust, mold, and grime over the years. Among the super cheap DIY projects that can improve your home's value is pressure washing your siding. It only costs you the rental of the pressure washer and a few hours of work, and your home will look like new.
Upgrade Your Front Entrance
Like mom always said, you never get a second chance to make a first impression, and the front door to your home is the first thing prospective buyers (and friends and family) see when they visit your home. If your old front door isn't making the impression you want, it's time to upgrade. Although a front door can be a bit more expensive than the other DIY projects on this list, it can save you money in the long run. A new door will be more energy-efficient, which can make your home more eco-friendly, and also save you a bit of cash on that energy bill.

And, you can get a number of great door options at one of our Habitat for Humanity ReStore locations.

For other ideas on how to upgrade your front entrance, click here.
So, with just a little paint, a dash of landscaping, or a newly defined entrance, you'll not only make your house look better but it will be worth more, too. And that's always a good thing whether you're looking to sell soon or not.
Need more ideas for DIY projects? Stop by the Twin Cities Habitat ReStore. We have plenty of DIY projects you can use for inspiration. You can also donate the materials you have left over from your last project while you're there!