Now that it's winter here in Minnesota, outdoor projects have to be put on hold until spring. But that means there's more time to complete some of the indoor projects that can increase your home's value!
Can't think of any projects? We've got you covered! Here are some budget-friendly ideas for interior winter home improvement projects.
Interior Paint
Painting is probably the cheapest of the winter home improvement projects. Paint is like duct tape. It fixes everything. If you plan on selling your home in the near future, go with white paint as this allows prospective buyers to choose their own paint scheme, essentially giving them a clean canvas (yep, we said it).
If you think you're going to sell your home eventually, but you're not ready to move just yet, go with neutral colors like beige, grey, or cream when choosing paint because they work well with just about any color decor and appeal to more homebuyers when the time comes to sell.
And, if you're looking for affordable interior paint, visit one of our Twin Cities Habitat for Humanity ReStore locations, where we sell Amazon paint.
Install a Programmable Thermostat
The Internet of Things (IoT) is quickly becoming the wave of the future. Things like appliances that are interconnected and able to be controlled with a single tap in a phone app is what prospective homebuyers want.
Installing a programmable thermostat is one of those winter home improvement projects that has twice the impact. It will cut energy costs and appeals to homebuyers looking for a smart home.
Fix Air Leaks and Seal Openings
A lot of winter home improvement projects are cheap and easy, and sealing up air leaks around your home is one of them. Caulk is cheap and can make a huge difference in your energy bill. It can also help soundproof your home.
Walk around your home and make sure the doors are properly caulked and double check seals around windows, resealing them if necessary. Vents and pipe openings are another commonly missed area.
Also, be sure to check your bathroom. The seals around the tub or shower and bathroom sink tend to break down after years of use and need a little TLC. Resealing these areas can help prevent the buildup of mold and mildew.
Insulation
Another easy way to winterize your home and help boost your home's energy efficiency is to re-insulate your attic. Insulation can degrade over time, depending on when your home was built. Upgrading your insulation can help lower energy costs while making your home's climate more comfortable. Another perk to insulating the attic? It's eligible for up to $500 in tax credits.
Before you start this project, get a home energy audit, which can help identify trouble areas and the best way to fix them.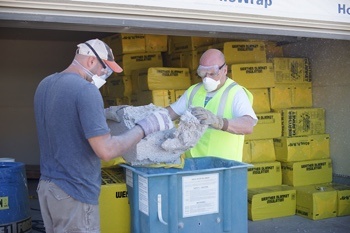 Add a Backsplash to your Kitchen or Bathroom
Small details can really make a difference. A backsplash is a fairly cheap upgrade to any home and an easy project to complete during the winter. It can also make your countertops really pop and add a bit of character to your kitchen or bathroom.
You will need a bit of patience to complete this project and the cost will vary depending on how large the area is that you plan to tile and what type of tile you choose.
Throw up Some Crown Molding
Okay, so you don't want to just throw it up, but adding crown molding to your home is another one of those winter home improvement projects that shows attention to detail and can add big value as well as style to your home.
You'll need a few tools which can be rented through a home improvement store like Home Depot (which actually has a tutorial for installing crown molding on their website). Like the backsplash, this project will require a bit of patience to get it right but is well worth the time.
Upgrade your Doors
Doors can have a huge impact on the look of your home, and we're not just talking about your front door. Interior doors can be an eyesore if neglected. Upgrading your doors is one of the easiest winter home improvement projects that doesn't require a lot of time.
You can simply just paint the doors (what did we say about paint?) or you can replace them altogether. Although painting is the cheaper option, if your home is older and the doors were not well cared for, replacing them may be the better choice in the long run.
Need supplies for your winter home improvement projects? Stop by the Twin Cities Habitat ReStore! We have tiles, doors, paint, and more.