Beyond all else, our highest priority is the health and safety of our entire Twin Cities Habitat community — staff, clients, volunteers, supporters, and all our neighbors across Minnesota. We made the difficult decision to suspend our operations through March 29, 2020 to allow for appropriate planning. During this suspension of operations, we're re-sharing some previously-published blogs and tips for things you could do if you find yourself with free time. Find the most up-to-date and complete information on Habitat's COVID-19 web page.
Read on for our tips about how to organize your home room by room.
There are many different ways to organize your home, and each room has its own quirks that make it an organizational challenge. That's why no system is one-size fits all – or should we say one-room? Let's try to simplify things by going after the toughest targets: the garage, bedroom, kitchen, and bathroom, which tend to be the most difficult to organize. Here are our tips on how to clean up these rooms and even add a little style – using items you can typically find at Twin Cities Habitat for Humanity ReStore.
The Garage
Because of its variety of items, one of the hardest rooms for anyone to organize is the garage. But it doesn't have to be. For example, you can install a pegboard to organize all sorts of stuff!
Installing a pegboard is super simple, and the ReStore sells hooks which are perfect for hanging tools, toys, and everything in between. We also sell larger hooks that can be screwed into your garage ceiling to get those adult toys like bikes, kayaks and other bigger items off the ground. You know, to make room for your car.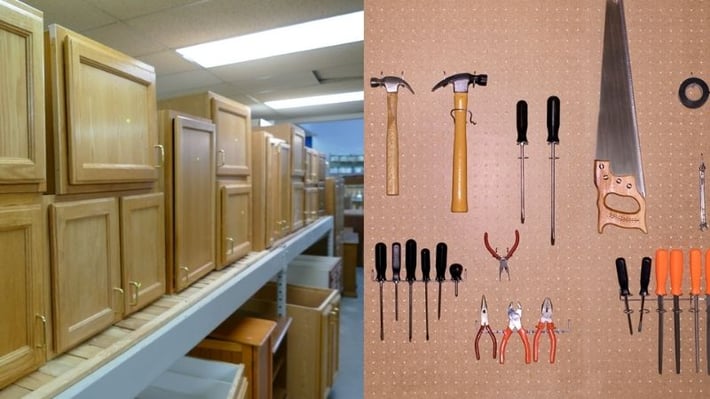 You can also upcycle an old armoire or other cabinetry for storing miscellaneous items like holiday and seasonal decorations. Shelving also works well for storing large containers of sports equipment and other items.
The Bedroom
The bedroom is another room that can be difficult to organize, mainly because of the closet. Many people have smaller closets that are just not easy to access, let alone organize. But the ReStore sells wire shelving to help you get things in order.
Is your closet too small for wire shelving? You could also buy a wardrobe from the ReStore and refinish it!
The Kitchen
The kitchen tends to be one of those rooms that get put off until the end when trying to organize your home. It's big, has a variety of items in it, and we tend to spend quite a bit of time in it, which makes it even more important to have it organized efficiently. There are infinite ways to organize your home kitchen. Here a few DIYs that you can find supplies for at Restore.
A DIY Canned Food Cabinet
This space-saver fits on the side of your fridge and is a great way to store canned goods. Most of the supplies you'll need are easy to find at ReStore, making this project budget-friendly.
Use Wasted Space
What do we mean by wasted space? There's actually extra room on the inside of your kitchen cabinet doors where you can hang things! You can hang towels, the lids for your pots and pans, or even your cutting boards, keeping them off the counters and organized.
You could also use this space as a cork board for things you'd normally hang on your fridge (or what we call fridge clutter!). Things like photos, car keys, receipts, and grocery lists can be pinned to this board so you'll never lose anything again.
Similarly, if you have a pantry closet with a door, you can hang things like shelves on the back of the door, giving you extra space to store cooking utensils like pots and pans. The shelving could also be used for ingredients, kitchen towels, or even gift-wrapping supplies. Use your imagination here.
Hooks are another great way to use unused vertical space, and hooks have the added benefit of fitting in small places. They are perfect for things like towels, pot holders, oven mitts, and even cooking utensils. You'll find plenty of hooks at ReStore in all different shapes and sizes.
If you have a free wall, or even just a bit of extra wall space near your sink or fridge, you can hang towel racks to use that extra vertical space. We found a great tutorial for this using, bamboo utensil holders, a power drill, and shower curtain rings.
Don't forget about drawer organizers. Your cutlery drawer probably already has one, but what about that extra utensil drawer we all have? How about the junk drawer? You can either purchase organizers at ReStore, or you can buy wood to make your own and customize it to fit the size of your utensils and anything else in those drawers.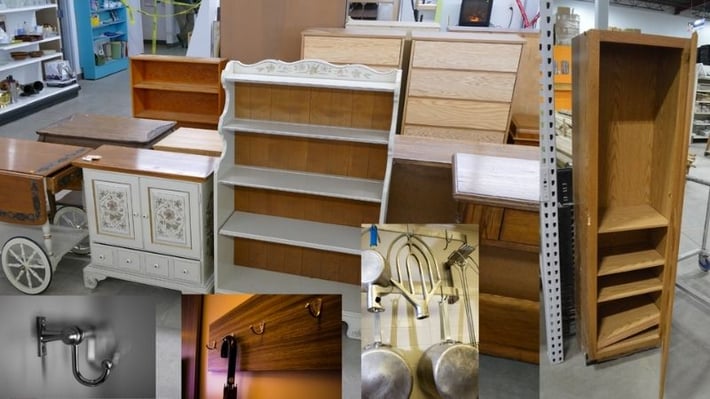 Use Storage Boxes and Baskets
If you have a variety of items that don't really fit anywhere else, this is a cheap and easy way to organize your home, and it works in any room. Use storage boxes or decorative baskets to store them. ReStore has a wide selection of both, so you can easily find something that fits your décor for the right price.
The Bathroom
No one wants to feel rushed in the morning. Keeping your bathroom organized can make your morning routine more efficient and less stressful. There are a variety of easy ways to organize your bathroom. You just need to get a little creative.
Baskets & Hooks
Hanging wire baskets on a wall can act like shelving. You can put toiletries in the basket and extra towels on top. You can also place decorative accents in the basket, allowing you to add décor in a unique way. Baskets on a counter can also help you organize hair styling essentials. You can even create a DIY wood organizer and customize it for your specific hair tools.
Hooks are a great way to hang your towels. They take up less space than towel rods and can be placed just about anywhere. That keeps towels from looking disheveled and can also free up towel rods which you can hang baskets on for extra storage space with flair.
Need space for extra towels? A wine rack works well for storing extra towels and looks more stylish than simply stacking them.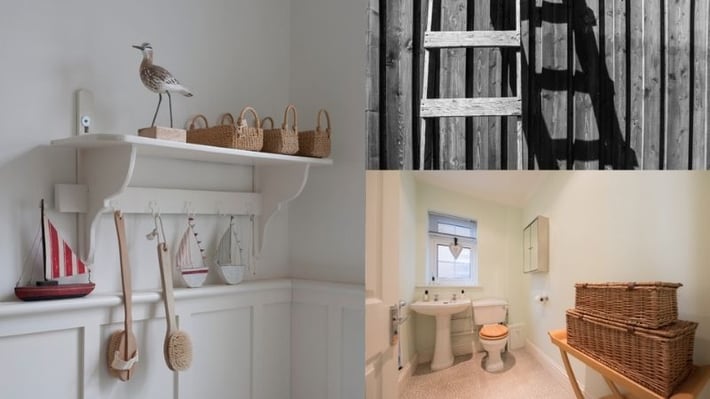 More Wasted Space
Don't forget about the extra space over your toilet. A ladder shelf fits perfectly over the toilet and gives you plenty of extra space for toiletries or even décor. You can easily find the wood you need to make on at ReStore!
Save
Dit item is niet beschikbaar | Etsy
Etsy
Over The Toilet Leaning Ladder Shelf Made to Order Decor | Etsy
You'll find tons of other supplies at ReStore to help you organize your home. Stop by Restore today!