When Claire Sorman first heard about ReStore's Freestyle Flip Upcycle Challenge, she knew she wanted to participate.
She had previously watched a segment on WCCO about the Earth Day Upcycle Challenge and thought it would be fun to be a part of the next one.
When the Freestyle Flip Challenge was announced, Claire immediately signed up and started thinking of ideas for her next upcycling project.
Having done thrifting and upcycling for almost 15 years, Claire was familiar with the New Brighton ReStore location and had shopped there before. However, once she received her $50 challenge allotment, she decided to go to the Minneapolis location.
"That was pretty fun to check out both locations and see the different stuff that you could find at each place!"
After looking around in both stores, Claire came across a cabinet that could be used as a hutch. She also found a mid-century chair and a mirror that could really use some TLC. She realized she could refurbish them in a similar way and sell them as a set.
"I really wanted to present these items as a set, so that people could see how far you could stretch your dollar."
In addition to getting those three pieces, Claire was also able to get some electrical components, hardware, and lightbulbs to be able to retrofit the cabinet. All of those items ended up being less than $50.
Claire already had fabric that she could use to reupholster the chair, as well as the paint and accent pieces needed to make the pieces match.
After sanding and priming all the items and fixing loose screws, she painted each of item and added gold accents.
In the end, Claire was able to create a stunning kitchen desk with plenty of storage for cups, plates, paper towels, and other objects.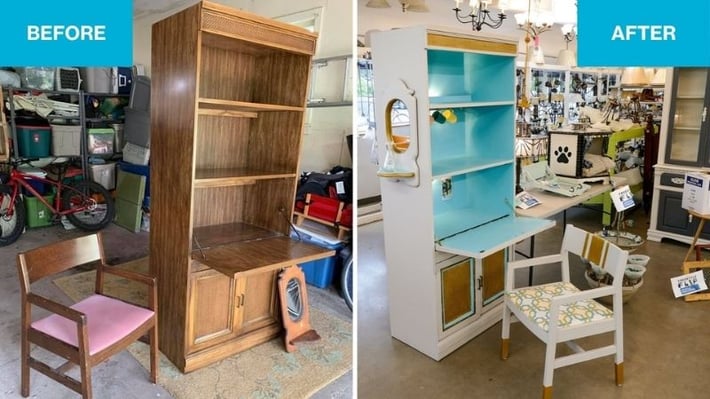 Her favorite part of the experience was being able to express her creativity and see her project come to life.
After finishing the desk, Claire was not only excited to see the end result but also felt proud of herself for taking the time to work on the project.
"I did this project more for myself than to win any prizes. I'm not a super competitive person but I am a creative person and so I wanted to put that into play."
For those who are thinking about doing an upcycling project, Claire suggests to just go for it.
Join Claire and visit ReStore to get started on your next upcycling project!