Joey Ford was beekeeping for commercial use in Texas when he received a call from his friend back in Minnesota. ReStore had just announced that it would be hosting its first upcycle challenge around Earth Day 2019. His friend thought Joey would be interested in joining him in the challenge. It was definitely something he was interested in.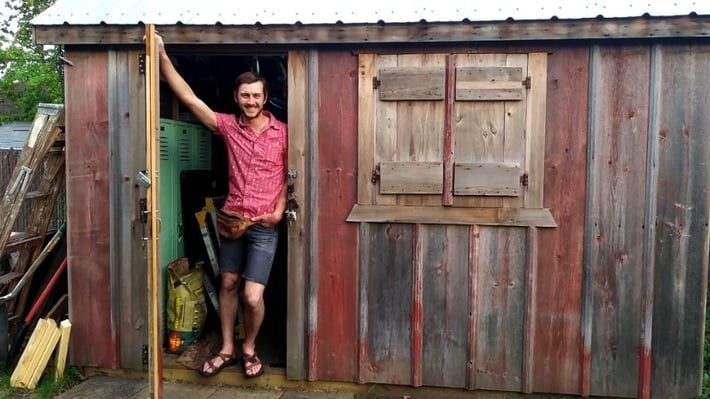 Joey Ford and his workshop
The Earth Day Upcycle Challenge focus was to "give a chair some flair," and participants were given a chair to upcycle in any way imaginable. When Joey was back in town, he started thinking about creating a flat lawn chair but decided his concept might be too difficult. He then sat back and looked at the chair. He imagined tessellations and a play on cubes. Think about the vintage video game Q*bert, and you'll get the idea. He began cutting shapes out of scrap wood from a home renovation. He used linseed oil on some pieces and left some natural to give each shape different characteristics, texture, and tone.
During the last several years, Joey had been expressing his art through performing music he had written with the local band Tree Party. The challenge of working with physical objects seemed to spark his creative brain again in a new way. "I did music for a long time, that was where my creativity was," Joey commented. Looking at what Joey created shows that he's not just a musician, but an artist. "I like using things that already have a life," Joey says. "Everything me and my wife have is second hand." The upcycle challenge was a perfect fit for Joey.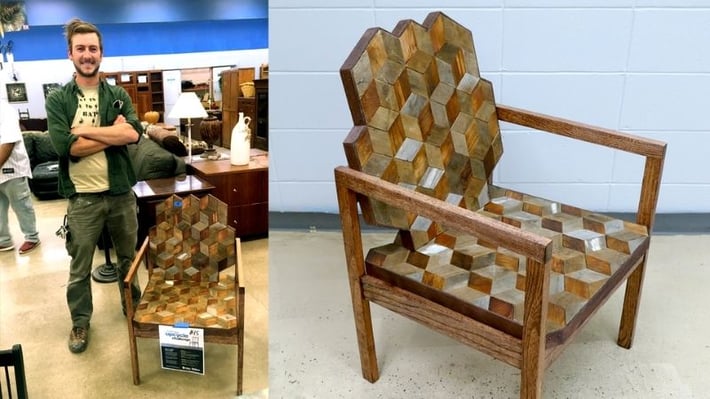 Joey next to his winning chair
Once the upcycled chairs traveled back to the store for judging, the voting began! Shoppers could vote for their favorite chair in store, but photos of each chair were also shared on Facebook. A "like" on a chair photo was also considered a vote. With a grand total of over 200 votes/likes, Joey won the Earth Day Upcycle Challenge!
Since the competition, project requests seemed to have snowballed. Using some of the leftover materials from his chair project, he's created wall art, decoration for doors, and of all things, sheds. Joey helped a friend build a shed which quickly turned into three shed projects. Now nicknamed "the Shedsman" by his friends and family, he's looking for more shed projects such as chicken coops, greenhouses or playhouses.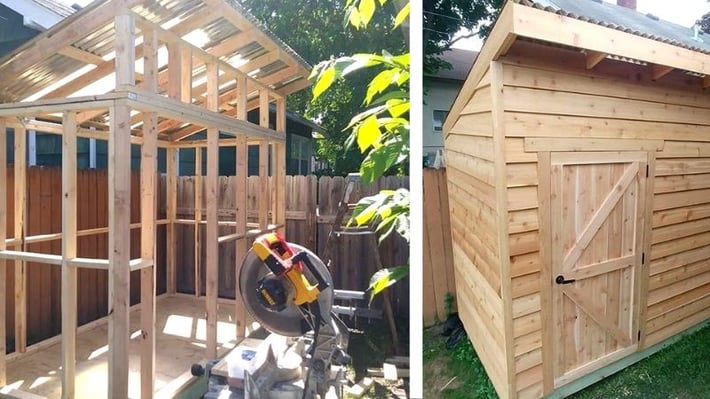 One of Joey's shed projects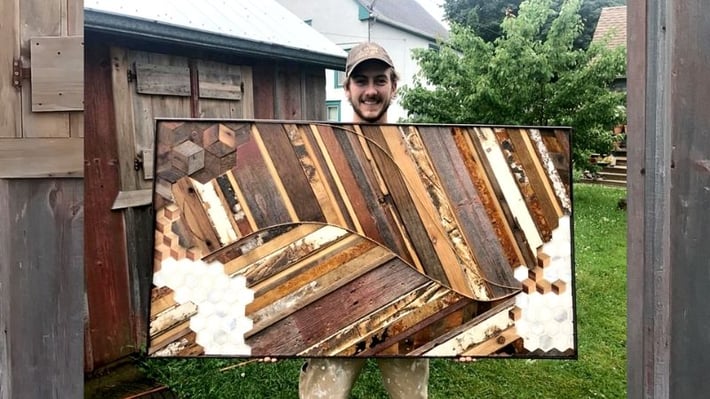 Joey holding one of his art pieces
If you are considering starting a project of your own or entering an upcycle challenge, Joey has this advice; "Start on a project immediately, to have a conversation with the piece." The creativity process isn't easily explained, but when you enjoy working with new materials and learning how to work with them, you'll be able to bring new life to leftovers.
View the top three Earth Day Upcycle Challenge entries >