Twin Cities ReStore could not succeed without the generosity of many business and individuals who choose to donate materials to our two store locations.
In 2017, the ReStore picked up 400 donations of building materials and appliances from our business donors. Donations Manager Robin Henrichsen is grateful for the support of the community: "Your donations help us to provide our customers quality items at a great value. Small, large, first or tenth time annual donors- we love them all."
Most of the items donated are excess building materials or inventory from a product line.
"Contractors, interior designers, and facility managers used to be surprised to learn about the Habitat ReStore as a possible solution for excess building materials. Since our pickup service is free, word of mouth referrals keep coming in," said ReStore Operations Senior Manager, Pete O'Keefe.
There are many potential business donors in the Twin Cities area and the ReStore is always welcoming new donors. First time donor, Genz-Ryan Plumbing and Heating, supplied water heaters pictured below. A representative from Genz-Ryan stated: "At the core of our values is maintaining a commitment to our community. This includes giving back, getting involved and creating goodwill, wherever we can. We are impressed with ReStore's work and mission so we are proud to support their organization in any way that we can."
Items donated from businesses: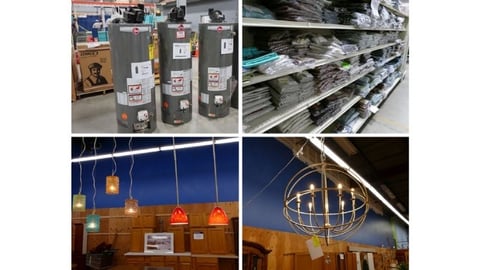 Special thanks to donors who gave five or more times in 2017: Archway Marketing, Lowes Home Improvement, Closets by Design, Castle Building and Remodeling, Ceramic Tileworks Warehouse, HD Supply, and Tile by Design.
The ReStore offers FREE pick-up for donated items. Please go to our website for more information about our pick-up service.