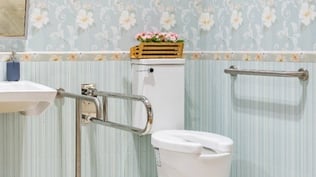 Bathrooms can be dangerous places, especially when your physical capabilities are limited due to age, illness, or injury. Slips and falls on wet floors, electrical outlets close to water, and sharp edges on fixtures are just some potential hazards. The elderly and people with mobility issues or disabilities may experience additional difficulties, such as getting in and out of the shower or reaching items stored at too high or too low a level.
Here are seven safety precautions you can take to reduce the risk of accidents in bathrooms.
Install grab bars by the toilet, bathtub, and shower
Grab bars are an important safety feature in bathrooms. They prevent slips and falls and can help you navigate the bathroom safely as you get older, helping you sit down, stand back up, and scoot in and out of your bathtub. For instance, the rail on the side of your tub will give you the support you need to easily enter and exit the tub. In addition, grab bars can provide a sense of independence and support for people who may experience difficulties with balance or stability.
Invest in a raised toilet
Accidents can happen when trying to sit down on the toilet. While grab bars next to the toilet can help with getting up or down, installing a raised toilet seat can make the whole process easier and safer. As with most accessibility solutions, make sure to get an ADA-approved model, as it will have passed rigorous testing.
Resource: DIY Plumbing Projects
Tub cutouts
A tub cutout is an economical way of converting a standard bathtub into a "step-in" tub. The process generally involves cutting a section out of the side of the tub and installing a hinged door. You can pair them with grab bars for improved accessibility.
Zero-threshold shower
The shower is a particularly high-risk area, which is why you should consider getting a zero-threshold shower. Also referred to as a roll-in shower, these types of showers have no lip or threshold at the entrance. As such, they're perfect for people with mobility issues. You can also equip them with grab bars and built-in seats to further improve safety and accessibility.
Non-slip flooring
Slips and falls can occur no matter how careful you are in the bathroom, often resulting in serious injuries. Installing a non-slip bath mat can significantly reduce the risk of slipping by providing some much-needed traction. Make sure they're safely secured to the floor and don't lift up if someone uses a walker.
Other non-slip bathroom flooring alternatives include bamboo or cork flooring.
Increase accessibility
It's important to ensure that bathroom fixtures such as doorknobs, taps, and sinks are easy to reach. ADA-compliant faucets feature easy-to-turn handles and a water safety feature to prevent burns. Other ways to increase accessibility include lowering wall cabinets for easier access and adding a bath step if you no longer have flexibility in your hips.
Install a handheld showerhead
People with mobility issues may need to sit when taking a shower. Installing a handheld shower head enables you to adjust the water flow and temperature, making showering easier and safer. On that note, it's also a good idea to add a shower chair or bench.
With a few trips to a Habitat ReStore near you, anyone can make their bathroom a little safer.