If you're shopping for a refrigerator, Twin Cities Habitat for Humanity ReStore has a great selection of refrigerators and other used appliances. But what do you need to know when buying used appliances? ReStore's Jan Hagerman tells you what to look for in this edition of ReStoration Corner.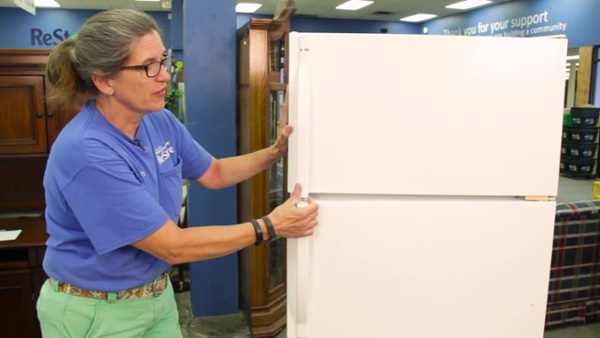 What You Need to Know When Buying a Used Refrigerator
First, measure the space the refrigerator will go in. Then measure it again. You want to make sure you're bringing accurate numbers when you come to the ReStore. Then look for these four things when shopping for a used refrigerator:
1. How old is it?
Inside the refrigerator, you'll find a little label that tells you when it was manufactured. You can get about 10 years out of a refrigerator. So, if it was manufactured five years ago, and you're spending $125 on it, you still have five years to go. That's a pretty good investment, at only $25 per year.
2. How does it seal?
Refrigerator seals do go bad over time, so close a piece of paper inside the door and give it a tug. If it doesn't move, the seal is good. If it pulls out easily, you'll want new seals. However, putting in new seals isn't very difficult or very expensive.
3. Does it smell?
Every used refrigerator is going to have an odor. Clean it with good, soapy water, or put some baking soda in there for a while. But if you can identify the food that was in there, that smell is likely to stay around for a long time and you might want to find a different unit.
4. Do you like the color?
If you like the refrigerator but don't like the color, there are a lot of fun ways to change that. Use contact paper or paint to give it a facelift — even stainless steel paint to make it look like a stainless steel fridge.
5. How does it open?
If your kitchen layout limits your refrigerator to only be opened up on one side, make sure that you're buying a fridge that opens in the correct direction. If it doesn't, check to see if the hinges can be switched to the other side. Here's a helpful video to show how to change hinge positions.
6. How cold is it?
Of course, the whole point of buying a refrigerator is to keep things cold, right? But have you ever thought about exactly how cold a fridge needs to be? If possible, test to make sure the fridge is 38°F and the freezer is 0°F.
Pro Tip: If you lay the fridge down when you take it home, you'll need to stand it up for at least 24 hours before you turn it on. All of the fluids in the compressor and the coolant need to resettle to their correction positions. If you plug it in too soon, you'll fry the fridge, so wait at least 24 hours before you plug it in.
Shop at ReStore
If you're looking for a used refrigerator in the Twin Cities area, swing by ReStore! We sell a variety of quality refrigerators at discount prices and all revenue supports Twin Cities Habitat for Humanity's work building, rehabbing and repairing homes for local families. Find our locations.