On Wednesdays when you visit the New Brighton ReStore, you'll likely find Chuck Zutz working in the back with what looks like to most, trash. But to Chuck, that bin of "trash" has an immense amount of value that will contribute to the ReStore and Twin Cities Habitat's mission.
About 10 years ago, Chuck retired from his work in heating and air conditioning and was looking for something to keep him busy, especially in the winter season when his hobby farm wasn't enough. "I looked at the DNR and hospitals, but somehow I ended up here and have been volunteering for six years." Chuck works on the scrap team for the Minneapolis ReStore. The scrap team is responsible for taking the donated metals and various materials and separating them before they are transported to the landfill. "I used to work in heating and air conditioning so I see a lot of similarities in this work", said Chuck, "but what I like about this job is that after I tear things apart I don't have to make things work again, which is a big bonus!"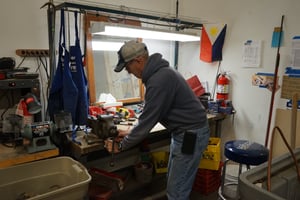 When Chuck and his scrap team partner, Gus, arrive to work they see a large grey bin filled with scraps. Items range from pop cans, copper piping, faucets, and more. They go through the bin to see if anything is sellable, and if not, they take the metals like copper, brass, and zinc, and break them down. They separate these metals into their own buckets so they are organized when it travels to the land fill. "My past work has helped me know what has value and what doesn't. Copper is very valuable, and brass is the next highest in value. We get about a thousand dollars every time we go to the scrap yard", said Chuck. The bin seems low right now, but Chuck ensures that this is normal in the winter, especially with this year's extreme cold. "Once spring comes around, spring cleaning kicks in and you get a full bin."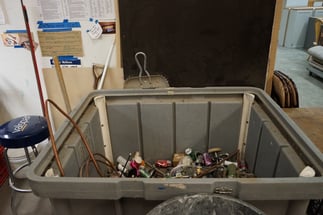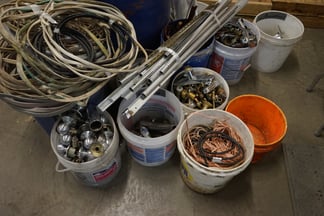 When asked why people should bring scrap metals to the ReStore, Chuck replied "It's a good deal! The scraps have value and rather than throw it in the trash, we can recycle it for you. Plus, you are donating to the cause." Chuck encourages his friends to bring their items into the ReStore and he hopes others will consider this too.
ReStore Manager Jill Carmody spoke to the importance of Chuck and the scrap team at both ReStore locations: "Chuck does a great job in our scrap metal department and provides great value in his experience. His scrapping generates extra revenue for Habitat's mission, and occasionally he even brings in some delicious sweets to share with our team. Our scrap team was created five years ago by a passionate volunteer. It is an entirely volunteer-run department at both of our stores. We currently have two people at each store that help with metal scrapping. We have a need for more [volunteers], especially in the summer time when our donation stream increases."
The ReStore accepts household items such as appliances, building materials, doors, flooring, furniture, hardware, and so much more. Plus, your donation is tax-deductible. Check out our recent blog for more information on donating household items.