Derek Lee Miller is a local Twin Cities carpenter, artist, theater set designer, and former professional puppeteer. He's also an avid ReStore shopper. Over the years, Derek has completed many projects using materials and products found at ReStore Home Improvement Outlets. This DIY master shared with us his passion projects and what keeps him coming back to ReStore.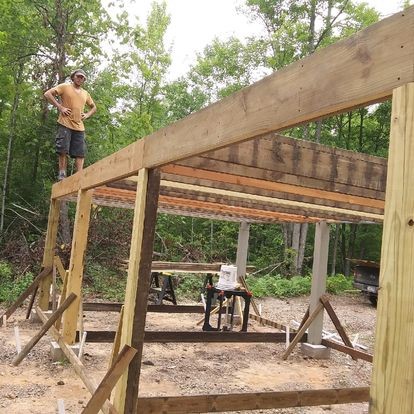 Derek working on his cabin
It's no surprise that Derek is a regular ReStore shopper. He grew up around carpentry with his dad and grandfather showing him the ropes, and he was using a saw and hammer far earlier than most kids. "Coming from carpentry and farming folk, DIY is just kind of how you have to do things," Derek says.
He discovered the ReStore New Brighton location after he bought a house in NE Minneapolis more than 10 years ago. With materials and products all found at the outlet, he has remodeled his bathroom, installed gorgeous wood flooring, built art shanties, and crafted nearly an entire cabin up north.
Derek is no stranger to a bargain either. His family didn't have a lot of money while he was growing up, and he remembers his mom taking him to thrift stores. "It was a fun hunt," he says, "you never know what's going to be there." He says there's a type of gotta-get-it-now energy in a store where the inventory is constantly changing, and that's certainly true for ReStore.
"I go [to ReStore] so often because I never know when something is going to show up that's going to be my next project," Derek explains. Once, he stumbled upon five different boxes of oak flooring in a variety of colors, and he couldn't pass it up. His philosophy is simple: buy now, figure it out later. With the oak flooring (and some inspiration from the James J. Hill House), he created an impressive compass rose design.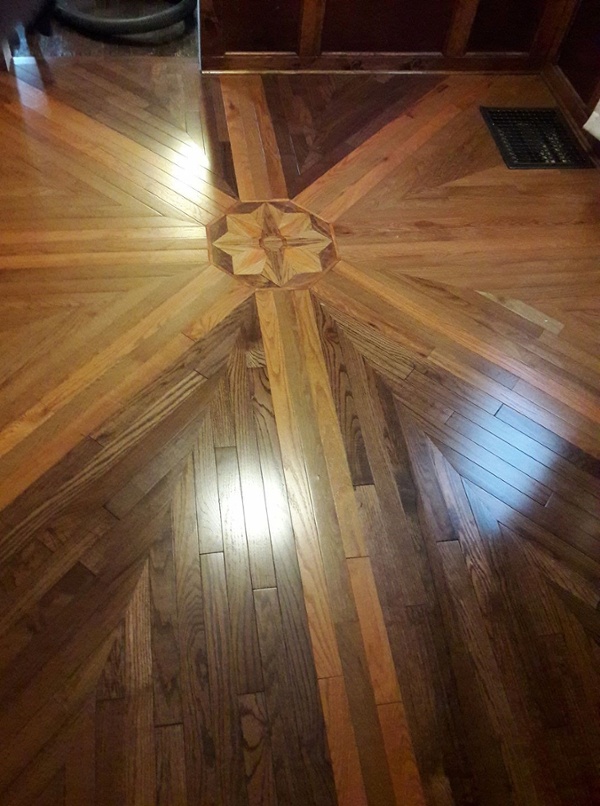 Compass rose flooring
When it comes to DIY remodeling, Derek likes to keep an open mind. "I make a vague plan but then I'm guided by the materials that I find," he says. His former kitchen was begging for a remodel, but he originally planned on waiting to do any work. Then, on a random visit to ReStore, he found great kitchen cabinets that he couldn't pass up. Instead of starting with a plan, he found the materials and planned around them.
ReStore also played an important role in Derek constructing his new cabin just north of Hinckley. He bought the land in 2019 and started building in March of 2020. During the first year of the pandemic, his cabin was a place of refuge where he could go do something productive. "It was a nice project to have or I would have gone crazy."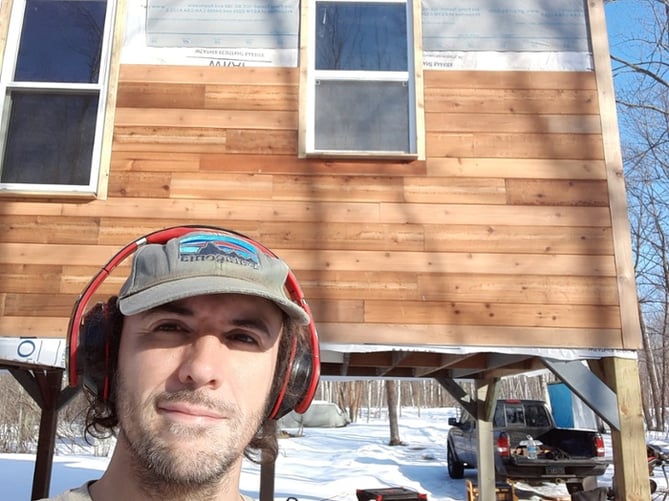 Derek at his build site
Of all his DIY projects, Derek is most proud of his cabin, as he did nearly everything on his own. He poured the foundation, put the posts up, hand-built the stairs and stair tread, did all the wiring, and installed a steel roof. "The doors, windows, trim, tile, light fixtures and a good chunk of the framing material, flooring and insulation came from the ReStore," he says.
Because of his background with carpentry and construction (he also worked as a carpenter's assistant for many years), Derek has seen firsthand how much material can go to waste on constructions sites, or even when doing demo work on an old house. He says there is a lot of stuff that can be reused that people just don't think about.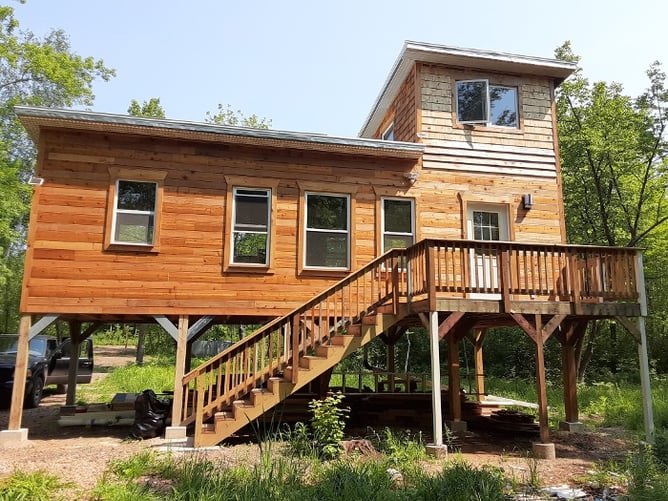 Derek's cabin
ReStore is a great place to donate used and leftover building materials. Not only does it keep that stuff out of landfills, but it creates good inventory for other DIYers. He says half of his tools are from ReStore, and he'll often buy random buckets of paint from there because they are so much cheaper, especially if he's doing a single room or smaller project.
Overall, reusing materials goes hand-in-hand with a DIY mentality. He suggests "seeing what's [at ReStore] and working out the process from the materials you have, rather than making a master plan and then going and finding the materials; that creates a lot of waste."
And like all ReStore shoppers, Derek can feel good about his purchases. "Not only do I get a deal, the proceeds go to support a genuinely good nonprofit organization; everyone genuinely wins," he says. "ReStore keeps stuff out of landfills, gives me a good deal, and supports Habitat. It's great that these three individual goals can come together like that."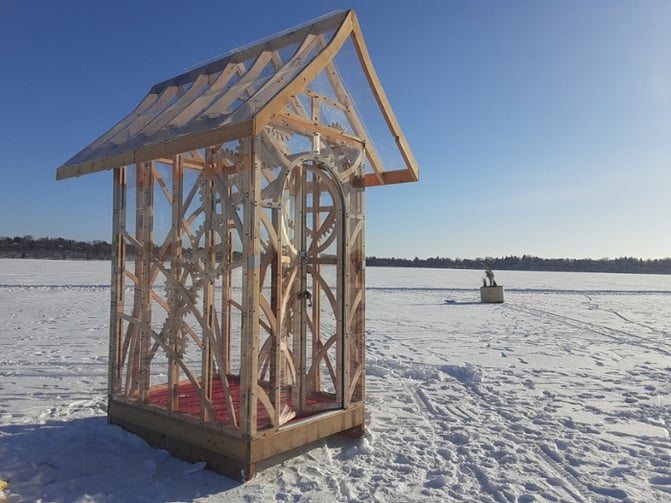 Derek's creative shanty for the 2022 Art Shanty Projects
DIY Key Advice
Getting started with your first DIY project can be daunting. You might have a specific vision in mind and are afraid of messing it up. Take it from a DIY expert like Derek that you really don't have anything to worry about. His key advice for getting started:
1) Don't be afraid to change your plans. "Go into projects with an open mind about what you're looking for because the thing you find will end up being the exact thing you didn't know you wanted." Much like the compass rose floor design Derek installed in his house.
2) Don't be afraid to fail. Whether you're refinishing a table or painting a room, you don't need to be perfect the first time you try. Derek reminds us that "no amount of videos you watch or books you read will make you perfect the first time you do anything. The best thing you can do is DO."
3) Have fun with it! A good DIY project helps you harness your own creativity into an enjoyable and rewarding activity.