We're almost ready to "spring ahead," and many of us are looking forward to the snow melting, birds chirping and the return of green spaces everywhere. Spring is also a time when we embark on a sometimes daunting indoor activity: spring cleaning. Whether you're starting the process now or putting it off until May, be sure to partner with ReStore to donate your unwanted items.
"Spring cleaning can be a great time to bring order to your home or business and donate items to the ReStore," says Robin Henrichsen, Director of ReStore Operations. "Individuals or businesses can drop off items at the two ReStore locations or request a pickup if you have a lot of items."

What items can I donate to ReStore?
ReStore locations in New Brighton and Minneapolis accept new and gently-used donations from individuals, building supply stores, contractors, home builders, interior designers, and Twin Cities businesses. The list of items you can donate is considerable and includes appliances, furniture, windows, doors, lighting, tools, building/remodeling materials, and much more. Read our complete Donation Guidelines for details.
Still not sure if your item fits the requirements? Send us your question (even upload a couple photos of the item(s) in question), and our donations team will be in touch shortly.
What items are most needed?
As ReStore gears up for the anticipated spring cleaning season, ReStore Manager Jill Carmody shared a few notes on items that are either in demand, or on their donation "wish list":
"ReStore is always excited for the spring cleaning season," said Jill. "Items that would be a great donation to either of our stores include hardware (think tools and fasteners), unused lumber and sheet goods. Also, any leftovers from a recent home improvement project, like gently used cabinets, tile, doors or light fixtures."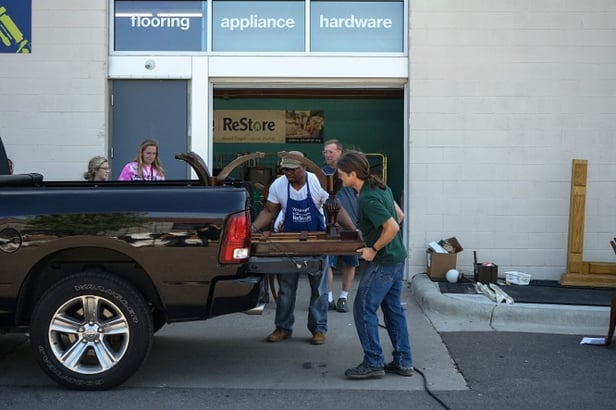 How do I donate to ReStore?
Donating to either ReStore location is easy! Pack your car, truck or trailer, and pull up to the donation door located behind each building, and our donations team and volunteers will take care of the rest. Note: donation hours differ from regular store hours (donations are accepted until one hour before store close).
Donation Hours:
Tuesday - Friday: 10 a.m. to 5 p.m.
Saturday: 10 a.m. to 3 p.m.
Sunday & Monday: Closed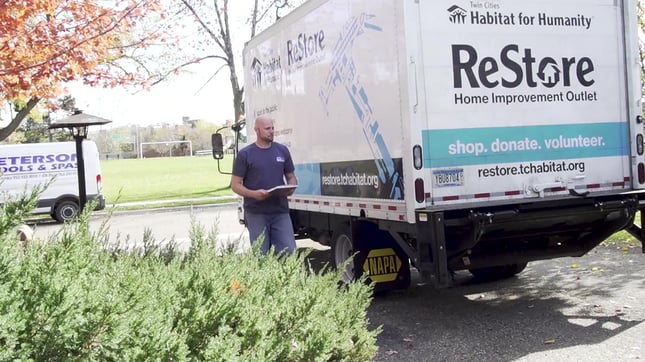 Does ReStore pick up donations at a home or business?
Yes! ReStore offers a convenient pick up service in the seven county metro area. Simply fill out the Request a Pickup form to schedule a date and time that works for you. Note: the drivers can't enter homes, so donated items need to be in the garage, driveway, or alley.
Do I have to be home for the donation?
No, you do not need to be home for a donation pick up. Place your donated items outside near the garage or curbside with a "Habitat ReStore Donation" sign.
Do I receive a donation receipt?
Yes, the driver will leave a donation receipt listing your donated items.

Why should I choose ReStore?
That's because 100 percent of the proceeds from every ReStore sale go to support Habitat's mission of building affordable housing in the metro area. You'll also be helping to keep reusable items out of landfills! When you partner with ReStore, we all benefit.
"This is a win for the donor, the ReStore, and the environment," Robin says. "The donor has a clean space and a tax deduction, 692 tons of items stay out of the waste stream each year, and proceeds from sales at the ReStore help sponsor the building of homes in our local community."
As you make your way through spring cleaning this year, keep ReStore in mind!