Guest Blog by Jill Carmody, ReStore Manager at Twin Cities Habitat for Humanity ReStore
I have always enjoyed the responsible reuse industry. We live on a crowded planet where some have too much and others not enough, and the secondhand market has always been an effective bridge between those two disparate extremes. I like to think of thrift as the original form of recycling, and it is still an incredible way to bring a second, or sometimes third and fourth, life to a product.
Joining the Habitat Team as the ReStore Manager was an easy decision for me back in 2014, and it is one I have not regretted since. What drew me to the ReStore was its synergy with the Habitat Mission. We generate revenue for Habitat projects and help the community make their houses and apartments feel like home.

Our stores are run not just by our core team of employees, but by a range of volunteers who come by for a day, and sometimes stay for years. They stock shelves, ring up customers, take in donations, or simply come in to work on the occasional project. The ReStore provides a place for all to come and help the cause of Habitat for Humanity when the idea of building a house might be physically impossible or a bit intimidating.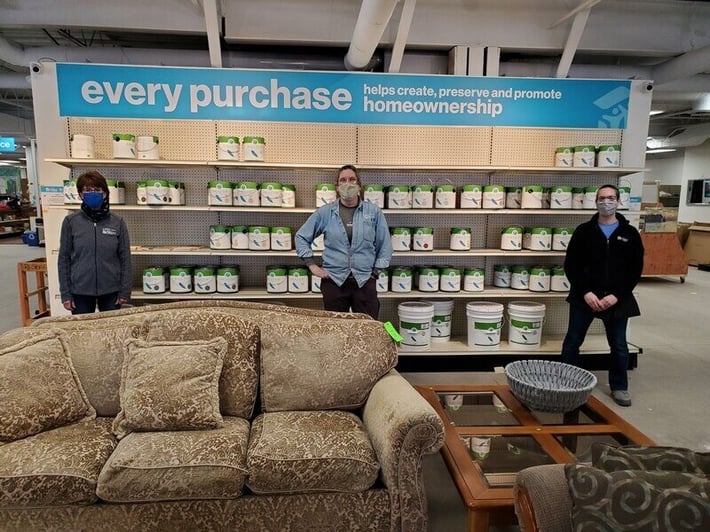 Left to Right: Robin Henrichsen, Jan Hagerman, and Jill Carmody.
I like to help ensure we have a good planet to live on. The goods we receive are often one step away from the landfill and all the environmental problems that entails. Enhancing the life cycle of products, even just at the community level as we do, helps remind everyone that we need to be more responsible with what we buy and how we dispose of it.

COVID-19 has obviously been a huge struggle for us to overcome this last year. Like most retail operations, we were quickly impacted and have had to scramble to work out a system that will help keep all of our employees, volunteers, and customers safe. The hardest part of the whole risk mitigation process has been cutting back the number of volunteers that can work in the store.

We have been operating for almost a year with a smaller team, with our employees trying to do all the work a team of enthusiastic volunteers used to help with. It has gone well, but it has been challenging. Fortunately, with effective safety protocols in place that have helped us avoid any cross infections to date, we will soon be returning to higher volunteer levels at both of our stores.
Thrift is not always glamorous. It is a hard bit of work figuring out how to efficiently take in, market, and sell goods that some might not see the value in at all. The thing that keeps me going is the amazing team of employees, and soon to return volunteers, that all love doing their little part to help make a very large impact on our community.