ReStore Operations Coordinator Grant Carlson has worked at ReStore longer than most employees – nearly 14 years! As a longtime fixture at ReStore, Grant has had the chance to see it grow and change throughout the years. Grant started out working at a hardware store during college, and one of his managers was hired by Twin Cities Habitat to run the original North Minneapolis ReStore prior to its opening. Four or five months later, he called up Grant and said he needed staff for ReStore and asked if Grant wanted to come in for an interview. Grant didn't know much about the ins and outs of Habitat at the beginning – he'd volunteered on a few home building days when he was younger. But the idea of learning more was appealing, so he applied, and started working at ReStore in 2007, shortly after the store opened.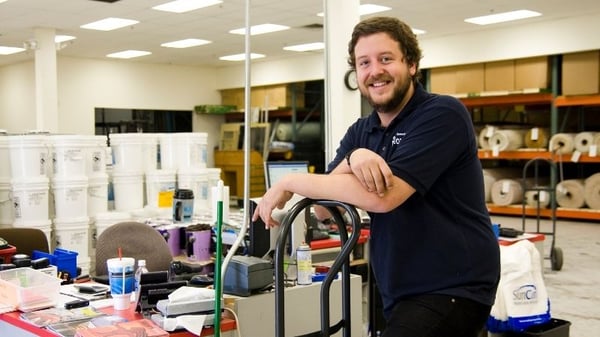 Grant at ReStore.
Lots of things have changed in the years since Grant started. For one, ReStore moved to a new location in New Brighton. In addition, there were originally only three full-time employees and a manager. There was a period where there was only one full-time staff and a manager. Now, over a decade later, a full management team, 5-6 full-time staffers, and a whole group of regular volunteers help to run two different stores in Minneapolis and New Brighton.
ReStore didn't always know if they would be getting volunteers on any given day. Sometimes they'd get 20 volunteers with no notice at all! Now, ReStore relies on several regular volunteers who come in every day, which helps keep things running smoothly. Volunteers are essential in order for ReStore to keep up with donations and sales.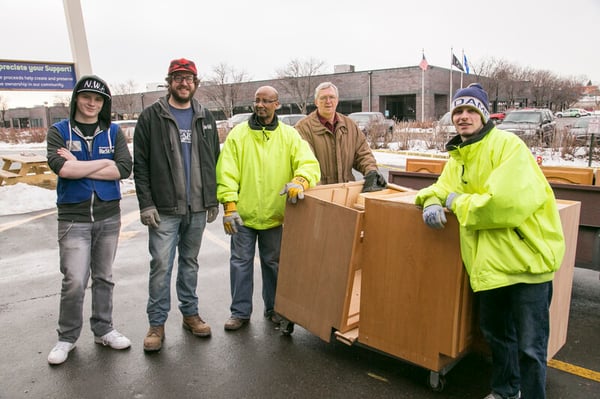 Grant with volunteers. (Photo taken prior to COVID-19.)
When ReStore first opened, there were around 10 donations a day, but now there are 40-50 donations on slow days. In the summer, the store can receive up to 70 donations! "Every day is both the same and different - we'll get donations but we won't know what they'll be ahead of time - and that makes it fun," said Grant.
In 2020, the New Brighton expanded it's footprint and now offers a larger showroom and inventory that fills it. Then in March 2021, ReStore hit $1 million in sales – which is the earliest ReStore has ever hit that target. Grant commented that "in the last ten years, it seems like every year has been the busiest year we've ever had." In the last several years, the donations team has started sourcing donations from companies, which has brought in a lot of new products to help drive those sales.
One of the challenges that ReStore regularly runs into is how to get donated products from point A – the receiving area – to point B – the sales floor. Sorting through and pricing toolboxes full of hardware, and items from garage and basement cleanouts, can get tedious. Sometimes it can take five hours to process small items like dozens of screwdrivers that will only bring in about $20 of sales. Currently, they're trying to move more seasonal items front and center like patio furniture.
ReStore is currently looking for regular volunteers to help with moving items in and out of, and around the store on a regular basis. The more hands, the merrier. And with more volunteers, the ReStore can only continue to grow.
"This is a fun place to work. It's relatively fast-paced with a lot of things to do, and it's really good to be part of a team like this. Being able to contribute to what Habitat does as a whole - that's what's important to me. The mission has stayed the same but we've expanded our scope, and that's so much of what's great about working here."